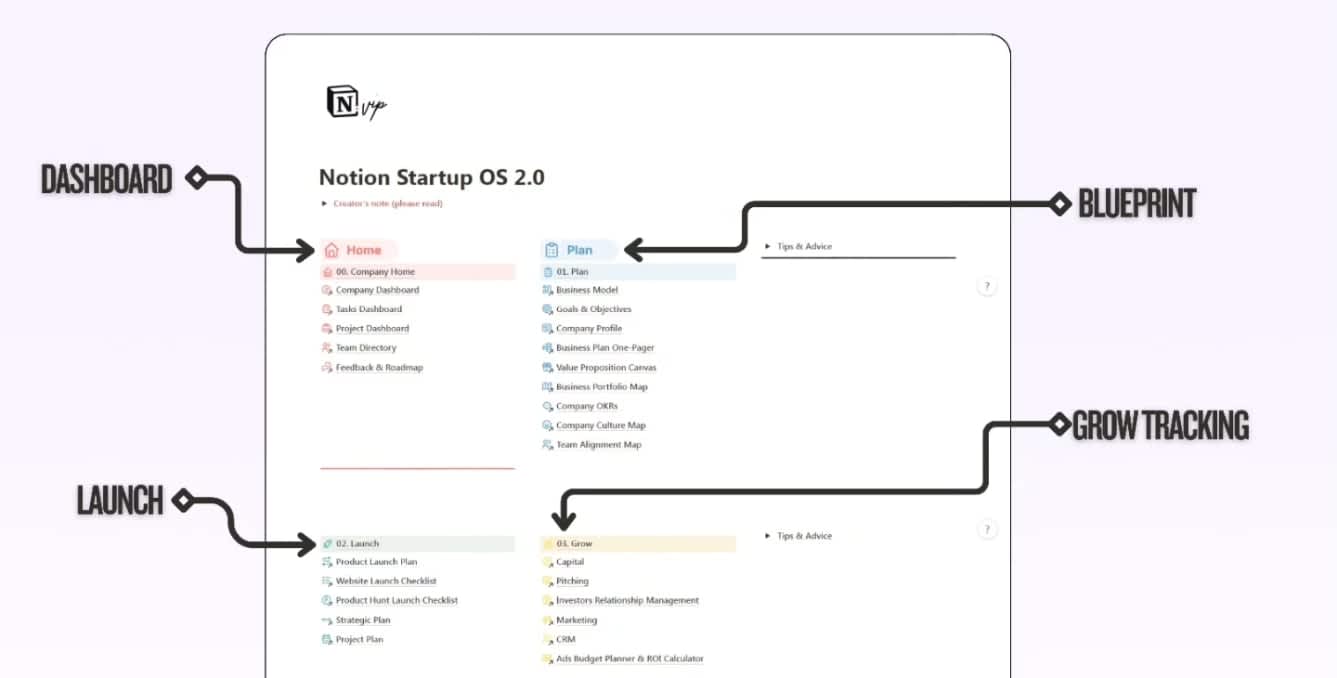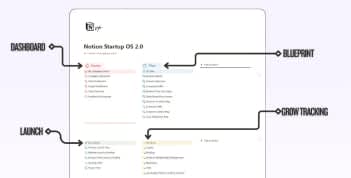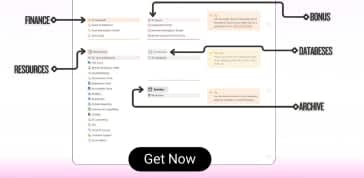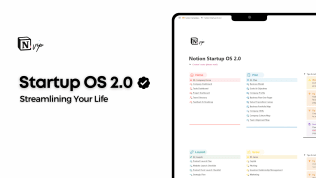 Notion Startup OS 2.0
By
Notion Startup OS 2.0: Your All-in-One Startup Solution! 60+ templates, enhanced workspace, real-time collaboration...
Rating:
Know more details about this template's features? Click here
Notion
Combo Marvels
Twice the Productivity Power With Template Bundles
Template Description
Why did I create this template?
I created this template to provide startup entrepreneurs and business leaders with a comprehensive and organized solution for managing their ventures effectively. Startup OS 2.0 was developed to streamline the startup journey by offering a wide range of tools and resources that simplify planning, launch, and ongoing management, ultimately enhancing the chances of success.
What's inside the template?
Inside the template, you'll find an extensive collection of over 60 ready-to-use and fully customizable templates. These templates cover essential aspects of startup management, including a Company Dashboard, Business Model Canvas, Value Proposition Canvas, Team Alignment Map, Pitch Deck Creator, ROI Calculator, Marketing Strategy, Financial Statements, and more. Additionally, there's an icon library with over 1500 icons in nine different colors and access to a continuously updated repository of more than 200 tools and resources.
How to use the template?
To use the template, simply access the Startup OS 2.0 platform, and you'll have instant access to all the templates and features. Begin by selecting the specific template that matches your current needs or objectives. Customize it to align with your startup's unique requirements, filling in the relevant information and data. You can collaborate with your team in real-time within the platform, ensuring everyone is on the same page. The organized workspace and linked database views make it easy to navigate and analyze your data efficiently.
What are the benefits of the template?
The template offers numerous benefits:
Streamlined Workflow: It prioritizes critical tasks and activities, helping you focus on what matters most for your startup's success.
Comprehensive Toolkit: With a vast array of templates and resources, it covers all aspects of startup management, reducing the need to search for tools and information elsewhere.
Real-Time Collaboration: Seamlessly collaborate with your team, no matter where they are located, using the Notion platform.
Proven Success: The template is built on validated and continually refined processes, increasing your startup's chances of success.
Time Savings: Avoid the time-consuming task of creating documents and spreadsheets from scratch; use the templates to get started quickly.
Financial Control: Efficiently manage your startup's finances with the Subscription Tracker and other financial tools.
Customer Satisfaction: Join a community of over 600 satisfied customers who have successfully nurtured their startups using Startup OS 2.0.
In summary, this template is designed to save you time, improve your startup's organization, enhance collaboration, and increase your chances of achieving your entrepreneurial goals.
What happens if you don't have this template?
If you don't have access to the Startup OS 2.0 template, you may face several challenges and drawbacks in your startup journey:
Disorganization: Without the template's structured approach, you might struggle to keep track of important startup information, leading to disorganization and inefficiency.
Time-Consuming: Creating essential documents, such as business plans, financial statements, and pitch decks, from scratch can be time-consuming, delaying your startup's progress.
Lack of Standardization: Your startup's documents may lack consistency and a professional appearance, potentially impacting your ability to attract investors or partners.
Missed Opportunities: You may miss out on valuable insights and resources provided within the template, which could have helped you make more informed decisions and optimize your startup strategy.
Reduced Collaboration: Collaborating with your team may become less efficient, leading to miscommunication and delays in project execution.
Financial Challenges: Without tools like the Subscription Tracker, you might struggle to manage your startup's finances effectively, potentially leading to overspending or financial instability.
Risk of Mistakes: Creating complex documents and financial models manually increases the risk of errors that could have serious consequences for your startup.
Limited Network: You might miss out on the opportunity to connect with a community of fellow startup founders who have successfully used Startup OS 2.0 to grow their ventures.
In summary, not having access to the Startup OS 2.0 template could result in wasted time, increased risk, missed opportunities, and a less efficient startup management process, potentially hindering your startup's growth and success.
Notion

Workspaces 🪴

A collection of best templates by best makers, Coming Up next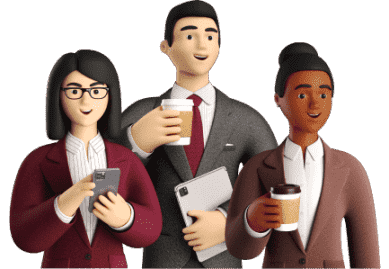 Be a Maker and start earning now
Have a knack for building useful or aesthetic Notion templates? Prototion is the perfect platform for generating revenue by selling templates. Learn more
Be a maker