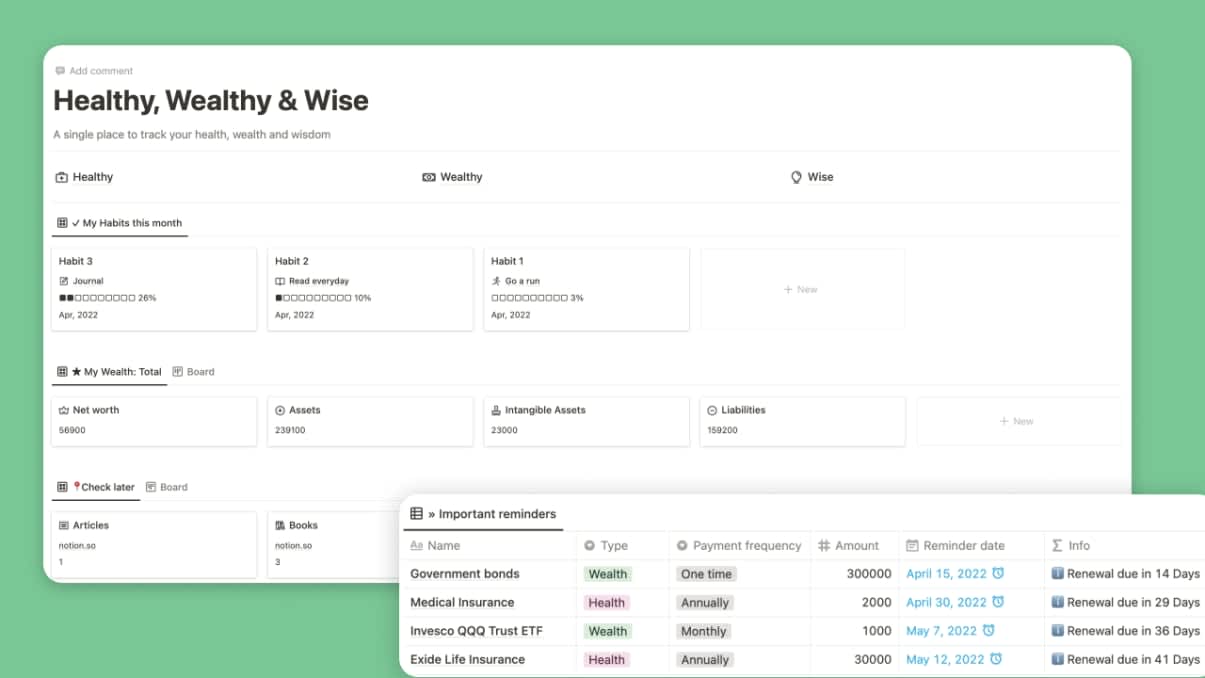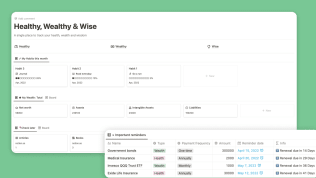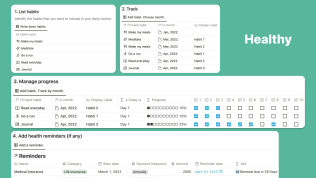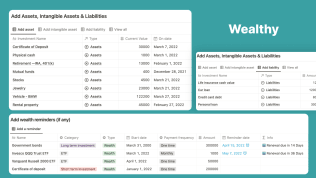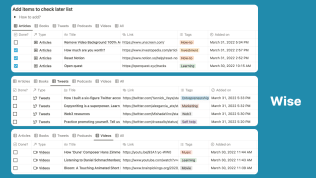 Healthy Wealthy & Wise
By
A single place to track your health, wealth & wisdom on Notion. Fully customisable to your preferences and easy to use.
Rating:
Know more details about this template's features? Click here
Notion
Combo Marvels
Twice the Productivity Power With Template Bundles
Template Description
Why did I create this template?
This template is inspired by a tweet storm from Naval Ravikant on Health, Wealth & Happiness. Naval is an investor, entrepreneur and one of the most innovative minds in venture capital. We love his tweets and wanted to create a simple template inculcating his principles & wisdom. Hence the Healthy, Wealthy & Wise dashboard that helps you aggregate and manage all important aspects regarding health, money & learning.
What's inside the template?
The template is divided into 3 main sections - one for health, one for wealth and the last one for aggregating all items related to learnings.
Health section contains information related to managing habits & all health related reminders. e.g. insurance reminders
Wealth section lists all user Assets, Intangible Assets & Liabilities and calculates the Net Worth. It also has a section for listing all wealth reminders. e.g list your Investment - Government bonds and mention the payment date to get reminded.
Wisdom section lists links to all interesting articles, books, tweets, podcasts & videos. It is like a check-back later list of all interesting stuff.
How to use the template?
Clear out the habits in the Health section and list your habits. Set your health reminders if any
Clear and set your Assets, Intangible Assets & Liabilities to get your Net Worth. Set your wealth reminders if any
Clear out the existing data and set your info for articles, books, tweets, podcasts & videos.
In the home page, you will see your current habits, your net worth based on Assets, Liability & Intangible Assets along with your check later list.
What are the benefits of the template?
The main benefit of the template is the single place to manage all your information -
Health contains habits, Wealth shows you your Net worth & Wisdom has your check back later list.
Notion

Workspaces 🪴

A collection of best templates by best makers, Coming Up next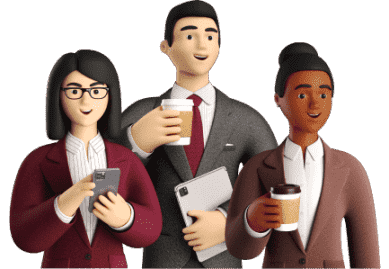 Be a Maker and start earning now
Have a knack for building useful or aesthetic Notion templates? Prototion is the perfect platform for generating revenue by selling templates. Learn more
Be a maker