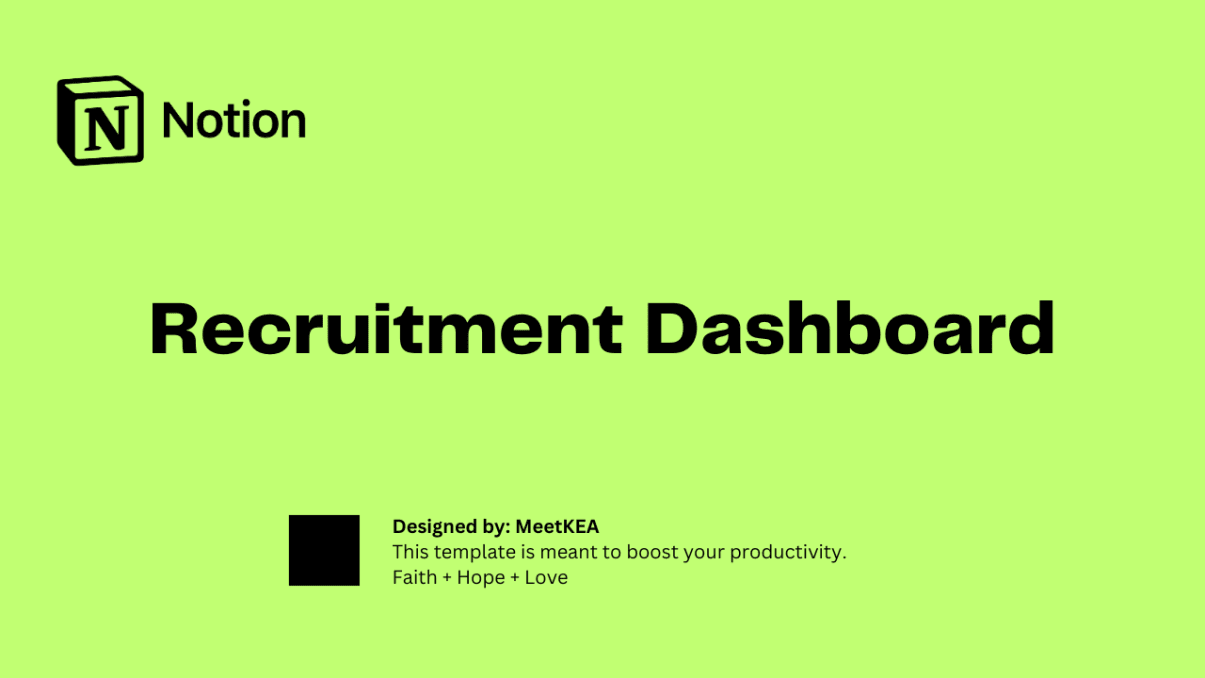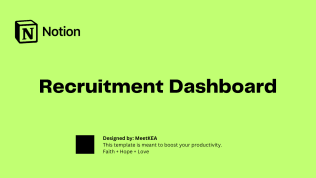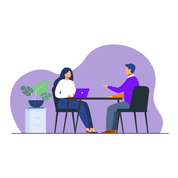 Recruitment Dashboard
By
Organize Your Hiring Process with Ease In this template: View the different applicants for the job roles & more
Rating:
Know more details about this template's features? Click here
Notion
Combo Marvels
Twice the Productivity Power With Template Bundles
Template Description
Why Did I Create This Template?
I created this Notion Recruitment Dashboard template to streamline and simplify the recruitment process for businesses and organizations. This comprehensive tool is designed to help you manage all aspects of the recruitment process efficiently and effectively. Below, I will provide an in-depth explanation of why I created this template and what it offers.
Recruitment is a critical process for any organization, and it often involves numerous steps, documents, and communication channels. In today's competitive job market, it's essential to have a well-organized system in place to attract, evaluate, and onboard top talent swiftly. The reasons behind creating this Notion Recruitment Dashboard template are as follows:
1. **Efficiency**: Traditional recruitment processes can be time-consuming and prone to errors. This template aims to streamline the recruitment process, making it more efficient by providing a centralized hub for all recruitment-related activities.
2. **Transparency**: Transparency is crucial in recruitment. By using this template, you can easily share information, progress, and updates with all relevant team members, ensuring everyone is on the same page.
3. **Consistency**: Maintaining consistency in your recruitment process helps in making fair and unbiased hiring decisions. The template provides a standardized approach to recruitment, helping you adhere to best practices.
4. **Customization**: Every organization has unique recruitment needs and workflows. This template is highly customizable, allowing you to adapt it to your specific requirements while still benefiting from a structured framework.
What Does the Template Offer?
The Notion Recruitment Dashboard template offers a wide range of features and functionalities to support your recruitment efforts:
1. **Candidate Tracking**: Easily manage and track candidates throughout the entire recruitment process, from initial applications to final hiring decisions.
2. **Job Listings**: Create and maintain a catalog of open positions, including job descriptions, requirements, and application deadlines.
3. **Interview Scheduling**: Schedule interviews with candidates and keep track of interview details, feedback, and outcomes.
4. **Resume and Document Storage**: Upload and organize resumes, cover letters, and other relevant documents for each candidate.
5. **Collaboration**: Facilitate collaboration among your recruitment team by providing a shared platform for communication, notes, and feedback.
6. **Analytics and Reporting**: Gain insights into your recruitment process through visual analytics and reporting tools, helping you identify areas for improvement.
7. **Onboarding**: Transition seamlessly from recruitment to onboarding by storing onboarding materials and checklists within the same dashboard.
8. **Integration**: The template can be integrated with other tools and services, such as email, calendars, and project management apps, to further enhance your recruitment workflow.
In summary, the Notion Recruitment Dashboard template was created to simplify and optimize the recruitment process, providing efficiency, transparency, and customization. By utilizing this template, you can enhance your organization's ability to attract and onboard top talent while maintaining a structured and consistent approach to recruitment.
Notion

Workspaces 🪴

A collection of best templates by best makers, Coming Up next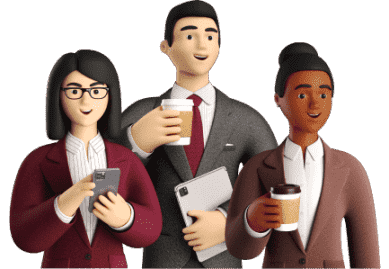 Be a Maker and start earning now
Have a knack for building useful or aesthetic Notion templates? Prototion is the perfect platform for generating revenue by selling templates. Learn more
Be a maker