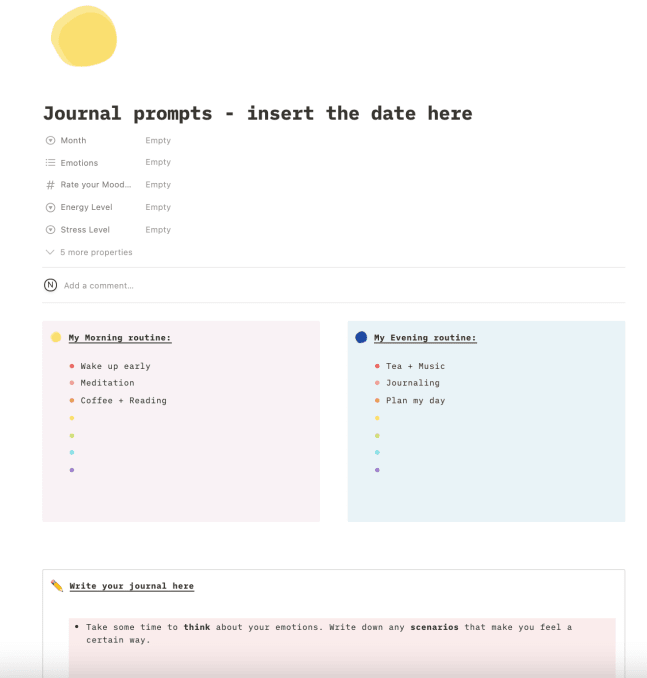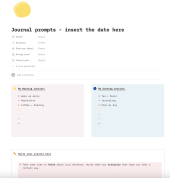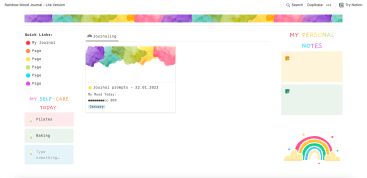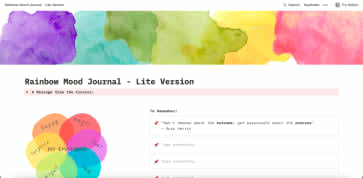 Rainbow Mood Journal
By
The goal of Rainbow Mood Journal is to help you gain a better understanding of yourself and your emotions.
Rating:
Know more details about this template's features? Click here
Notion
Combo Marvels
Twice the Productivity Power With Template Bundles
Template Description
Why did I create this template?
Do you ever do things that you regret when you're mad? Or can't think straight when you're sad? Our decisions and choices can be affected by our feelings, but it's important to be aware of them. Writing in a mood journal is a great way to do this.
Writing down what you're feeling each day can help you understand yourself better and see what affects your mood. This can help you make better decisions and take care of yourself better. You can also look back at old entries in your mood journal and spot patterns in your emotions. This can help you figure out what causes your emotions and how to deal with them in the future.
What's inside the template?
A daily mood tracker
Journal prompts: a pre-made template for your daily journal with some questions
Pages, lists, and blocks that you can customize as you wish.
How to use the template?
Duplicate it in your own Notion workspace
Now you can easily use the template
What are the benefits of the template?
Emotional Regulation: Keeping a mood journal can assist in managing your emotions effectively. When you track your moods, you become more conscious of the factors that influence your emotional state. This awareness empowers you to take proactive steps to regulate your emotions and make better choices, even in challenging situations.
Decision-Making: Understanding your moods and emotions can greatly impact your decision-making process. By reviewing your mood journal, you can identify how your emotions influence your choices. This awareness enables you to make more informed and rational decisions, even when experiencing strong emotions.
Self-Care: The mood journal acts as a tool for self-care. It helps you prioritize your emotional well-being by recognizing the activities, situations, or people that positively or negatively affect your mood. This awareness allows you to make adjustments in your daily routine, environment, or self-care practices to support your emotional health.
Notion

Workspaces 🪴

A collection of best templates by best makers, Coming Up next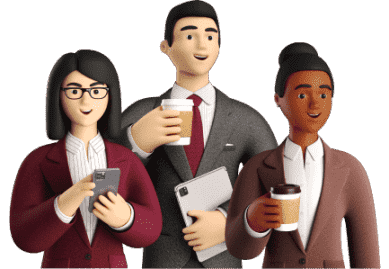 Be a Maker and start earning now
Have a knack for building useful or aesthetic Notion templates? Prototion is the perfect platform for generating revenue by selling templates. Learn more
Be a maker