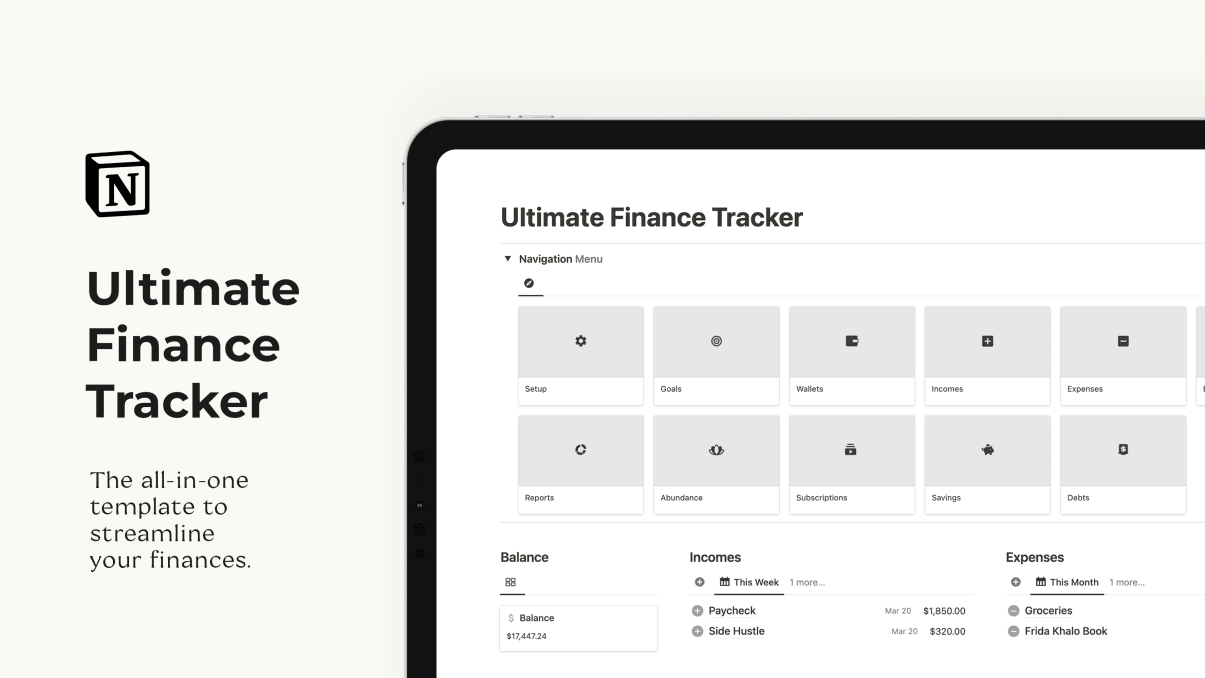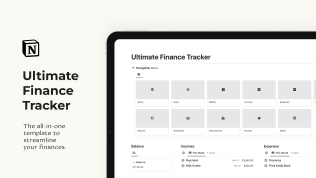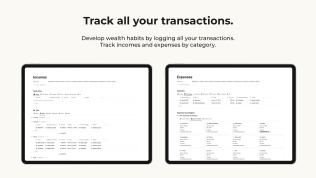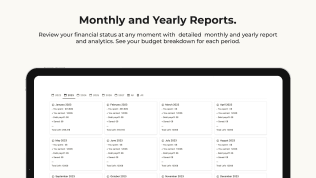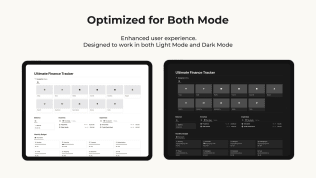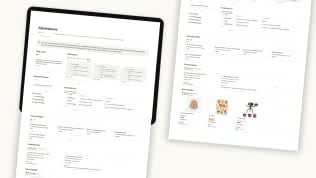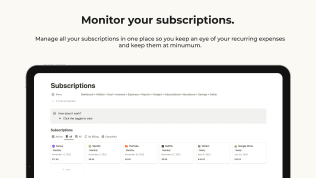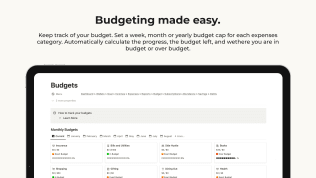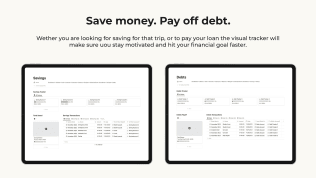 Ultimate Finance Tracker
By
With Ultimate Notion Finance Tracker, you can save money and optimize your budget. Organize and analyze your cash flow.
Rating:
Know more details about this template's features? Click here
Notion
Combo Marvels
Twice the Productivity Power With Template Bundles
Template Description
Why did I create this template?
The all-in-one tool to manage your finance.The Ultimate Finance Tracker is a comprehensive system that helps you get on top of your spending and saving goals, pay off debt faster.
Easy logging income and expenses
Track your income and expense with a click. A quick log page is included so it easy for you to track your transaction on the go.
Track saving and debt goals
Debt can feel daunting. The template make easier to pay off debt, with a visual progress bar that help your visualize your progress toward being debt free.
Automated Budget Tracker
Track your expenses by category. Add a budget for the current month, each month. Easily check your progress and the budget left. You can also track your budget by week or by year.
Abundance dashboard
Develop an abundance mindset is never been easier. Be inspired by daily quote and affirmations about wealth and prosperity. Cut off mindless spending thank to the no-buying list and the smart Wishlist. The only Wishlist that tell you to save instead of spending, by adding a waiting time to your item.
Available in 3 currencies (Standard)
Don't need to manually change the currency. Designed to fit your need. The Finance Tracker is available $, €, £.
Intuitive to Use
Setup the template in 3 minutes and you're ready to manage your finance. The Finance Tracker is beginner friendly, and a quick start tutorial will guide you through the process.
What's inside the template?
📑 WHAT'S INCLUDED
The Ultimate Finance Tracker for Notion is 18+ pages operating system designed to help you streamline your finance, become more mindful of your spending, achieve your financial goal and develop an abundance mindset. All in one place.
DASHBOARD
SETUP PAGE
WALLETS AND BALANCE
QUICK LOG (FOR MOBILE)
INCOMES TRACKER
EXPENSES TRACKER
SAVINGS TRACKER
DEBT TRACKER
SMART WISHLIST
ABUNDANCE DASHBOARD
FINANCIAL GOALS
FINANCIAL HABITS
DAILY ABUNDANCE AFFIRMATIONS
DAILY WEALTH QUOTES
SUBSCRIPTION TRACKER
BILL TRACKER
MONTHLY TRACKER
YEARLY REPORT
How to use the template?
📑 COMPATIBILITY
The template only works with Notion. It's optimized for use on laptops and desktops. It's accessible with any device. When accessed from smaller devices such as smartphones and tablets the template would appear different than the listing image. The functions remain consistent across all the devices. For a better experience, I advise using it on a bigger device.
📑 YOU WILL NEED
Desktop, Laptop, Smartphone, and Tablet to access Notion
A Free Notion account
Basic understanding of how Notion works
📑 RETURNS:
There are no return policies when you purchase a digital download. Please, message me with your questions before purchasing.
📑 PLEASE NOTE:
All templates are for personal use only and may not be resold or redistributed under any circumstances.
📑 ANY QUESTIONS?
Drop a message at support@notionavenue.co
What are the benefits of the template?
Optimize Your Spending and Reach Your Goals
Our tool makes it easy to create budgets and stick to them, so you can save money on the categories you spend the most on. You can visually monitor your progress to ensure you're staying in green numbers and maintaining positive cash flow.
Everything you need to achieve your financial goals. Beginner friendly.
Embrace a seamless and comprehensive budgeting experience with progress bars, automatic calculations, always-up-to-date balances, and an intuitive dashboard.
Notion

Workspaces 🪴

A collection of best templates by best makers, Coming Up next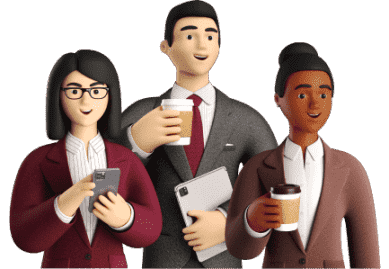 Be a Maker and start earning now
Have a knack for building useful or aesthetic Notion templates? Prototion is the perfect platform for generating revenue by selling templates. Learn more
Be a maker