Twitter Content Manager
By
Turn ideas into posts, posts into threads, and threads into followers.
Rating:
Know more details about this template's features? Click here
🔥 Mid Year Mega Sale 2022
Template Description
PREAMBLE :
Content in terms of Social world is creation of written or visual information by people in context with different ideas and making that information accessible to audience as a blog, video, infographic, or other format on social networking sites like Twitter , Facebook , Instagram , LinkedIn extra and other websites . Those who make contents are known as CREATORS .
"TWITTER CONTENT MANAGER" is a must-have tool for creators , especially for the one's who avail oneself on Twitter more .
WHY THIS AMAZING TEMPLATE ?
Think and Create.
TURN : Ideas - -2- - > Posts
Posts - -2- - > Threads
Threads - -2- - > Followers with Twitter Content Manager .
Keep your Twitter content on track.
Stay consistent as a creator, learn a lot of new + and upcoming things and grow your account by using this template to the fullest.
Systematic way of keeping an account of the reach of your tweets; weekly, monthly, or even every single day.
This template has a unique feature of "RECEPTION LEVELS" on the Statistics page where you can define your reception levels like - - - > 5★ for "viral" tweets, 3★ for "average" tweets, and 1★ for "ignored" tweets and any other way as you would like to.
WHAT'S INSIDE ??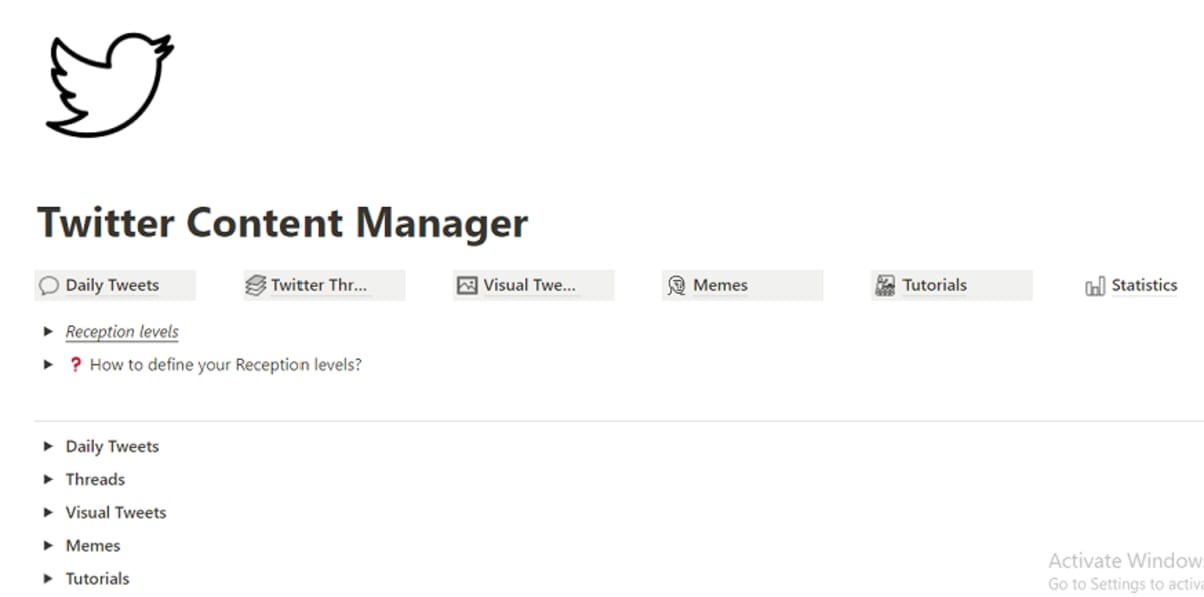 " />
Dashboard of "TWITTER CONTENT MANAGER" .
a) Daily Tweets :- Keep track of your tweets on daily basis and even save tweets for future with a reminder in this .
b) Twitter Threads :- Published , unpublished , In association , un-associated threads [series of tweets] with links , weekdays and media in one click .
c) Visual Tweets and Memes :- Available to differentiate tweets which makes this template easy to use .
d)Tutorials :- This place is made to save your future tweets and your strategies .
e) Statistics :- Reception by Type of tweets & Reception by weekdays .
Check out more useful and easy to use NOTION TEMPLATES , according to your need .
Be a Maker and start earning now
Have a knack for building useful or aesthetic Notion templates? Prototion is the perfect platform for generating revenue by selling templates. Learn more
Be a maker