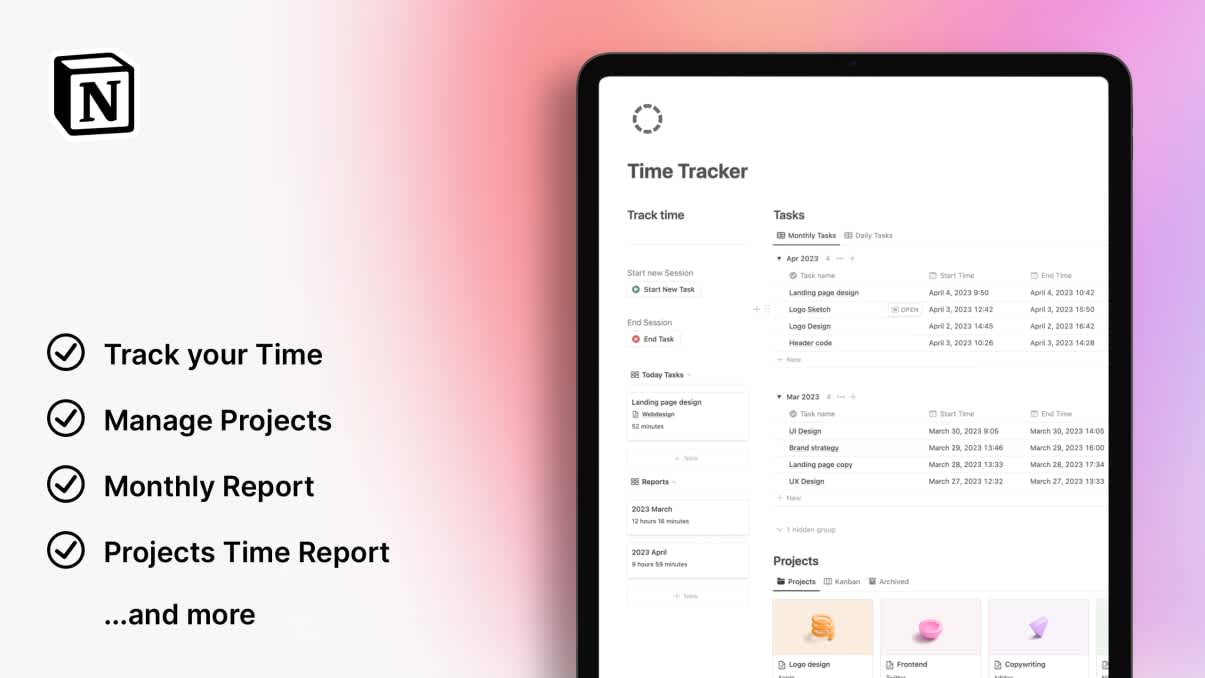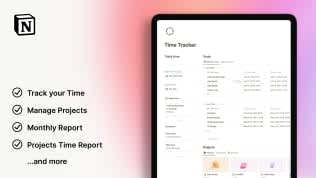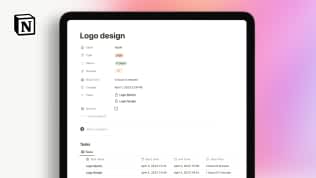 Time Tracker
By
Boost Your Productivity with the Notion Time Tracker Template Start managing your projects and tracking your time.
Rating:
Know more details about this template's features? Click here
Notion
Combo Marvels
Twice the Productivity Power With Template Bundles
Template Description
Why did I create this template?
Boost Your Productivity with the Notion Time Tracker Template! ⚡️
Elevate your time management skills and supercharge your daily efficiency with this remarkable tool. Transform the way you work and harness the true power of your precious hours.
Say goodbye to time wasted and hello to optimized, well-structured days that allow you to accomplish more than ever before. Explore a revolutionary approach to managing your time and enhancing your productivity.
What's inside the template?
Start managing your projects and tracking your time more efficiently today with the customizable Notion Time Tracker Template.
Streamline your workflow, visualize your progress, and collaborate seamlessly with your team. Try it now and take your productivity to the next level!
How to use the template?
The Notion Time Tracker Template is a powerful tool designed to help users manage and track their project tasks efficiently. With this template, users can easily create projects, add tasks, and track their progress by monitoring the amount of time spent on each task.
Duplicate it in your own Notion workspace
Now you can easily use the template
What are the benefits of the template?
Effortless Time Tracking: Seamlessly monitor and record your time allocation, ensuring that every minute of your day is accounted for. This feature empowers you to gain insights into how you utilize your time, facilitating smarter decision-making.
Project Management Made Easy: Take control of your projects with intuitive project management capabilities integrated into the template. Organize tasks, set priorities, and ensure deadlines are met, all within one unified platform.
Comprehensive Monthly Reporting: Simplify your monthly reporting process by using this template. It provides a structured framework to compile your monthly activities, ensuring you have a clear overview of your accomplishments and areas for improvement.
Detailed Project Time Analysis: Dive deep into your project time allocation with the Projects Time Report feature. Identify where your efforts are most effective and discover opportunities to optimize your workflow for greater efficiency.
Timeline Visualization: Gain a visual perspective on your tasks and projects with the Timeline View feature. This dynamic representation enables you to see how different tasks align over time, aiding in better project planning and resource allocation.
Notion

Workspaces 🪴

A collection of best templates by best makers, Coming Up next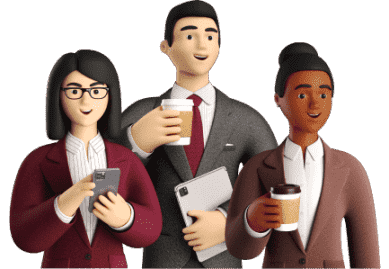 Be a Maker and start earning now
Have a knack for building useful or aesthetic Notion templates? Prototion is the perfect platform for generating revenue by selling templates. Learn more
Be a maker