The Bible
By
31,102 Verses of the Bible as Referable Rows in a Table. It is not only easily accessible from anywhere but also simple to dive into.
Rating:
Know more details about this template's features? Click here
🔥 Mid Year Mega Sale 2022

Template Description
Are you a religious person or someone who likes to stay in touch with the Bible? We are here to ease out things for you with this notion template.
The Bible is a notion template for anyone who wants to access the bible within Notion. It is not only easily accessible from anywhere but also simple to dive into.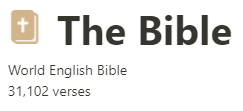 The Bible🙇‍♂️
Positive Energy
The Bible has inspired some of the great monuments of human thought, literature, and art in the world. It has provided a layout of religious and moral norms which have enabled people to hold together, care for, and to protect one another in this world.
This Notion Template helps you to adapt the beauty and truth of the Bible into everyday life.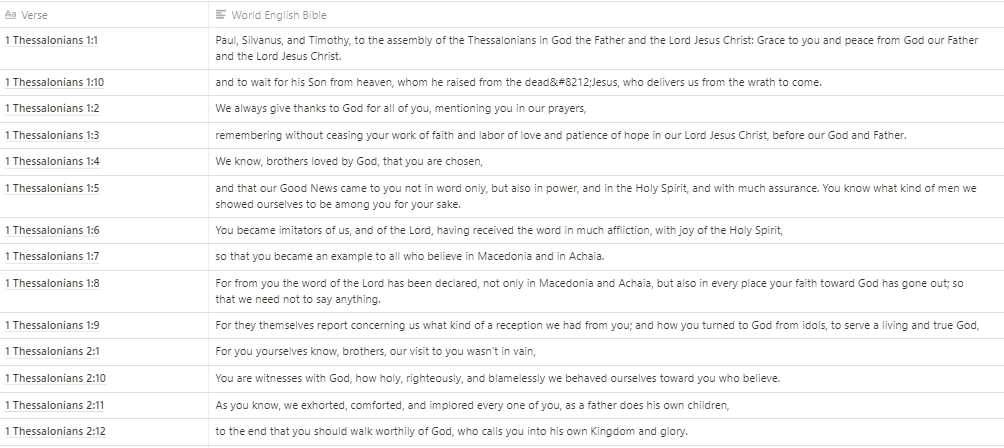 Bible Verses🎇
Easy To Access
With this aesthetic notion template, you can access the Bible from anywhere within Notion. 31,920 Verses of the Bible are Turned into a Notion Template for Your Convenience. The Simple formation helps you study and understand it better.
This Template contains 31,102 verses of the Bible!

Easy Access🎁
A Bonus Guide
This Template comes with a special guide with instructions on how to use it effectively. Within the guide, You can also find use cases for proper guidance.
For the full tutorial on how to use this template check out this guide: https://swiy.io/notionbible

Guide🎈
All this value comes in a free aesthetic notion template! Download now to get easy access to the Bible!
Be a Maker and start earning now
Have a knack for building useful or aesthetic Notion templates? Prototion is the perfect platform for generating revenue by selling templates. Learn more
Be a maker