Supreme Second Brain
By
It's a simple but practical system built-in Notion prefilled with templates, databases, and examples.
Rating:
Know more details about this template's features? Click here
✨ Do you Write?

Template Description
🚨LIMITED TIME OFFER: Pre-order the "Supreme Second Brain" only for $10 (50% off).
First, 10 people who will buy the Supreme Second Brain will also receive a gift which is worth $10.
Taking notes was never easier than now. In this Supreme Second Brain, you will find everything you need to have as a successful note-taker.
So you are looking for the easiest way to start or manage to take notes from everything. Well, this tool is designed exactly for you.
No matter if you would manage your tasks, projects, notes, and goals you will find this tool extremely beneficial.
This tool will help you to start/manage your entire knowledge hub. It's a simple but practical system built-in Notion prefilled with templates, databases, examples, and much more that will accelerate your second brain.
It will be your note-taking's best friend and the only tool; that brings you clarity and productivity at the same time.
📒With The Supreme Second Brain you'll get the most revolutionary notetaking system that will help you be more organized.
Having your note-taking system can be a lot of fun, but it can also be quite stressful. There are many things you need to have to start taking notes. There are also many things you need to know about taking notes regularly.
The Supreme Second Brain is a solution for all of that, so you won't need to worry about anything and focus on the things that matter the most - taking notes.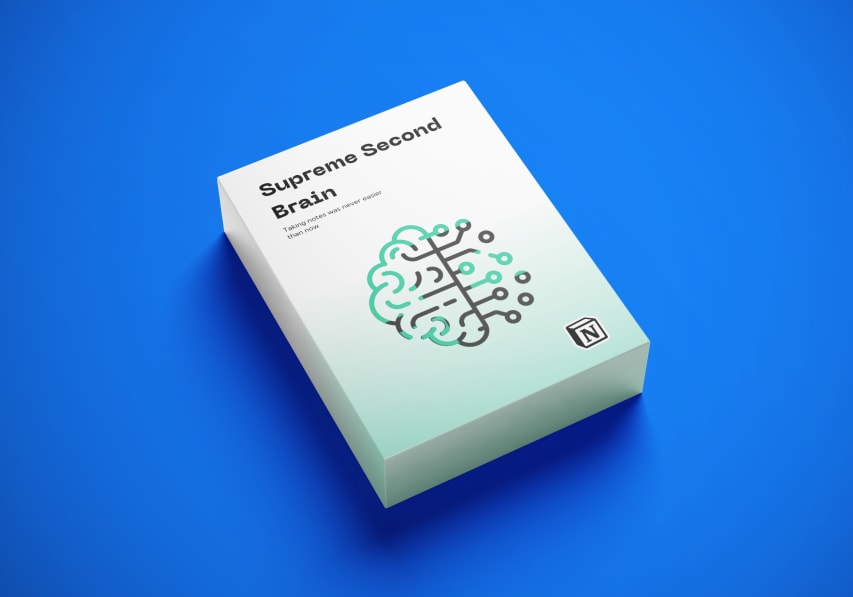 📈Wouldn't it be great to have a catalogue of everything you need to succeed in the art of getting things done?
Feeling tired of taking your notes in the tons of Word documents, sticky papers or even in your email inbox? In this kit, you will find a catalogue with projects, areas, resources, an archive; a bunch of notebooks, quick notes, tasks every second day, and other cool stuff ready for you to explore and use for your note-taking.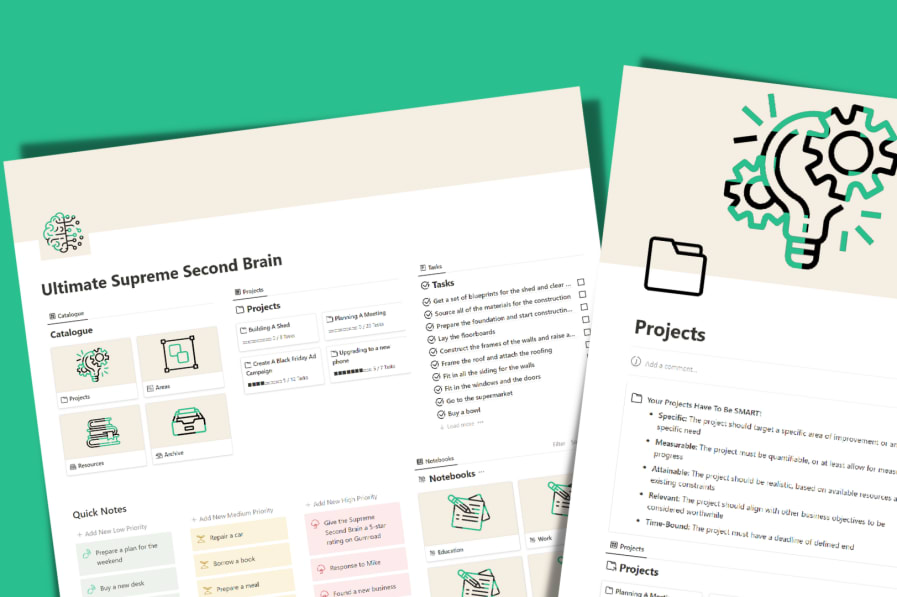 💯A productivity tool that will help you take better and more clear notes, so you can remember more and complete your assignments more effectively.
There is no single formula for every person to make a successful note-taking system. But there are main important aspects that you need to know and possess to have a higher chance of taking awesome notes.
Inside you will find prefilled examples of productive notes, templates, tips, and more. With this Supreme Second Brain, you will get the greatest note-taking system and clarify your notes.
As result, you will have a clearer image of your notes, projects, tasks, and more.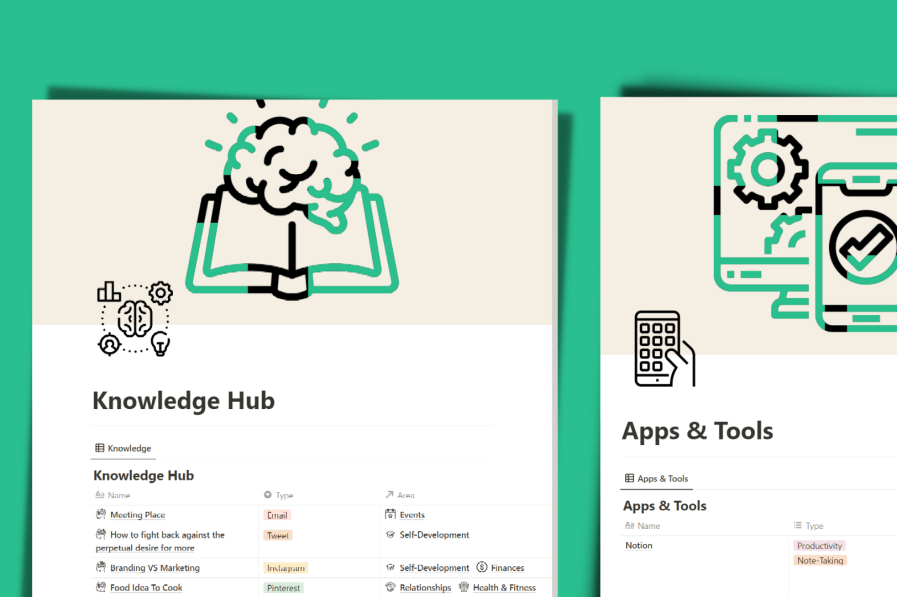 🌌Now when you want to structure your notes, outlines, and shapes, you don't need to worry, because your Supreme Second Brain will help you to be productive! Your brain will be second-to-none!
Managing notes can be tough, especially when you need to invent the system by yourself!
Every part of your knowledge system - notes, projects, tasks, etc is covered inside this tool. With this tool, you'll have everything you need to run an efficient and productive note-taking system.
It includes templates for taking notes, projects, an archive, areas, resources, tasks, and many more.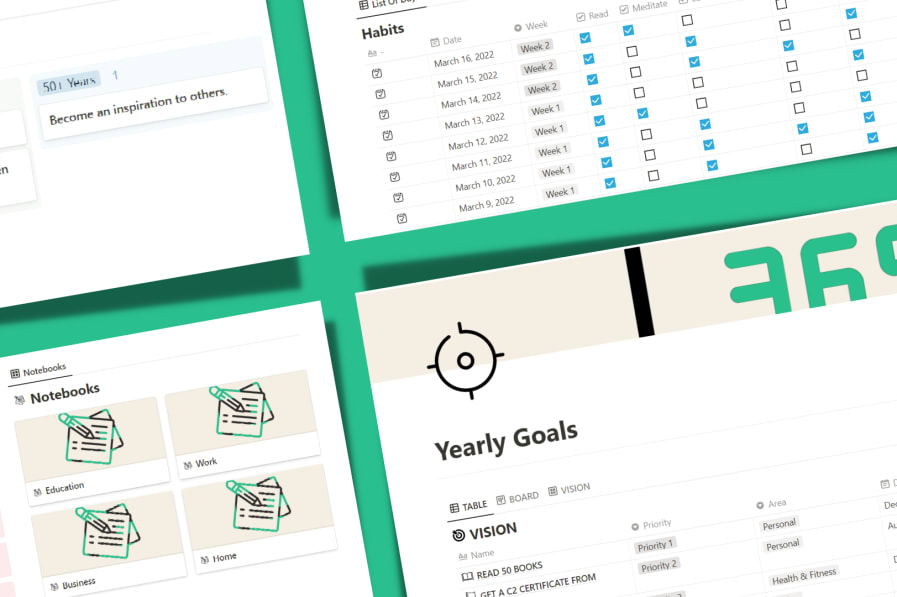 💠What's inside
PARA Method (the core of the second brain system)
Projects (manage your projects in advance)
Areas (divide your life into several areas)
Resources (insert interesting things in here)
Archive (archive your completed tasks, projects, or notes)
Notebooks (organize your notes in notebooks for every part of your life)
Notes (do fast notes for your quick thoughts to remember them)
Tasks (organize your tasks to get them accomplished quickly)
Apps & Tools (insert all the apps and tools you use into one place)
Books (make notes from the books you've read)
Courses (make notes from the courses you've taken and learn the content right within here)
Knowledge Hub (organize your whole knowledge base)
School (organize your education life)
Work (organize your employee's duties)
Home (organize your household)
Finances (get an overview of your finances)
Relationships (get the best relationships with the people you want)
Productivity (get things done faster than ever)
Self-Development (learn new things, develop new skills, live a better life)
Health & Fitness (get fit and healthy with your complex system)
Events (get a special calendar right for you)
Meetings (organize your meetings and never come late)
Be a Maker and start earning now
Have a knack for building useful or aesthetic Notion templates? Prototion is the perfect platform for generating revenue by selling templates. Learn more
Be a maker