Supreme Second Brain
By
The Easiest Way To Manage Your Projects Like A Pro! Spend Less Time Managing & More Time Doing What Matters Most.
Rating:
Know more details about this template's features? Click here
🔥 Mid Year Mega Sale 2022

Template Description
The Easiest Way To Manage Your Projects Like A Pro!
Spend Less Time Managing & More Time Doing What Matters Most.
Supreme Second Brain is an all-in-one place system which combines, tasks, projects, notes and goals — turns your life into an organised and productive one.
LIMITED TIME OFFER: Use code BRAIN50 to get 50% off!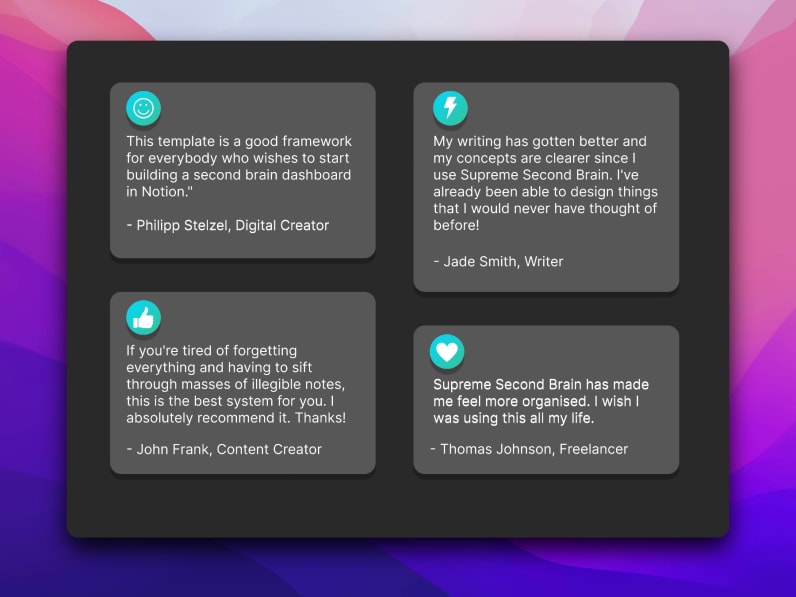 Become Fully Focused On Accomplishing Meaningful Activities.
Supreme Second Brain is a revolutionary approach to enhancing productivity, creating flow, and vastly increasing your ability to capture, remember and benefit from the unprecedented amount of information all around us.
For the first time in history, we have instantaneous access to the world's knowledge. There has never been a better time to learn, contribute, and improve ourselves. Yet rather than feeling empowered, we are often left feeling overwhelmed by this constant influx of information. The very knowledge that was supposed to set us free has instead led to the paralyzing stress of believing we'll never know or remember enough.
Remember Everything You Read & Have An All-In-One Place to Take Notes.
Now, this eye-opening system gives you access to your own personal system for knowledge management, otherwise known as a Second Brain. As a trusted and organized digital repository of your most valued ideas, notes, and creative work synced across all your devices and platforms, a Supreme Second Brain gives you the confidence to tackle your most important projects and ambitious goals.
Discover the full potential of your ideas and translate what you know into more powerful, more meaningful improvements in your work and life by Supreme Second Brain.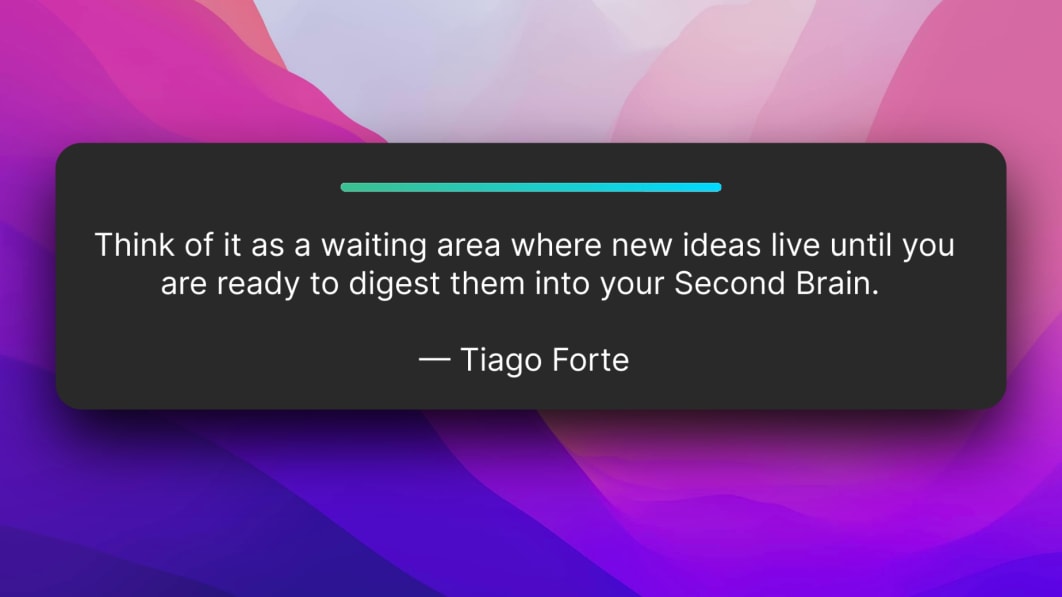 What's included?
PARA Method: Projects, Areas, Resources, Archive (the core of the second brain system)
Projects (manage your projects in advance)
Areas: Finances, Relationships, Productivity, Self-Development, Health & Fitness, Events (divide your life into several areas)
Resources: Apps & Tools, Books, Courses, Knowledge Hub (insert interesting things here)
Archive (archive your completed tasks, projects, or notes)
Notebooks: Education, Work, Business, Home (organize your notes in notebooks for every part of your life)
Tasks (organize your tasks to get them accomplished quickly)
Quick Notes (do fast notes for quick thoughts to remember them)
Trackers: Habits Tracker, Yearly Goals, Life Goals (be aware of every area of your life)
FAQs
1. Will I need to pay for a Notion subscription?
No, Notion does offer a free plan with no strings attached.
2. Can I share this template with others?
No, this is a personal license for individual use only.
3. Have more questions?
Click here to send your question.
4. How to become an affiliate?
Click here to fill out the affiliate form.
Be a Maker and start earning now
Have a knack for building useful or aesthetic Notion templates? Prototion is the perfect platform for generating revenue by selling templates. Learn more
Be a maker