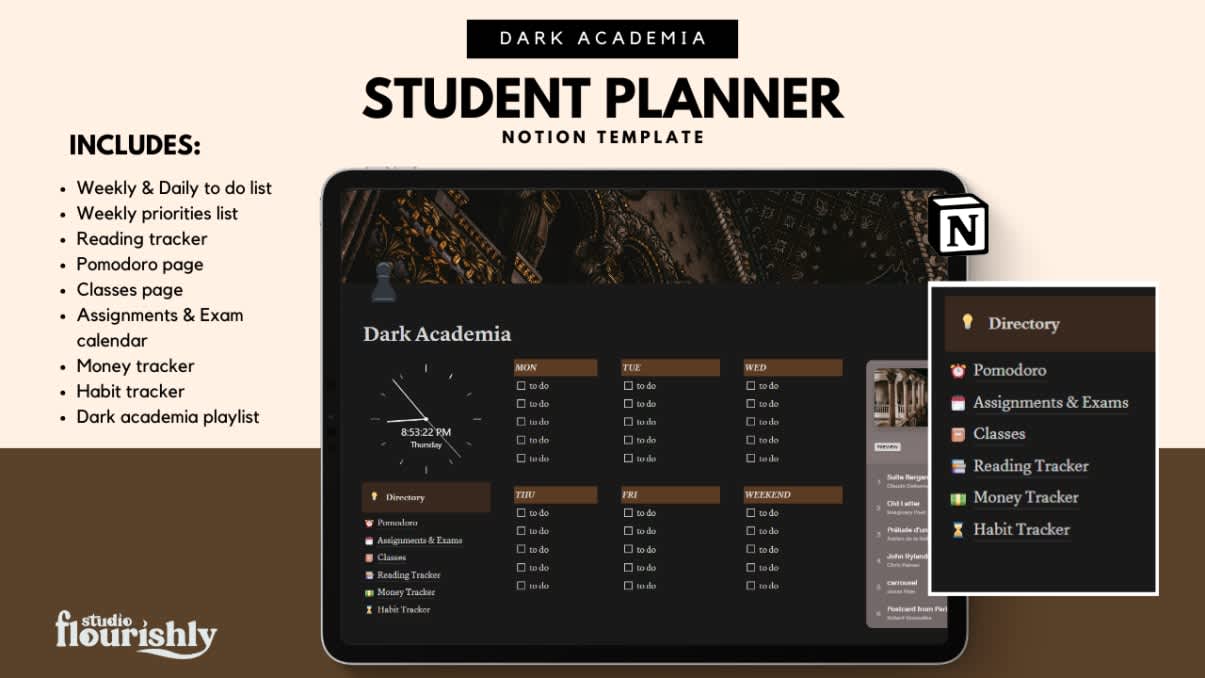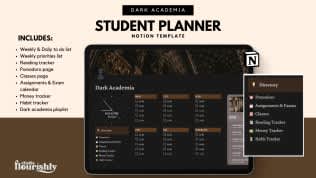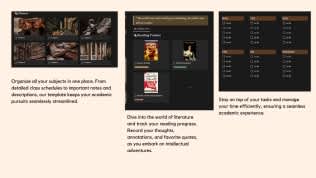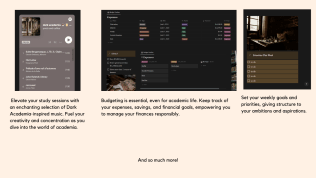 Student Planner
By
This comprehensive template offers an enchanting experience that keeps you organized and inspired.
Rating:
Know more details about this template's features? Click here
Notion
Combo Marvels
Twice the Productivity Power With Template Bundles
Template Description
About the template:
🚀 Immerse yourself in the timeless charm of the academic world with our meticulously crafted "Dark Academia" themed Notion template.
Designed to elevate your student life, this comprehensive template combines functionality and aesthetics, offering an enchanting experience that keeps you organized and inspired throughout your academic journey.
Key Features:
Weekly & Daily To-Do List: Effortlessly plan your days and weeks with our elegantly designed to-do lists. Stay on top of your tasks and manage your time efficiently, ensuring a seamless academic experience.
Weekly Priorities List: Set your weekly goals and priorities, giving structure to your ambitions and aspirations. Our template empowers you to focus on what truly matters, driving your academic success.
Reading Tracker: Dive into the world of literature and track your reading progress. Record your thoughts, annotations, and favorite quotes, as you embark on intellectual adventures.
Pomodoro Page: Enhance your productivity with the Pomodoro technique. This dedicated page will help you stay focused, manage your study sessions, and achieve a harmonious balance between work and rest.
Classes Page: Organize all your subjects in one place. From detailed class schedules to important notes and descriptions, our template keeps your academic pursuits seamlessly streamlined.
Assignments & Exam Calendar: Never miss a deadline again! Our template allows you to plan, track, and manage assignments and exams efficiently, preventing last-minute rushes.
Money Tracker: Budgeting is essential, even for academic life. Keep track of your expenses, savings, and financial goals, empowering you to manage your finances responsibly.
Habit Tracker: Cultivate positive habits and watch your personal growth flourish. Monitor your habits, build routines, and embrace self-improvement with ease.
Dark Academia Playlist: Elevate your study sessions with an enchanting selection of Dark Academia-inspired music. Fuel your creativity and concentration as you dive into the world of academia.
Why Should You Choose This Template?
Immerse in Timeless Charm: Embrace the allure of Dark Academia aesthetics that exudes elegance and sophistication, making your Notion experience truly enchanting.
Enhanced Productivity: Experience a boost in productivity as you organize your academic life effortlessly. Our template ensures you stay focused and motivated, achieving your academic goals with ease.
Seamless Organization: Everything you need for academic excellence is consolidated in one place. From classes to assignments, finances to habits, our template keeps you organized and stress-free.
Flexibility & Customization: Tailor the template to suit your unique preferences and requirements. Customize layouts, colors, and elements to create a truly personalized Notion planner.
Saves Time & Effort: No need to start from scratch. Our ready-to-use template saves you time, enabling you to invest your energy in what truly matters - your academic pursuits.
🔹 Embrace the Dark Academia Experience: Step into the captivating world of "Dark Academia" and elevate your student life with the "Student Planner [Dark Academia]."
Unlock your full potential, embrace productivity, and bask in the enchanting charm of academic pursuits. 💯
Notion

Workspaces 🪴

A collection of best templates by best makers, Coming Up next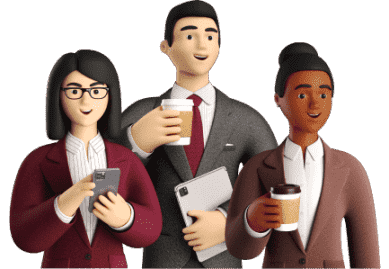 Be a Maker and start earning now
Have a knack for building useful or aesthetic Notion templates? Prototion is the perfect platform for generating revenue by selling templates. Learn more
Be a maker