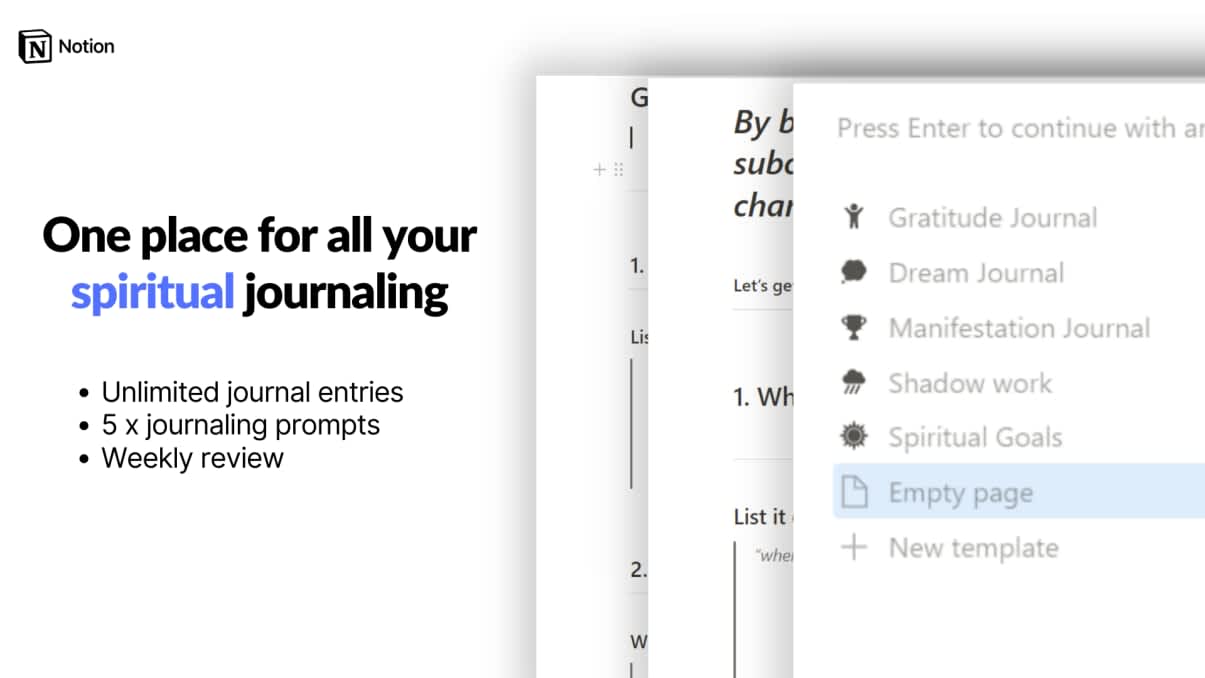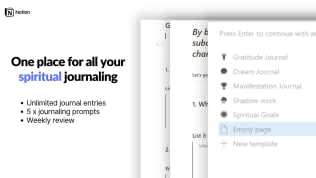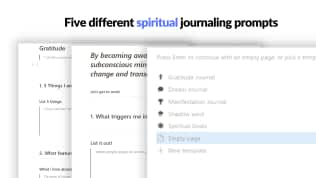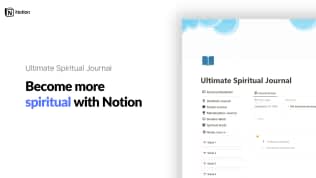 Ultimate Spiritual Journal
By
A spiritual journal made to enhance your life and make you a better person.
Rating:
Know more details about this template's features? Click here
Notion
Combo Marvels
Twice the Productivity Power With Template Bundles
Template Description
A spiritual journal made to enhance your life and make you a better person
Improve your journaling experience in a way you've never thought possible with this lightweight and digital spiritual journal made with love in Notion.
Benefits Of Journaling
At worst, journaling can help get persistent worries out of your head and onto paper so you can get on with your day. At best, it can be transformational to your mindset by forcing you to really think deeply about the events in your life and how you are reacting to them.
If practiced regularly, journaling can help you:
Calm and clear your mind
Make decisions more objectively
Embrace the events of your life
Reflect on what you have learned
Let go of negative thoughts
Increase your sense of gratitude
Improve your writing ability
Explore and settle strong emotions
Boost your self-awareness
Plan for and prevent future troubles
Build self-discipline by making it a habit
Creatively find solutions for everyday problems
Track your progress in applying Spiritual principles in your life
Organize your inner work
Keep track of your dreams and reach your desired goals.Stay grateful and create inner peace and contentment inside the gratitude journal.Dive deep in the questioning of your own life and do soul healing shadow work trough guided contemplation.Keep a organized overview of your manifestations in the manifestation journal
The 5 Spiritual Prompts
Gratitude JournalDaily journaling of the things in your life that matter the most to you, big or small. Appreciate the world more to optimize and enhance your overall happiness.
Dream JournalKeeping track of your astral endeavors in the spirit world. Helps you to interpret and integrate lessons symbolic meanings and otherworldly wisdom in to your physical being on earth.
Manifestation JournalManifest with ease in an organized fashion with Notion. Learn how to manifest the right way and do it ongoingly to achieve your goals.
Shadow WorkDive deep into your own shadow side and let go of past trauma, feelings and thoughts. Ask yourself the questions you don't want to every single day to see improvement of yourself.
Spiritual GoalsSet goals for your spiritual life journey and keep track of progress and all the things you have accomplished along the way.
What's included?
Your own personal spiritual journal with unlimited entries
Easy tracking & storing of all your inner work
A highly customizable template that's easy to use
A minimalist dashboard to help you stay organized!
3 powerful spiritual widgets (Pro version)
And much much more ...
Frequently Asked Questions
Who is the Ultimate Spiritual Journal for?
This journal is for anyone looking to begin journaling and for those looking to take their journaling to the next level. Especially those who are looking for digital alternatives to the physical journal. Practicing lightworkers or those curious about spirituality will also find this journal extra interesting.
What is Notion?
The notion is a free-to-use single digital space where you can think, write, and plan. Capture thoughts, manage projects, or even run an entire company — and do it exactly how you want. The Ultimate Spiritual Journal is built inside Notion and is easy to use and set up even without prior knowledge.
Notion

Workspaces 🪴

A collection of best templates by best makers, Coming Up next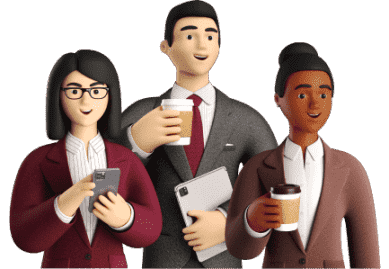 Be a Maker and start earning now
Have a knack for building useful or aesthetic Notion templates? Prototion is the perfect platform for generating revenue by selling templates. Learn more
Be a maker