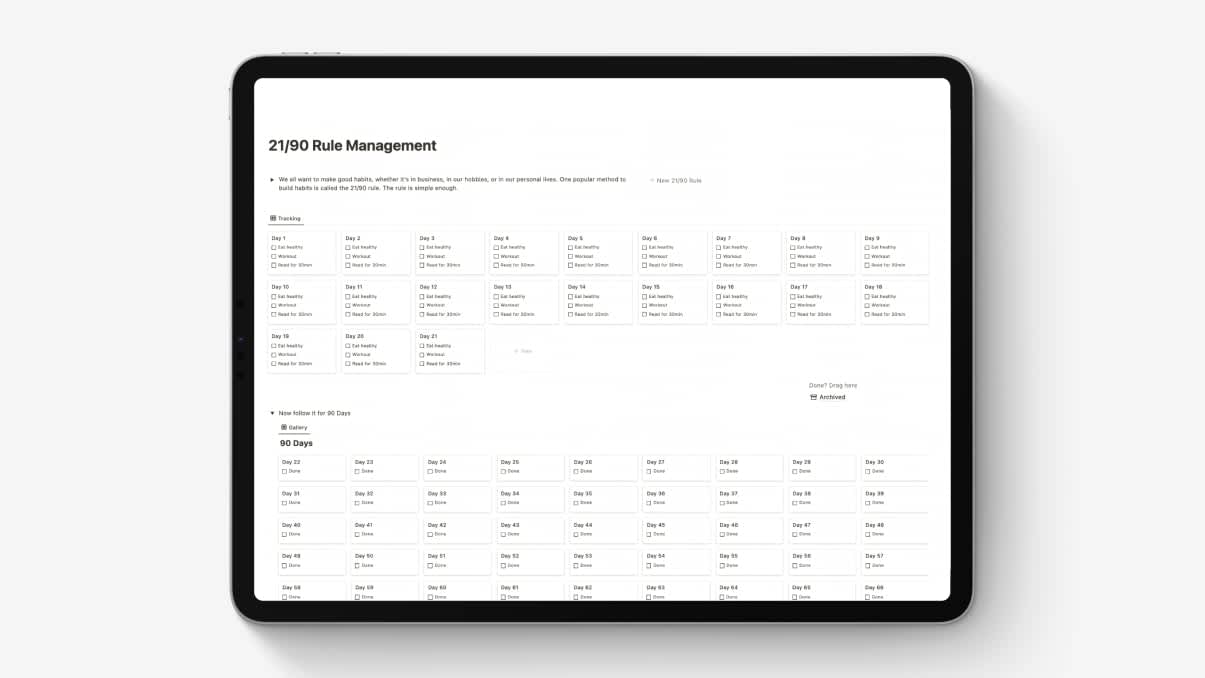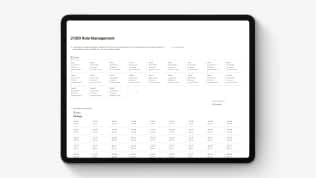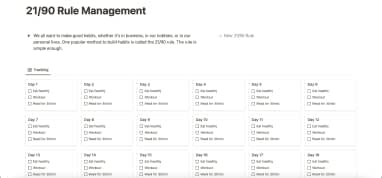 21/90 Rule Management
By
Get a new habit using the 21/90 method with this Notion template.
Rating:
Know more details about this template's features? Click here
Notion
Combo Marvels
Twice the Productivity Power With Template Bundles
Template Description
What's the template about?
We all want to make good habits, whether it's in business, in our hobbies, or in our personal lives. One popular method to build habits is called the 21/90 rule. The rule is simple enough.
Commit to a personal or professional goal for 21 straight days. After three weeks, the pursuit of that goal should have become a habit. Once you've established that habit, you continue to do it for another ninety days. If you can keep up something for three weeks and then ninety days, then it should become a permanent lifestyle change.
How to use the template?
Duplicate it in your own Notion workspace
Now you can easily use the template
What are the benefits of the template?
By committing to a goal for 21 consecutive days and then continuing the habit for an additional ninety days, individuals can increase their chances of integrating desired behaviors into their daily lives. This rule emphasizes consistency, discipline, and long-term commitment, providing a structured path to personal and professional growth.
It encourages a systematic approach to habit formation, making it easier to track progress and maintain motivation throughout the process. Additionally, the rule provides a sense of structure and a clear roadmap for achieving long-term behavior change.
Whether you're aiming to establish a regular exercise routine, develop a daily writing habit, or incorporate mindful practices into your life, this rule can be applied to virtually any area of personal or professional development.
Notion

Workspaces 🪴

A collection of best templates by best makers, Coming Up next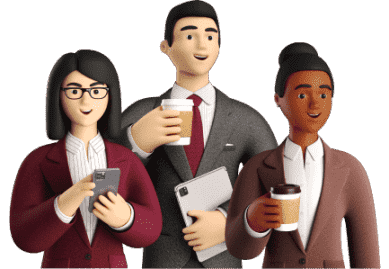 Be a Maker and start earning now
Have a knack for building useful or aesthetic Notion templates? Prototion is the perfect platform for generating revenue by selling templates. Learn more
Be a maker