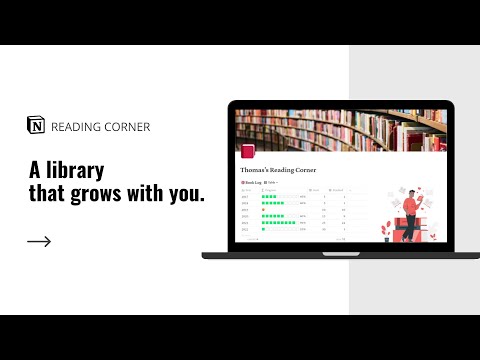 Reading Corner
By
By a book lover for book lovers, keep track of the books in your life with this notion template
Rating:
Know more details about this template's features? Click here
✨ Do you Write?

Template Description
Imagine a library, but one that grows with you.
Who is this for?
If you want a clean, flexible place to keep track of the books in your life, Reading Corner is the one for you.
Also for those who want another part of their lives in Notion!
Before using Reading Corner,
You forget what you read.

Your to-be-read (TBR) list is everywhere.
Your reading afterthoughts are unorganised.
You're reading less as you aren't tracking your progress.

You hate the inflexibility and distracting features (book recommendations, reading challenge etc.) in Goodreads.
After using Reading Corner,
You remember better what you read.
You have a clean, personalised reading list.

You read more now that you are tracking your progress.

Your book reviews are all in one place and not shown publicly.

You know what books you are currently reading, have read, want to read and did not finish.
What's inside?
A manual.
A demo copy of my reading corner :D
A bookshelf to store your books and browse them by various properties such as reading status, genre, rating, and more!
A book log to track your yearly reading goals. (Progress bars included!)
A book review template button.
Be a Maker and start earning now
Have a knack for building useful or aesthetic Notion templates? Prototion is the perfect platform for generating revenue by selling templates. Learn more
Be a maker