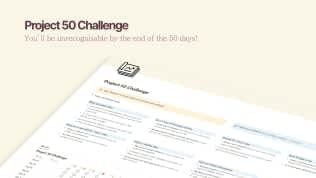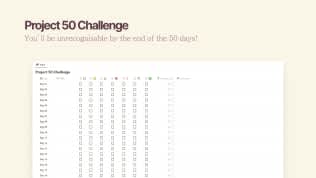 Project 50 Challenge Notion Template
By
You'll be unrecognizeable by the end of the 50 days challenge!
Rating:
Know more details about this template's features? Click here
Notion
Combo Marvels
Twice the Productivity Power With Template Bundles
Template Description
What is the template about?
The Project 50 Challenge template offers a range of features to help you achieve big goals and build healthy habits.
By utilizing the Project 50 Challenge template, you can take control of your goals, build healthy habits, and make meaningful progress towards the life you desire. Its features and user-friendly design make it a valuable tool to track and achieve your goals effectively. Start using the template today and experience the benefits of structured goal tracking and habit formation.
What are the features of the Project 50 Challenge template?
Free to use
Sleek, minimalist design
Easy-to-use interface
Helps you achieve big goals and build healthy habits
Track your progress and stay motivated as you work towards your goals
Perfect for waking up earlier, exercising more, learning a new skill, or eating a healthier diet
Proven track record of helping people create lasting change
How to use the template?
Duplicate it in your own Notion workspace
Now you can easily use the template
Just duplicate the template then, tick the checkboxes each day to make a progress.
What are the benefits of the template?
Start your transformation journey now and make a real difference in your life
Achieve lasting change with the help of the Project 50 Challenge Notion Template
By the end of the 50 days challenge, you'll be healthier, happier, and more successful than ever before!
Download the template today and start your transformation journey with confidence.
It allows you to record milestones, achievements, or daily actions, giving you a clear overview of how far you've come and motivating you to keep going.

The simple layout enhances usability and ensures a seamless user experience.

Notion

Workspaces 🪴

A collection of best templates by best makers, Coming Up next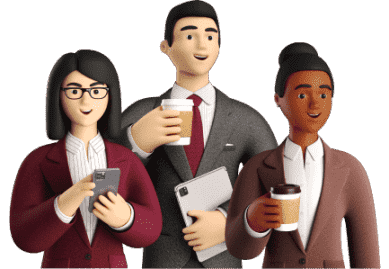 Be a Maker and start earning now
Have a knack for building useful or aesthetic Notion templates? Prototion is the perfect platform for generating revenue by selling templates. Learn more
Be a maker