Notion Inventory Tracker
By
Organize your inventory & track the supply of all items. Contains a Notion formula for automatic alerts if stock is low.
Rating:
Know more details about this template's features? Click here
✨ Do you Write?

Template Description
NOTION INVENTORY TRACKER
🔴 This is a Notion Template that lets you keep track and organize your inventory based on the demand and supply of a particular item.
🔴 This also comes with a formula unit that lets you know when a particular item is running low!
Problems Faced in Warehousing:
❌ Mismatch between the receiving and dispatching agencies
❌ Unorganized inventory resulting in loss of stock or over-stocking
❌ Unavailability of a dynamic mechanism that alerts against fluctuating stock quantities
How The Inventory Tracker Solves These Problems: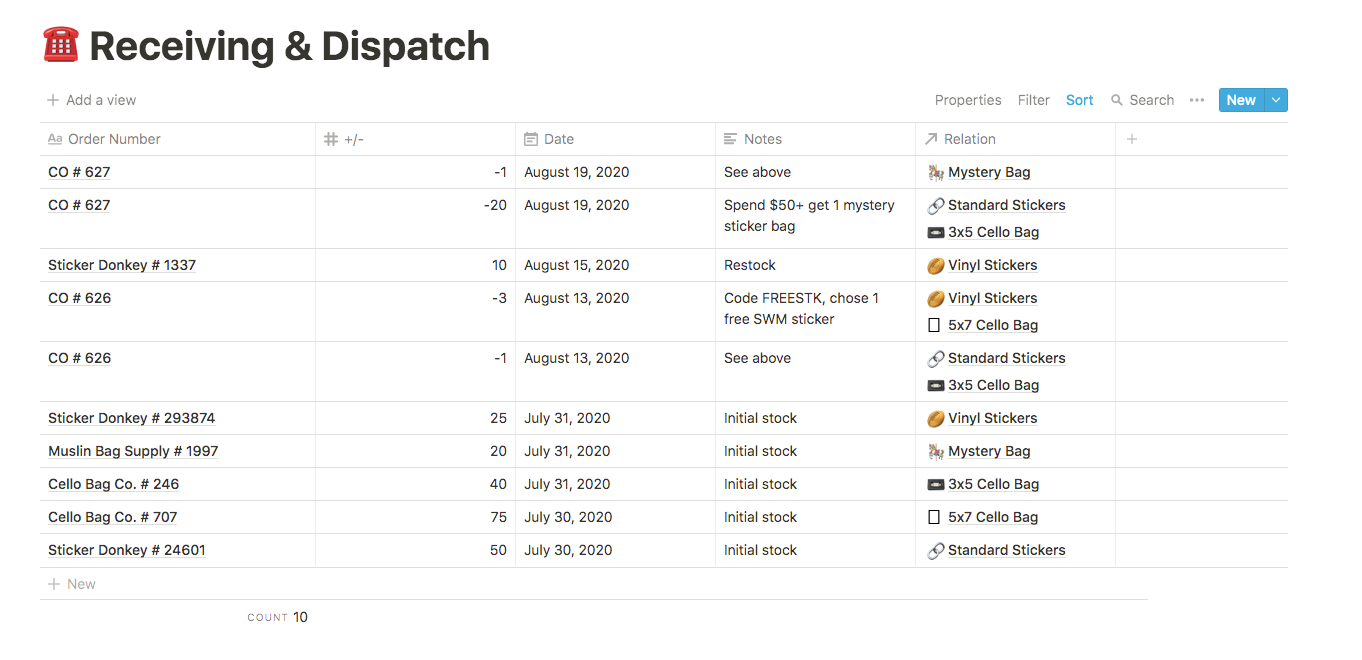 Receiving and Dispatch
✅ Receiving and Dispatch 🚛 - We understand the importance of proper sync between the receiving and dispatch of inventory, therefore this section of this template ensures that your agencies are never in disarray.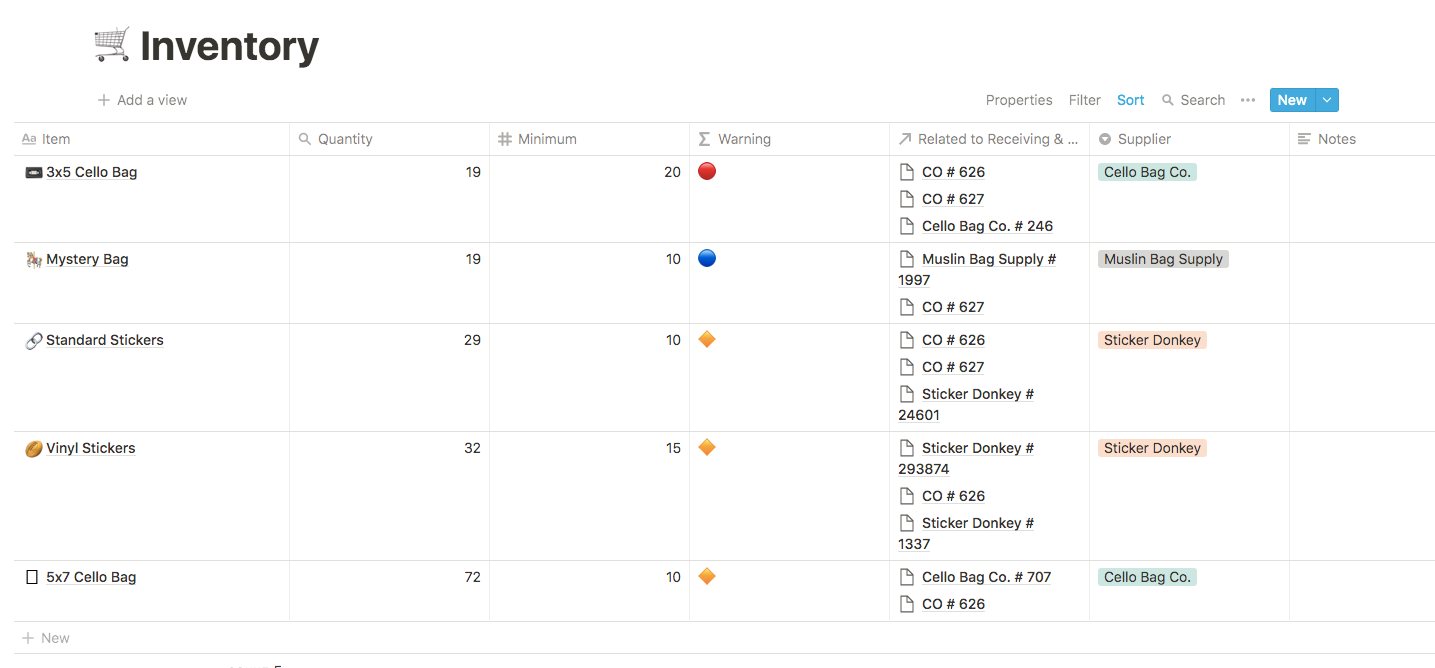 Inventory Stockpile Table
✅ Inventory section 🗃 : This separates your items with tags, links description about them on the next page, and lets you know which item is going low based on the emoji icons.

Dynamic Inventory Tracking Mechanism
✅ Inventory Tracking / Alertinga 📣 - This is the special boost to all your warehouse requirements and will allow you to manage all of your inventory by making lists and assigning a 🔴 when the stocks are running low, 🔵 in the middle of the stockpile, and 🔶 when you're in the clear, to alert you of all stock.
Getting Started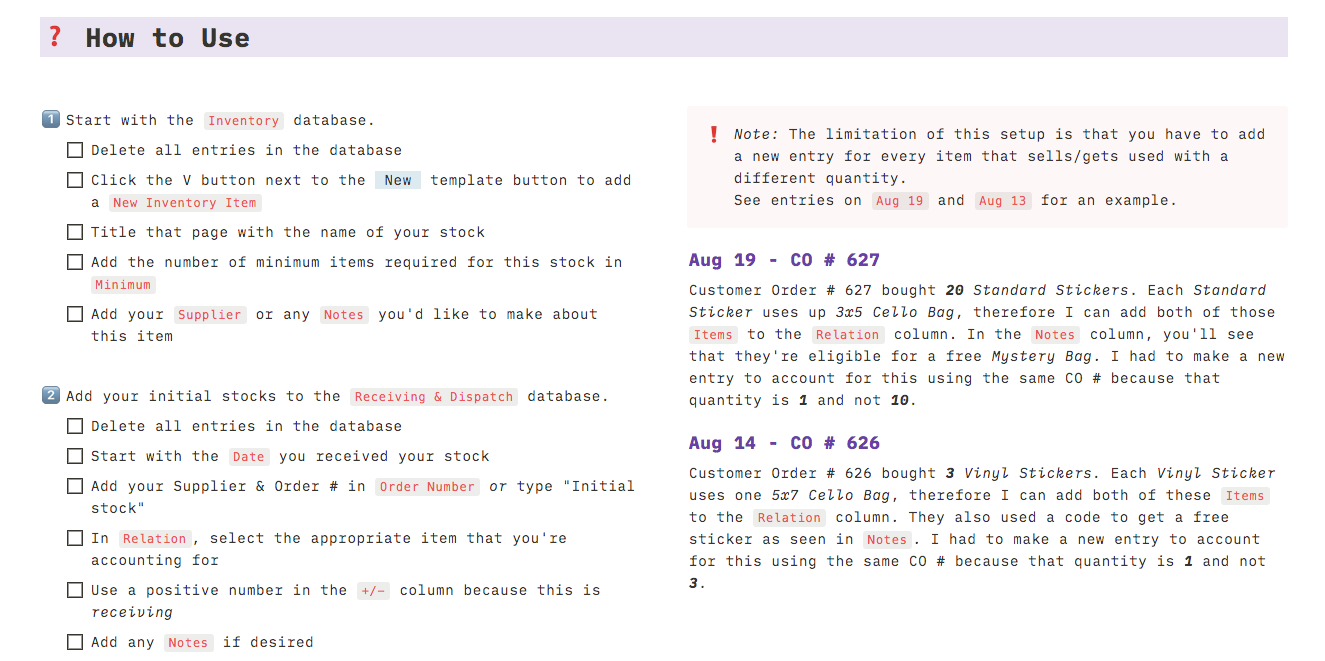 The How-To Section
This Inventory Tracker comes with a how-to-use section so that you don't get lost! This is the ultimate heart of the template and helps you while navigating the template.
Who is This Template For?
🚚 This template is for people who want to begin a startup and deal with overseas/local trades of physical commodities
🚚 For those people who run warehouse s and wish to go digital so as to keep a neat inventory of all the items housed.
Be a Maker and start earning now
Have a knack for building useful or aesthetic Notion templates? Prototion is the perfect platform for generating revenue by selling templates. Learn more
Be a maker