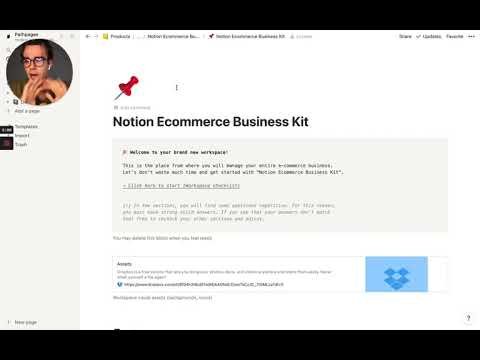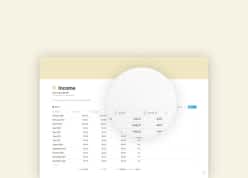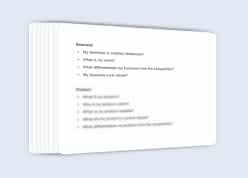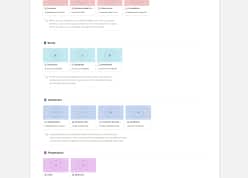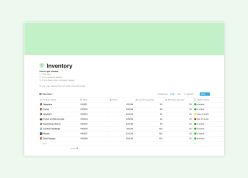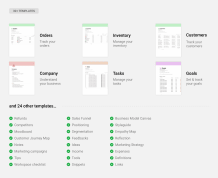 Notion Ecommerce Business Kit
By
This is an easy-to-use package that has everything you need to run a successful e-commerce business from one place
Rating:
Know more details about this template's features? Click here
Notion
Combo Marvels
Twice the Productivity Power With Template Bundles
Template Description
The Notion Ecommerce Business KIT is an easy-to-use package that has everything you need to run a successful e-commerce business from one place.
It's made for small e-commerce business owners who want to manage their entire business from one place. When you are at the beginning of your e-commerce business journey your time and productivity are really important. For you to feel good and use the time in the right direction, you must have a system that helps you move forward not backward. With this kit, you can manage your entire online business from one place and feel in control of having the right system.
More than 30+ ready to use templates for your e-commerce business
The templates contain everything from describing your business value, customers, competitors to managing your entire inventory, orders, refunds, customers, notes, tasks, social media management, finance, and many more! Ready for you to use, adjust and progress in your e-commerce business journey.
Customizable, scalable, out-the-box workspace
The workspace is suitable to use for every type of e-commerce business with no additional knowledge. Also, there are no limitations for scalability. When you feel like it, you can customize, scale, and adjust the workspace to your personal business needs.
Everything you need to manage your e-commerce business from one place
Manage your entire e-commerce business from one place. Inside this Kit, you will find many sections inside which have separate pages that cover all of the important aspects of e-commerce business. No more distractions, have one place for your entire e-commerce business.
Connected pages to help you save time, be productive and learn from all of your data
Time and productivity are important. So the templates are prepared in a way that you would spend as little time as possible for unnecessary tasks. Certain fields communicate with each other. So when you make a change in one place, it makes changes across all the connected pages! This allows you to learn from your already entered data and save enormous amounts of time.
Easy to follow instructions and additional learning resources
Every template has a short and straightforward instruction on how to get started and an explanation of why it's beneficial for your business. There are also learning materials inside: examples, tips, tools, definitions that will help you to delve deeper into e-commerce business topic.
Clean, visually pleasing, and consistent
Having one workspace for your entire e-commerce business must be pleasing and visually appealing. For this reason, every section has its visual look while still keeping consistency. Easy navigation and clean use of structure make this workspace worth coming to every day.
What's inside
You will find inside:
Understand your company
Create your Business model canvas
Create your sales funnel
Understand your competition
Clarify your positioning
Clarify your styleguide
Clarify your moodboard
Understand your customer
Create empathy map
Create customer journey map
Learn from feedback
Set your business goals
Reflect on your progress
Track your orders
Manage your inventory
Track your customers
Manage your refunds
Manage your tasks
Manage your notes
Manage your ideas
Create your marketing strategy
Manage media channels
Create marketing campaigns
Track income
Track your expenses
Learn from quick tips
Find useful tools
Learn definitions
Manage your templates
Manage your links
FAQs
1. Will I need to pay for Notion subscription?
No, Notion does offer a free plan with no strings attached.
2. Can I share this template with others?
No, this is a personal license for individual use only.
Notion

Workspaces 🪴

A collection of best templates by best makers, Coming Up next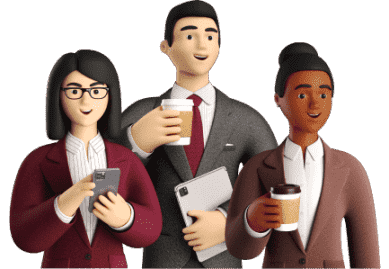 Be a Maker and start earning now
Have a knack for building useful or aesthetic Notion templates? Prototion is the perfect platform for generating revenue by selling templates. Learn more
Be a maker