📚 Notion Bookshelf
By
Notion Bookshelf is #1 across the best book tracking template you can find for Notion.
Rating:
Know more details about this template's features? Click here
🔥 Mid Year Mega Sale 2022
Template Description
Notion Bookshelf is #1 across the best book tracking template you can find for Notion. The book tracker is a minimalist design and includes a database of books, a wish list, notes, a database of authors, genres, and a reading goal.
Do you ever feel like you can't read the books you want?
You have too many things to do and not enough time to read books.
You want to read a book but don't know which one.
You find reading simply too tricky.
You always forget what you have read.
You have a lack of motivation to read books.
Let's face it: reading is very tough.
You have to remind yourself to read every single day and have a lack of motivation.
We persuade ourselves to put all of our efforts into reading.
We know reading is great for us but can't find the stimulation for reading.
Even just the convincing portion requires a lot of mental effort.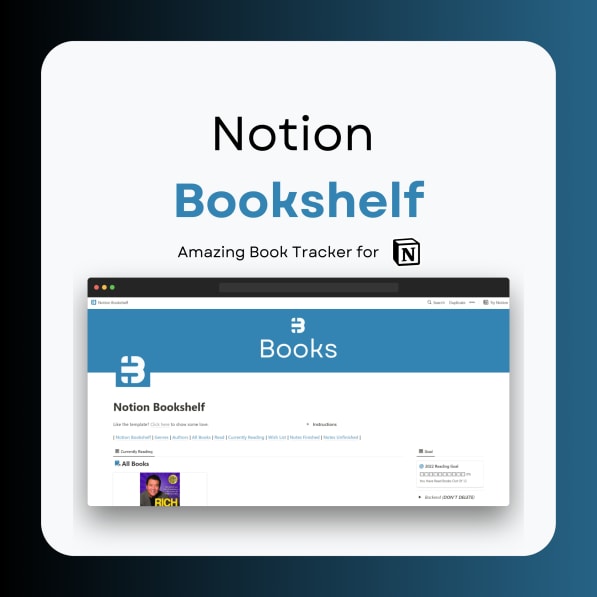 Reading is love, love is reading.
You love to read and you probably like to keep things organized.
You always want an overview of the books you've read, track your progress on current reads, and plan what to read next.
All of this can be possible in Notion.
The manual part follows, which is adding the books to the system.
Maybe you've even tried to create your system for tracking your reads.
But probably you've noticed, that it's a burden to get all of your books into Notion.
It takes a lot of time and effort to copy and paste all of the book's information.
That's where Notion Bookshelf comes to the rescue.
It provides you with a simple system to track your readings without any useless.
Just the essential things about books.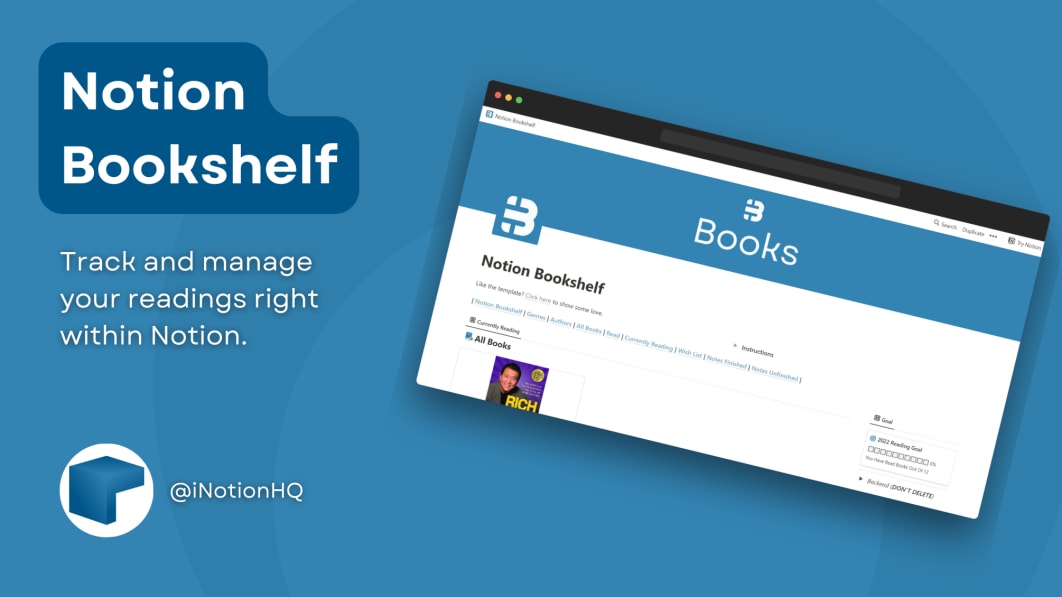 The book tracker was created for ambitious people.
This book tracker shines in one area in particular: it lets you know exactly where you stand in terms of your completion rate.
Why? Thus, you won't need to speculate!
With the built-in progress tracker, you can track your reading goals and stay motivated.
Notion Bookshelf comes with a built-in note-taking feature.
Save highlights, notes, quotes, and more and easily find them later.
Notion Bookshelf looks and works great out of the box, but you can simply customize it to your liking with all of the tools that Notion has to offer.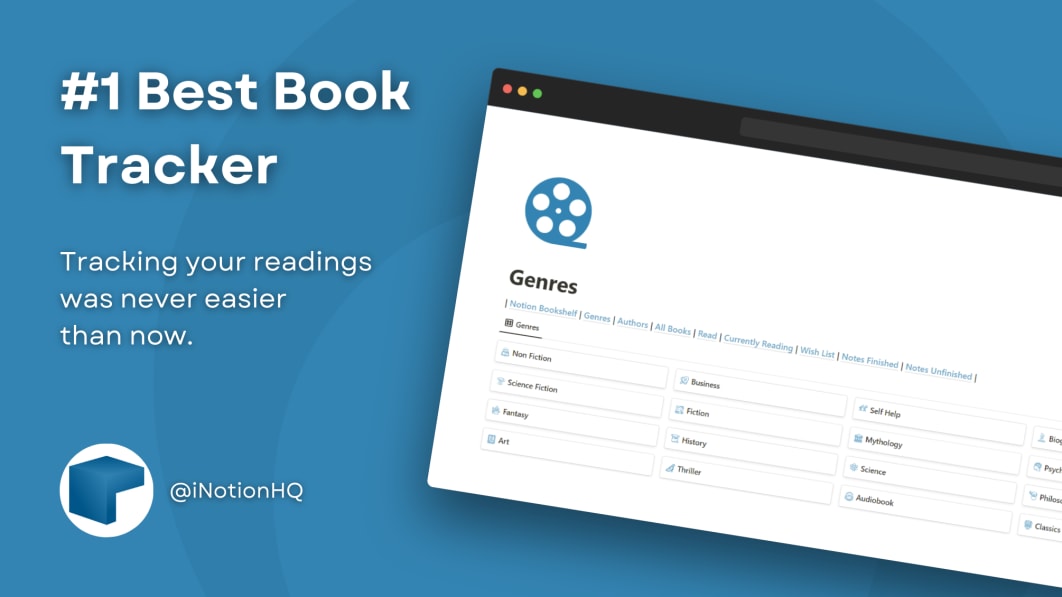 Is this template a piece of crap or a good investment?
This is not for me to decide. Let me show you what the owners say about the Notion Bookshelf template:
"It's amazing!" - Amelia
"I just love it!" - Sophia
"So far it's absolutely helpful." - Lucas
"It is really good, simple and easy to use." - Frank
"Beautiful, practical and helpful. No more to add!" - Derrick
"I think it is really going to help me keep my readings organized." - Chloe
"I think it is really going to help me keep read books organized and all of my favourite books." - Oliver
"I really love the Notion Bookshelf. Haven't done to much into it yet but so far I thinks it's great. Thanks!" - Elizabeth
It's awesome. If you put in the work, you are able to see all your books that you've read (and the big plus for the reading goal implemented in that)." - Grace
"At first when I saw the template, I was just saying to myself that it will be another boring book tracker. But when I get it I was like 'oh my god!'. This Notion Bookshelf is the best book tracking template I have ever seen. Thank you!" - Robert
What else? It works well for mobile use.
If you're often on the go, this book tracker is just as simple to use on a mobile device as it is on a computer.
Add your books, without much effort, and you may quickly begin checking off your readings.
But... is it configurable?
Of course!
Depending on your Notion skill level, you can change the colours, the columns, and the icons to suit your preferences.
If there are certain symbols you wish to use, you may even alter the predefined icons for the success formula or goal formula (just be careful not to screw up the formula!).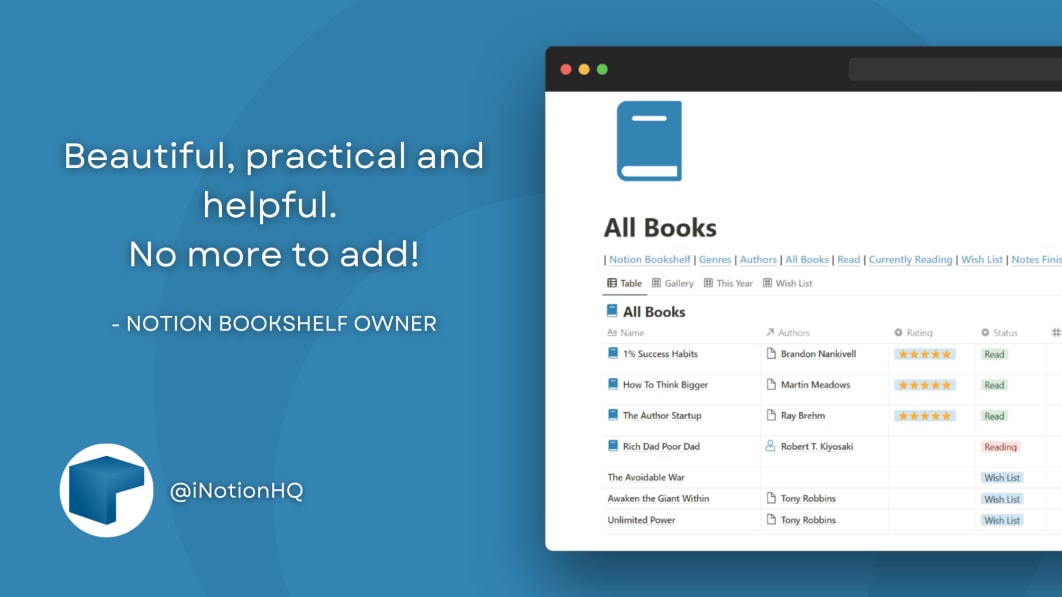 Do I get this, you ask?
This is undoubtedly the system for you if you're seeking one that can effectively handle the manual portion of your book tracking.
Per every book, only a little amount of setup is needed.
With the help of our book tracker, you'll, at last, have a reliable friend to support you while you read books!
Click on the "I want this!" button and get it! It's totally FREE!
Be a Maker and start earning now
Have a knack for building useful or aesthetic Notion templates? Prototion is the perfect platform for generating revenue by selling templates. Learn more
Be a maker