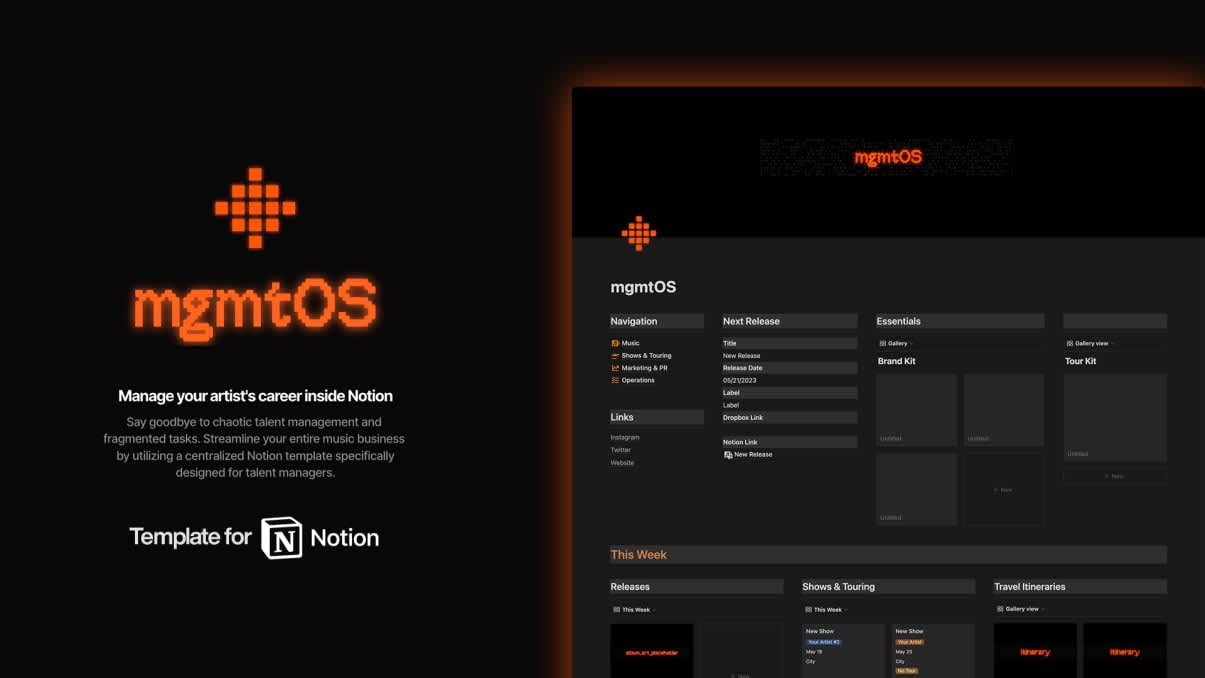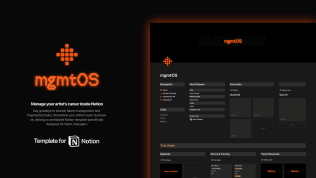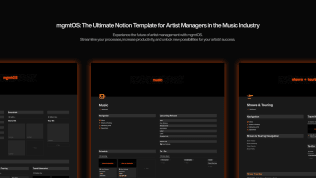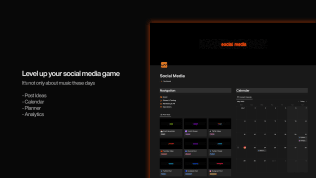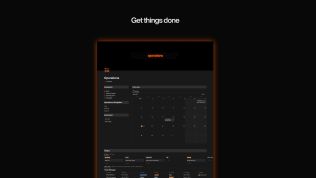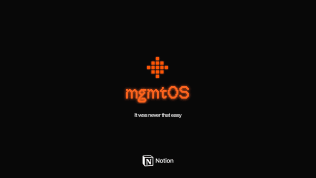 mgmtOS
By
mgmtOS: The Ultimate Notion Template for Artist Managers in the Music Industry!
Rating:
Know more details about this template's features? Click here
Notion
Combo Marvels
Twice the Productivity Power With Template Bundles
Template Description
The mgmtOS Notion template is a comprehensive organizational tool designed for managing various aspects of a music artist's career. It provides sections dedicated to:-
Music

Shows and touring
Marketing and PR
Operations


MUSIC:
"Music" section serves as a centralized hub for managing music-related activities. It provides various features and tools to help artists and their teams stay organized and track progress. The features are:
Schedule: Schedule your upcoming releases here.
To-do: A board view database to make you never skip a single step while releasing or producing a music.
Release Tracker: Track your every single release with calendar view & databases, from date status to label you can have all in one place.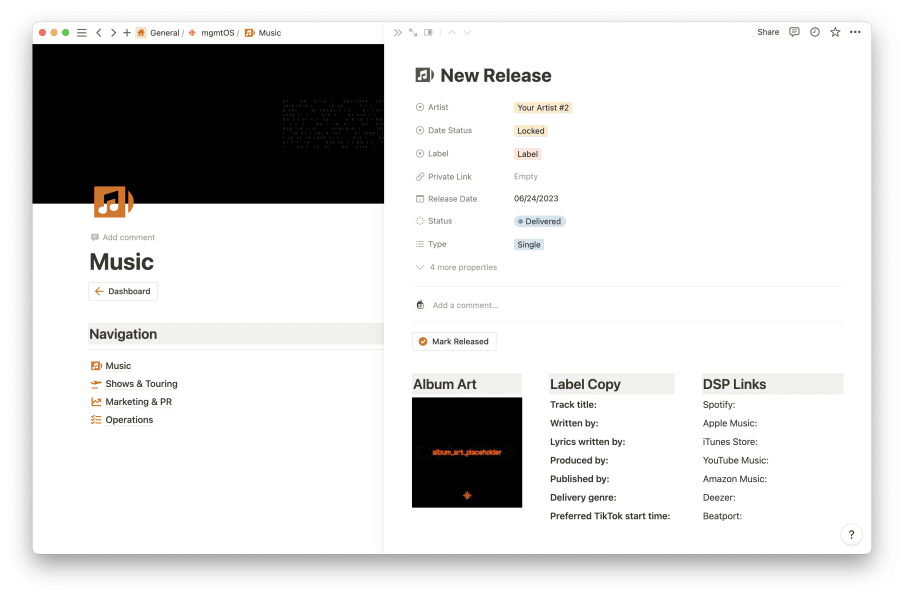 You can store the details of the upcoming release. It includes information such as the title of the release, the release date and the label associated with the release. There are also Dropbox and Notion links storing section, which can be used to access additional materials or documents related to the release.
SHOWS & TOURING:
This section is designed to help music artists and their teams effectively manage their live shows and touring activities. It also provides tools to streamline the planning, marketing, and financial aspects of shows and tours. The tools are:

The "Show Tracker" provides an overview of scheduled shows, including dates, locations, and other relevant details. It serves as a central hub for managing show information and tracking the progress of each event.
The "Show Marketing" subsection focuses on promoting shows to maximize attendance and audience engagement. Enables artists and their teams to effectively plan and execute marketing efforts for each show.
The "Ticket Counts" subsection helps track ticket sales and attendance for individual shows. It provides a space to record ticket count data, analyze trends, and monitor the progress of ticket sales leading up to each event. This information is crucial for evaluating the success of shows and making informed decisions about future touring plans.
The "Show Profits" subsection likely covers financial aspects related to shows and tours. By tracking the financial performance of shows, artists and their teams can make informed decisions about pricing, budgeting, and overall financial management.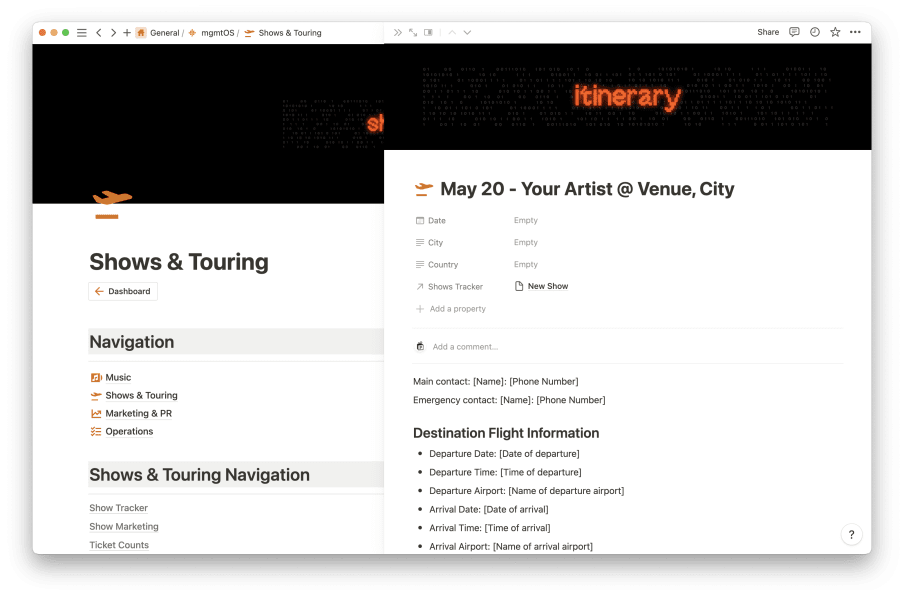 MARKETING & PR:
This section contains 2 subsections:
- Social Media: Keep track of your past content & schedule new with the content planner inside. This section also contains monthly account performance overview database to help you make strategies accordingly for more engagement.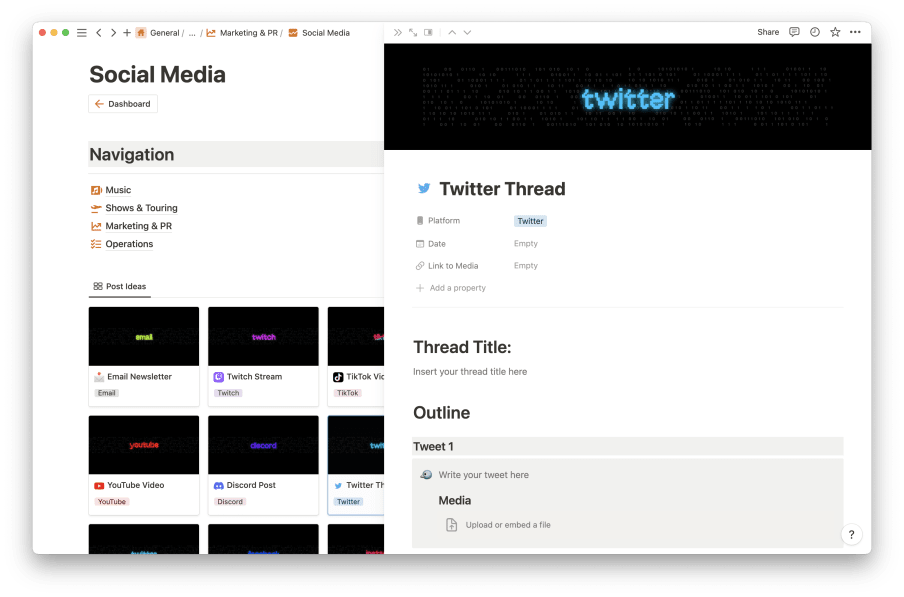 - PR: Keep track of upcoming events, interviews & more. This contains 2 valuable sources: "Press Coverage" and "Pitch Tracker". The Press Coverage section serves as a central repository for collecting and organizing media coverage received by the artist. The "Pitch Tracker" section is designed to track and manage the PR pitches sent by the artist or their PR team to various media outlets. It provides a framework for recording details such as the recipient, date of pitch, pitch content, and any follow-up actions taken.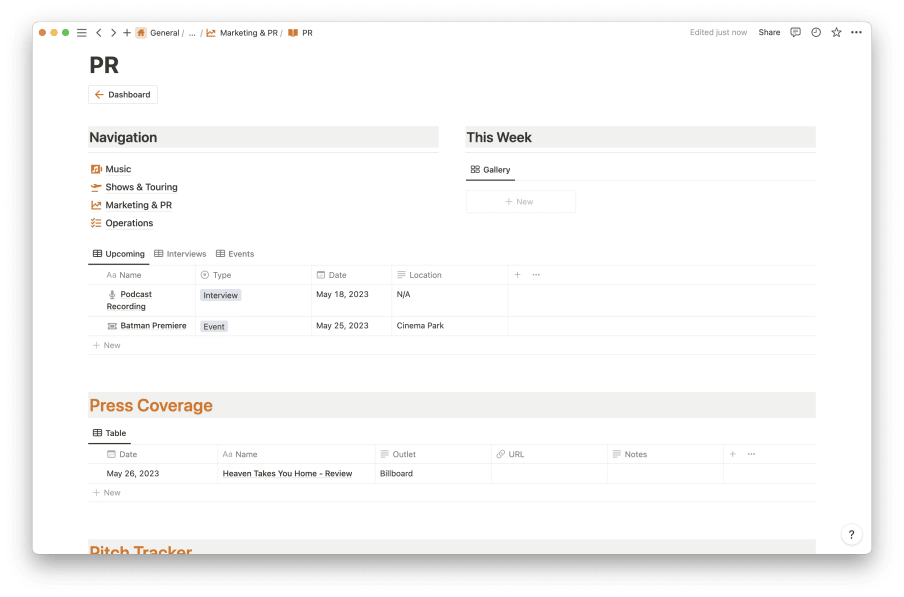 OPERATIONS:
This section focuses on the operational aspects of managing music-related activities. Under the "Operations" navigation, you can find three main subcategories: "Tasks," "Meetings," and "Contacts." These subcategories allow for easy access and management of different operational aspects.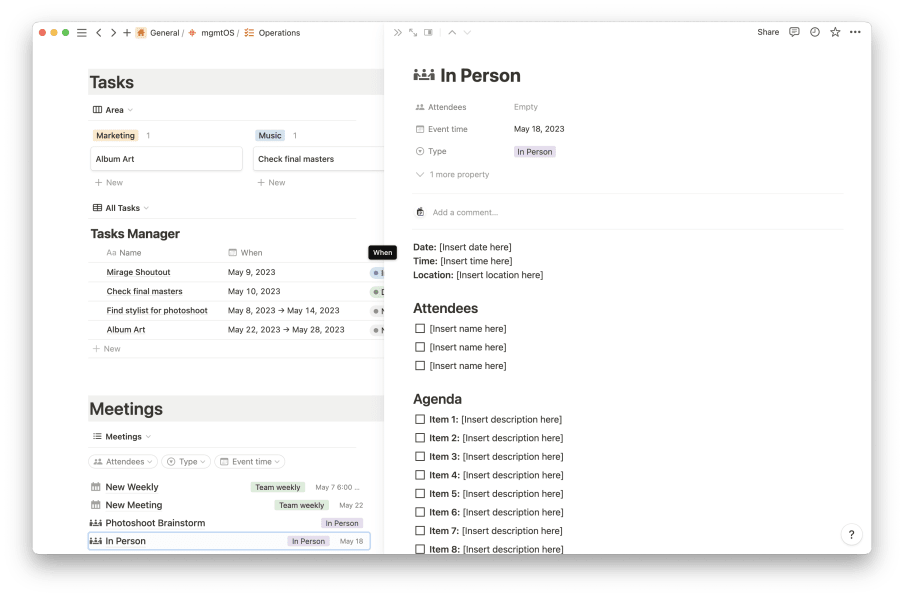 Overall, the mgmtOS Notion template is a comprehensive solution for music artists and their teams to streamline their operations, manage releases and tours, and stay organized across various areas of their career.
Designed with a user-friendly interface and customizable components, mgmtOS adapts to your unique workflows and preferences. Tailor the template to fit your specific needs, adding or removing modules as required, and enjoy the flexibility to make it truly your own.
Experience the future of artist management with mgmtOS.
Try mgmtOS today and revolutionize the way you manage talent in the music industry.
Notion

Workspaces 🪴

A collection of best templates by best makers, Coming Up next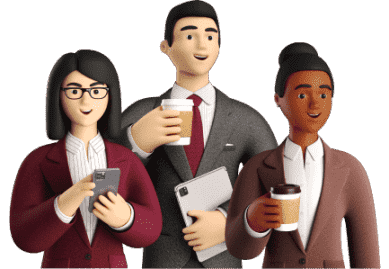 Be a Maker and start earning now
Have a knack for building useful or aesthetic Notion templates? Prototion is the perfect platform for generating revenue by selling templates. Learn more
Be a maker