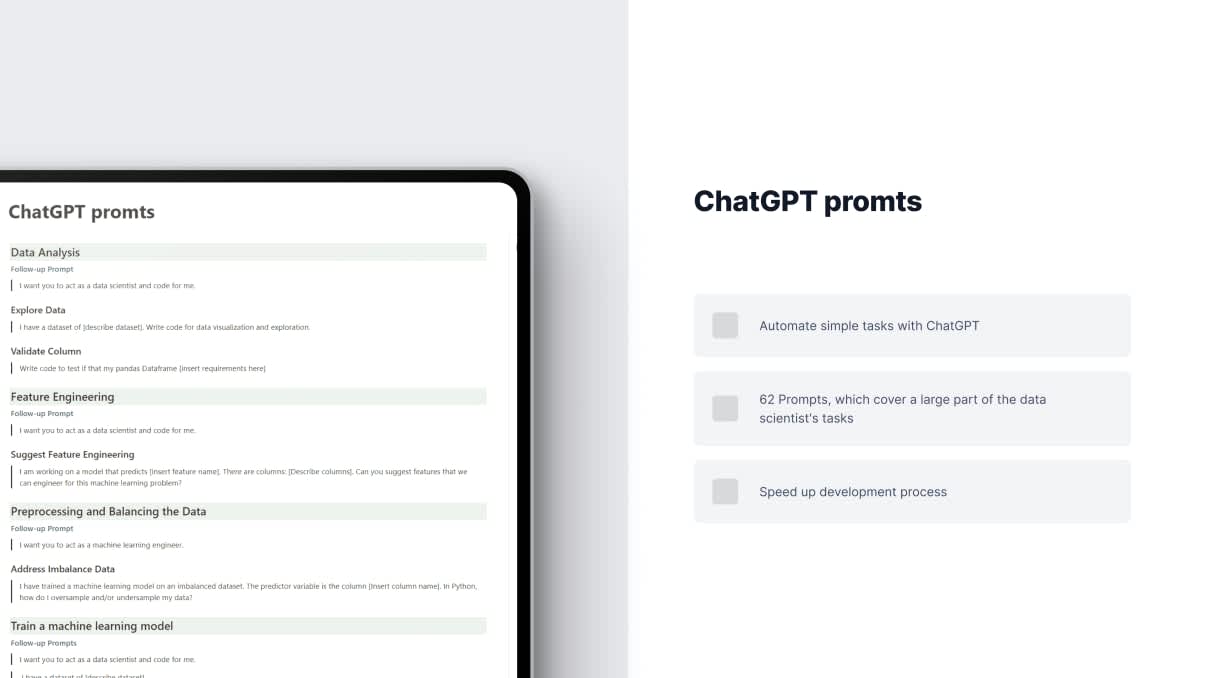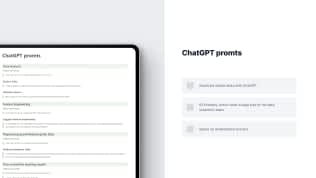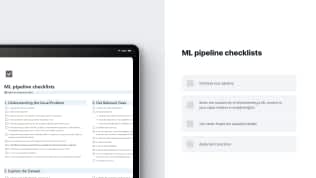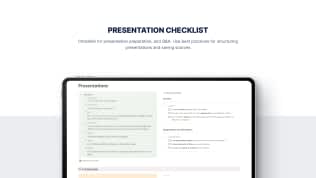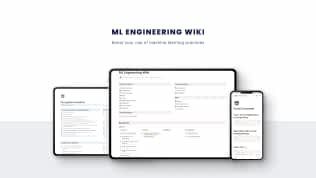 Machine Learning Engineering Wiki
By
All-in-one resource for streamlined ML project development with checklists, guides, and best practices.
Rating:
Know more details about this template's features? Click here
Notion
Combo Marvels
Twice the Productivity Power With Template Bundles
Template Description
Why did I create this template?
I created this template to provide ML engineers with a comprehensive and organized resource that simplifies and accelerates the process of developing machine learning projects. 🚀
It brings together essential checklists, expert guides, curated lists, and resources to support ML engineering best practices! 🌟
What's inside the template?
🔹 Inside the template, you will find meticulously crafted checklists for pipeline creation, business problem definition, and presentation creation.
🔹 It includes curated lists of AI communities, papers, repositories, libraries, and visualization methods.
🔹 Additionally, you'll have access to essential commands, code snippets, and a comprehensive list of Chat GPT prompts for faster development.
🔹 The template also includes a wealth of ML tips and a knowledge hub for further exploration.
How to use the template?
To use the template, simply import it into your Notion workspace. You can customize and tailor it to fit your specific ML projects and workflows.
Follow the provided checklists, explore the curated resources, and leverage the code snippets and prompts to enhance your ML development process.
Use it as a central hub for documentation, collaboration, and reference throughout your ML engineering journey.
What are the benefits of the template?
The template offers several benefits:
Time-saving: It provides pre-built checklists, curated lists, and resources, saving you time in researching and gathering information.
Best practices: The template incorporates industry best practices for pipeline creation, problem definition, and presentation creation, ensuring you follow established guidelines.
Streamlined workflow: By centralizing essential information and resources, the template helps you organize and streamline your ML development process.
Collaboration and knowledge sharing: The template encourages collaboration by providing AI community lists and serves as a knowledge hub for sharing research papers, repositories, and libraries.
Efficiency and productivity: The template includes code snippets, essential commands, and Chat GPT prompts to expedite development and boost productivity. Overall, the ML Engineering Wiki template empowers you to accelerate your ML projects, improve collaboration, and stay up to date with the latest industry trends and best practices.
Notion

Workspaces 🪴

A collection of best templates by best makers, Coming Up next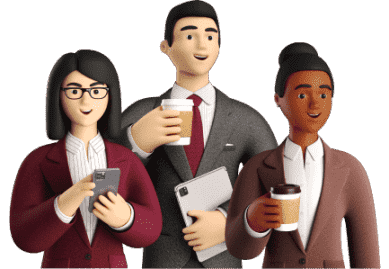 Be a Maker and start earning now
Have a knack for building useful or aesthetic Notion templates? Prototion is the perfect platform for generating revenue by selling templates. Learn more
Be a maker