Learn Guitar using Notion
By
This Notion template will help you to learn Guitar and also keeping a track of your progress. Purchase this template.
Rating:
Know more details about this template's features? Click here
✨ Do you Write?

Template Description
Learn Guitar using Notion
Wanna learn Guitar with your favorite productivity tool? You are at the right place.✔
This Notion template will help you keep track of your guitar knowledge progress so that you will get to know that how much you have learnt. If you really are into music, get hold on to this template as it will help you in combining best strings to your music!!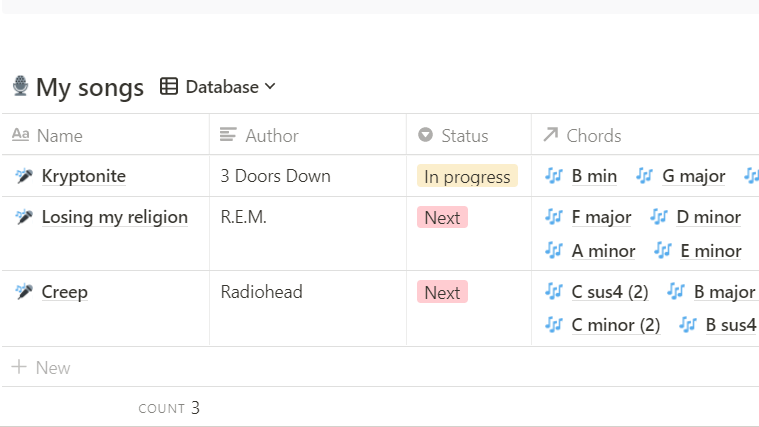 It contains two databases/sections;
1. Chords: This section contains all the chords identified with a name, an image, and learning status. It also has a comments field so you can add your personal notes which you think is important and want to keep in mind. Most importantly, It will help you know the status of your progress.
2. My songs: This section contains all the songs which you have identified, with the title, author and your learning progress. You can change your status according to your list of chords and songs.
-New songs can be added with the provided template. It will automatically create a song with Next status and will be added to the gallery and table views along with all the other sections.
-Inside the song page, you can find a detailed view of the song with a linked database showing the chords gallery and chords table, followed by the embedded video and audio of the song, and the lyrics.
Want to learn guitar?
Some of the problems you might be facing
❌ Don't remember how much you have learnt
❌ Spending hefty amounts on learning tools
❌ Fed up with complex notes
❌ Which Song to Practice
Why learn guitar using notion works?
✅ Keep track of your learning process
✅ Provides self-learning tools
✅ Access to personal notes
✅ Create a checklist for your favourite song
Be a Maker and start earning now
Have a knack for building useful or aesthetic Notion templates? Prototion is the perfect platform for generating revenue by selling templates. Learn more
Be a maker