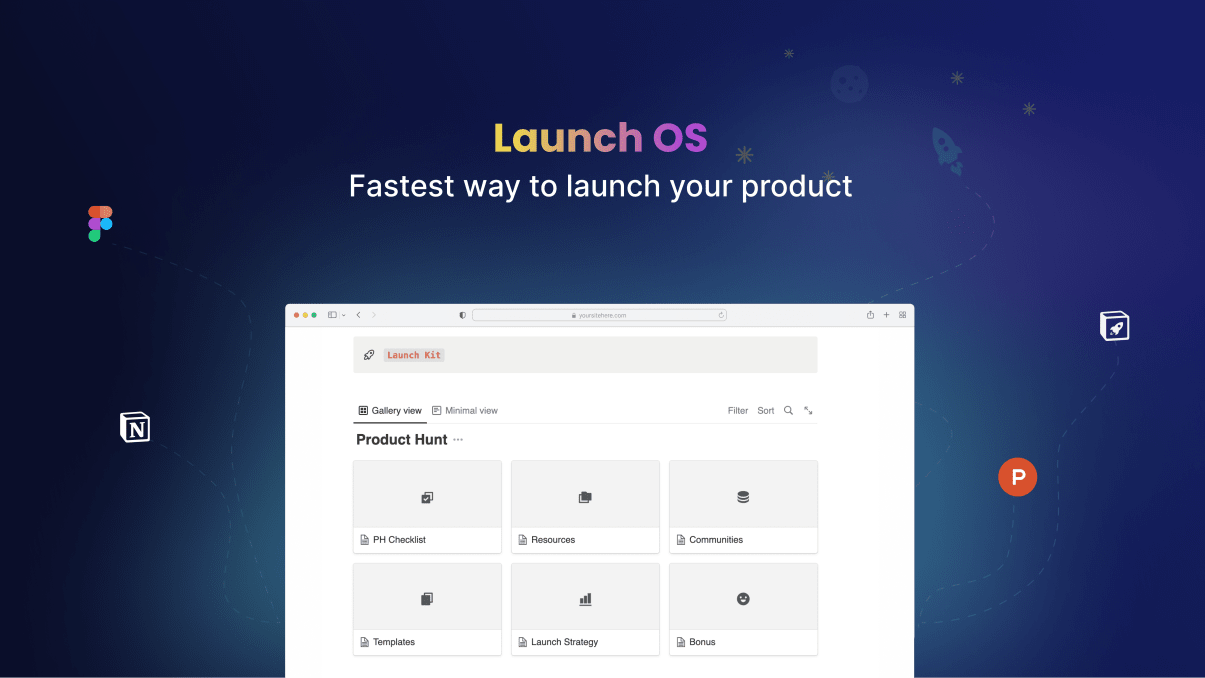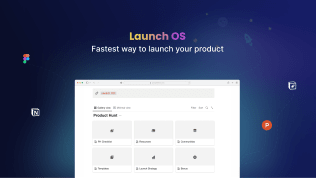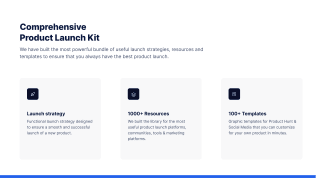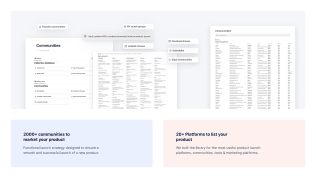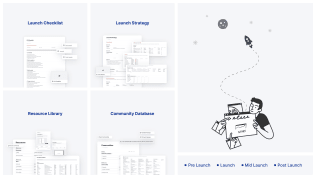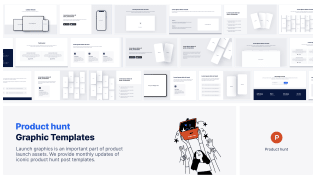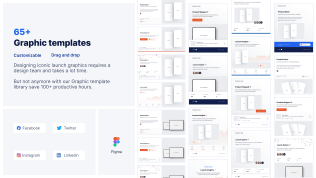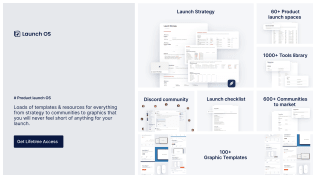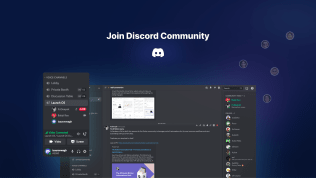 Launch OS
By
Tested and proven Product launch kit of actionable launch strategies, 1000+ resources, and 100+ iconic design templates.
Rating:
Know more details about this template's features? Click here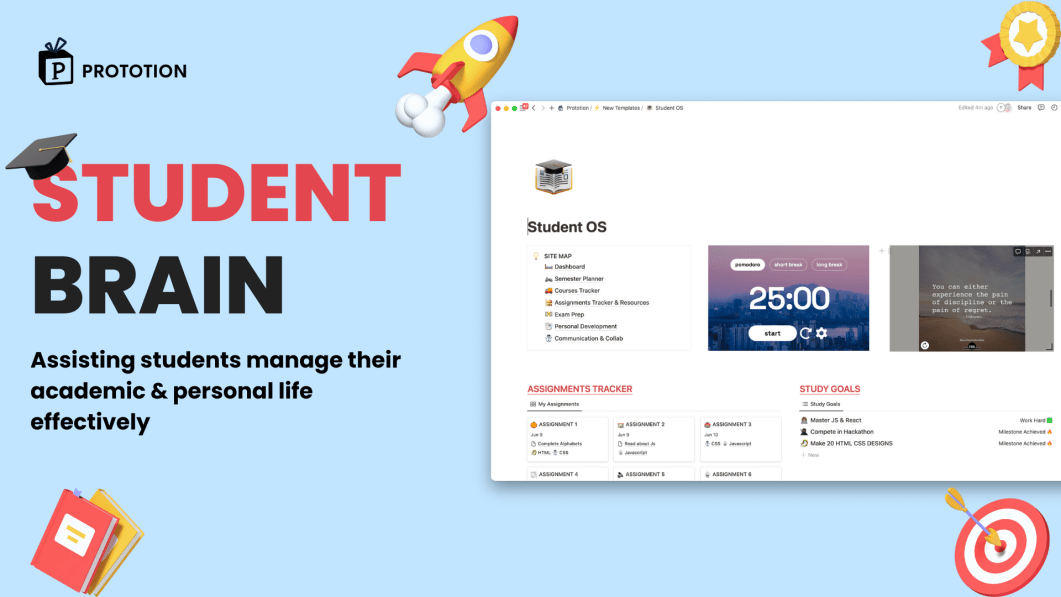 Student Brain
Assisting students in managing their personal and academic life effect
by Prototion ❤️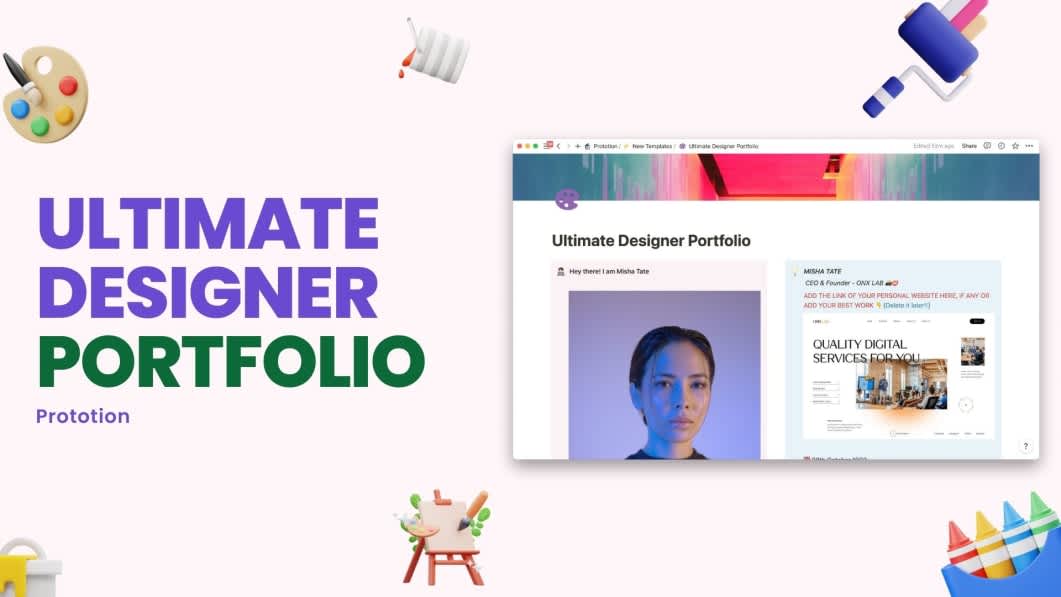 Ultimate Designer Portfolio
Showcase your design expertise with our customizable portfolio notion
by Prototion ❤️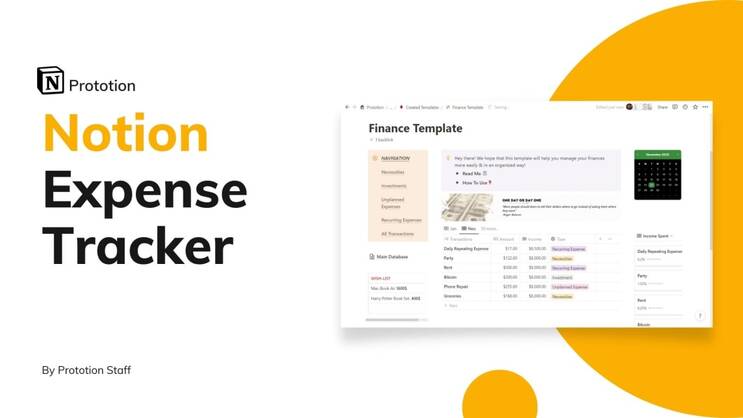 Expense Tracker
Mismanaged budgets are a thing of the past! Stop worrying, Start track
by Prototion ❤️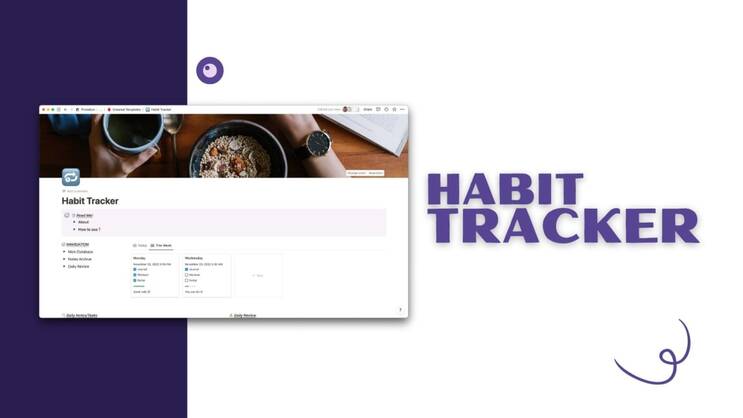 Habit Tracker
Tracking habits has never been so easy! Grab this Notion Template and
by Prototion ❤️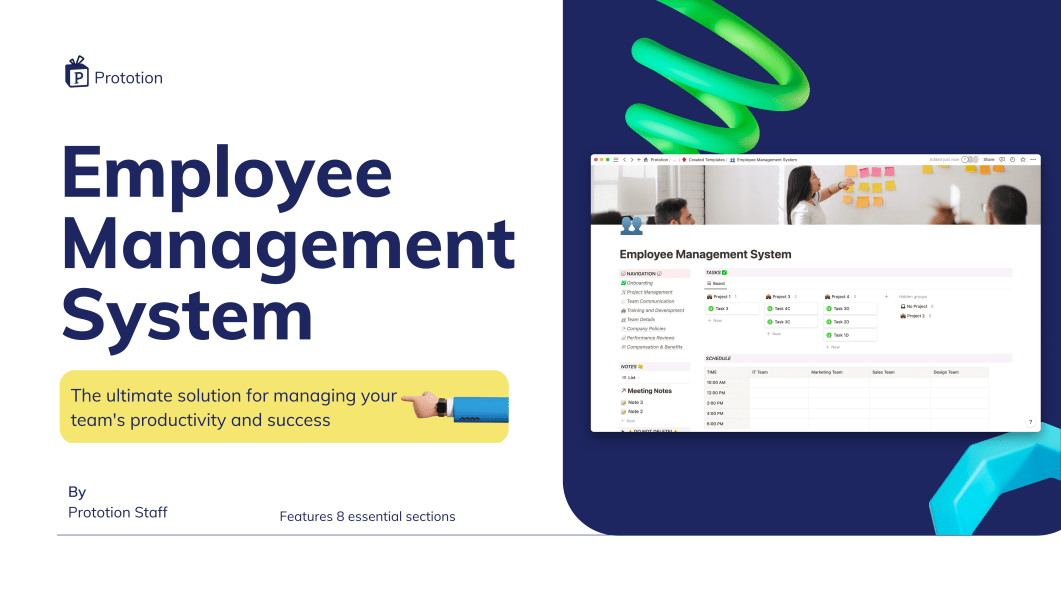 Employee Management System
A comprehensive tool designed to help businesses manage their workforc
by Prototion ❤️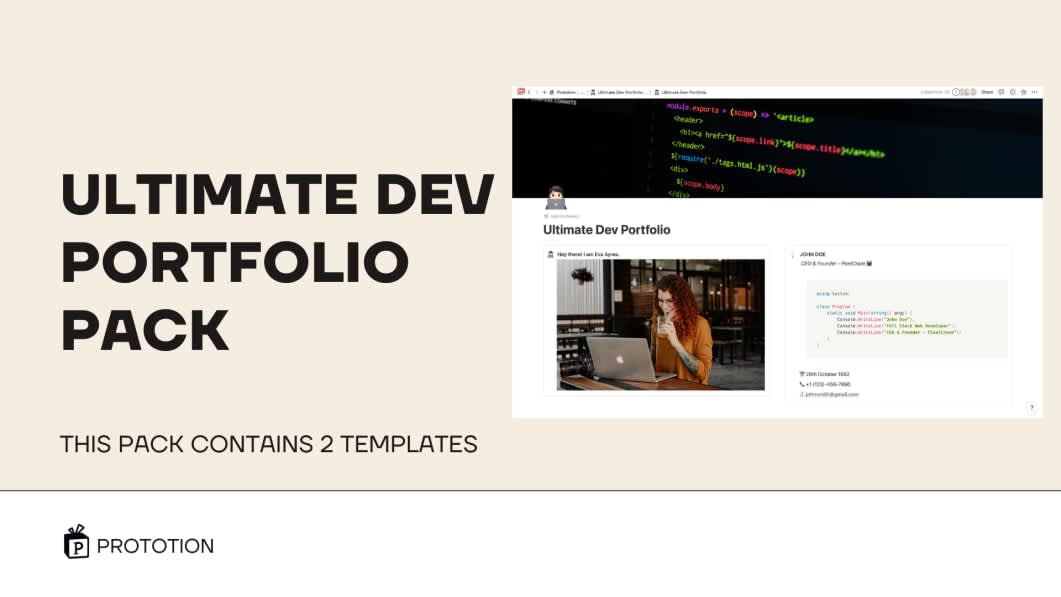 Ultimate Dev Portfolio Pack
Create a professional and polished portfolio with this Notion Template
by Prototion ❤️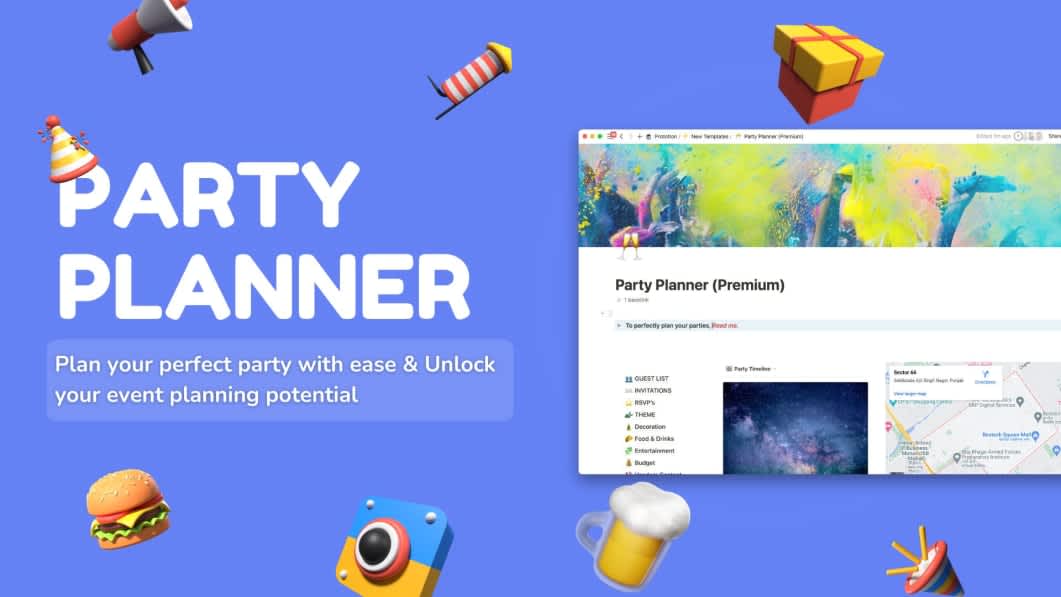 Party Planner
Get this ultimate notion template to perfectly plan your parties.
by Prototion ❤️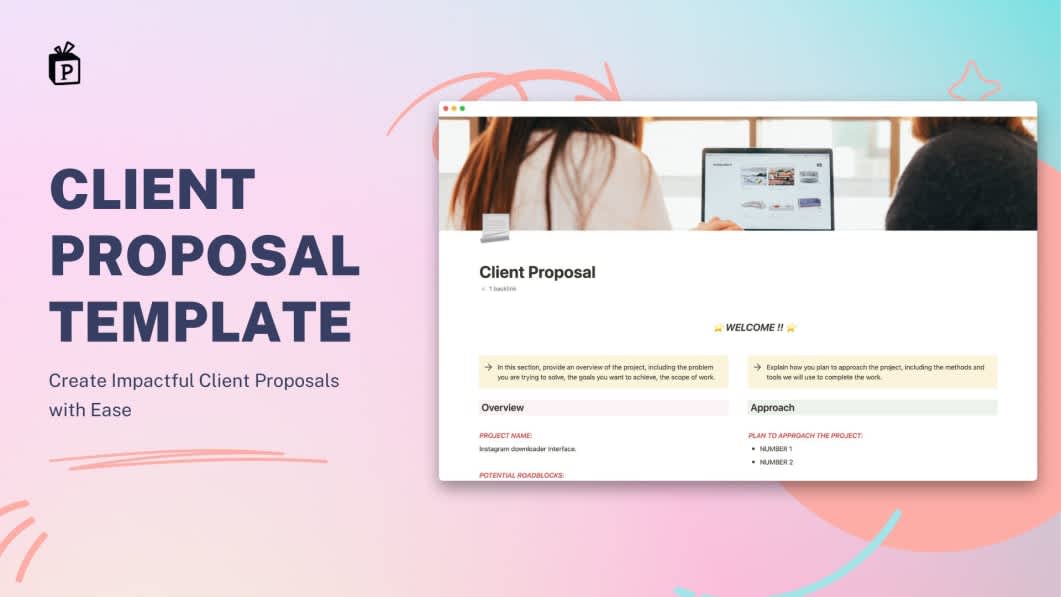 Client Proposal
The Client Proposal Notion template is designed to help individuals or
by Prototion ❤️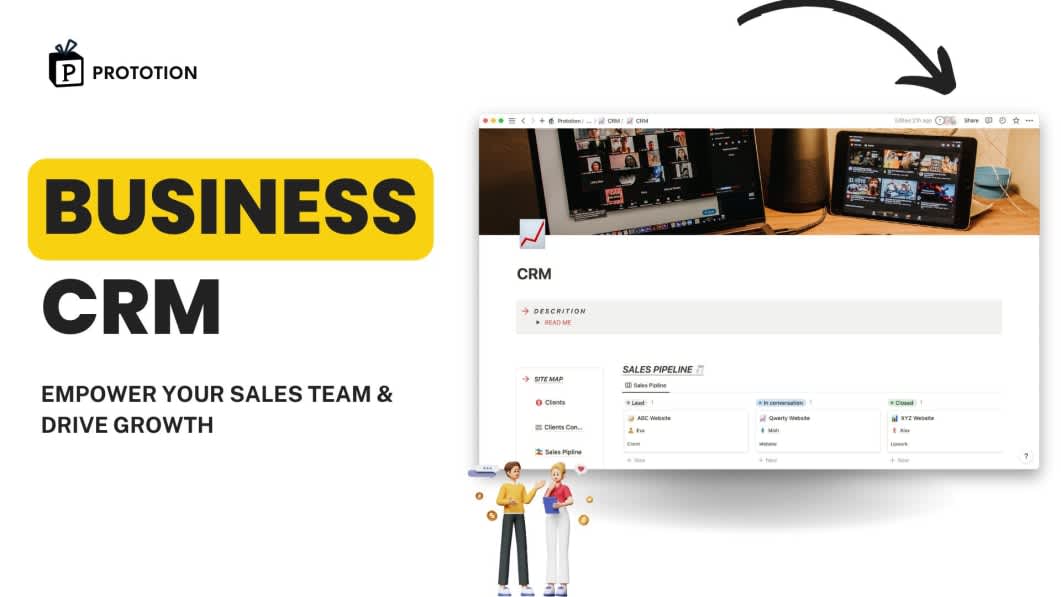 Business CRM
Supercharge your business operations and elevate customer relationship
by Prototion ❤️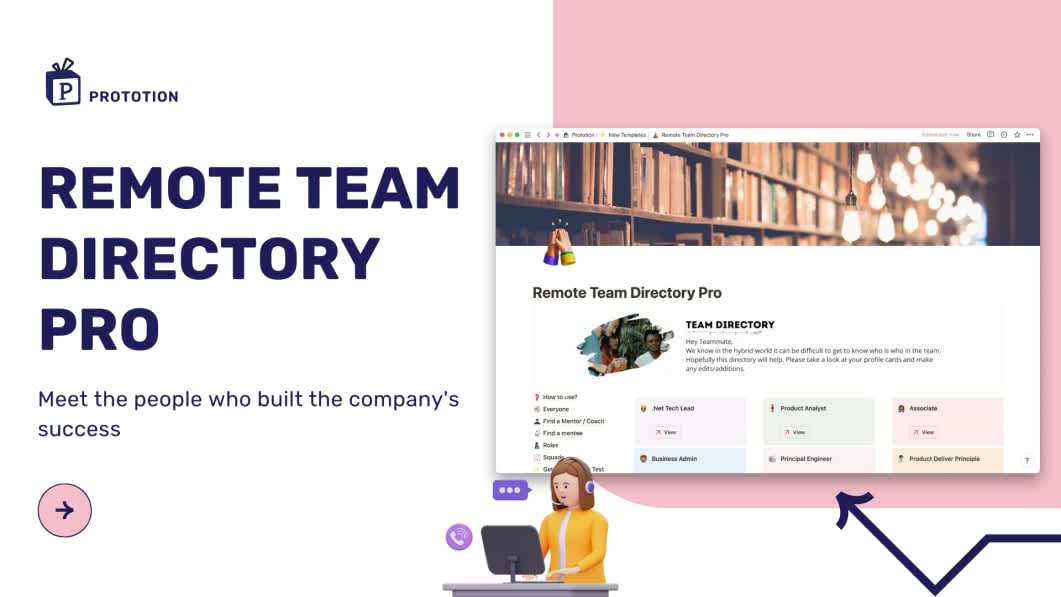 Remote Team Directory Pro
Maintain & manage a comprehensive database of information about your r
by Prototion ❤️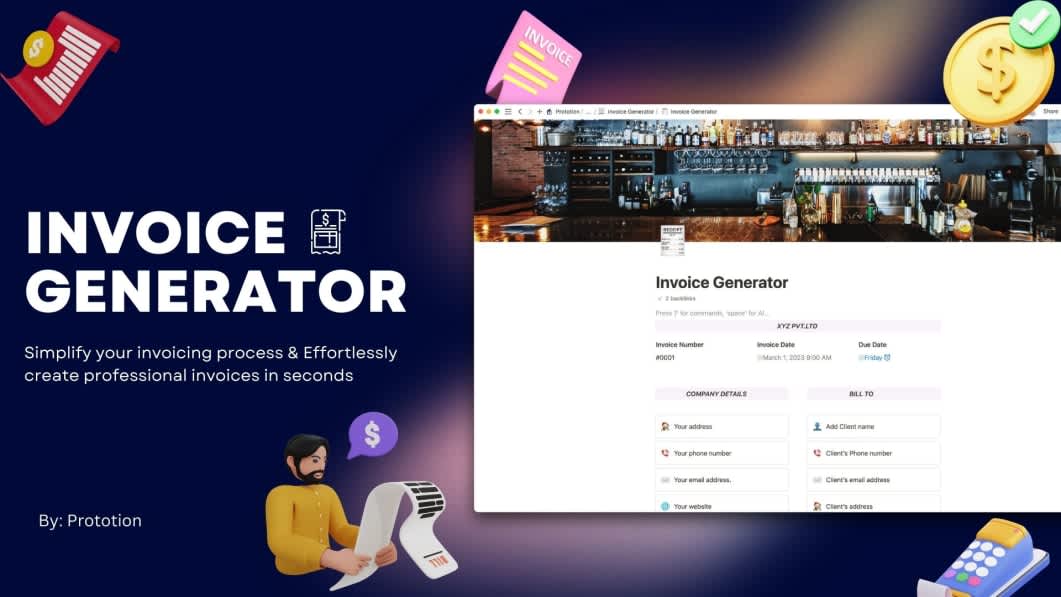 Invoice Generator
Simplify your invoicing process by taking the hassle out of invoicing
by Prototion ❤️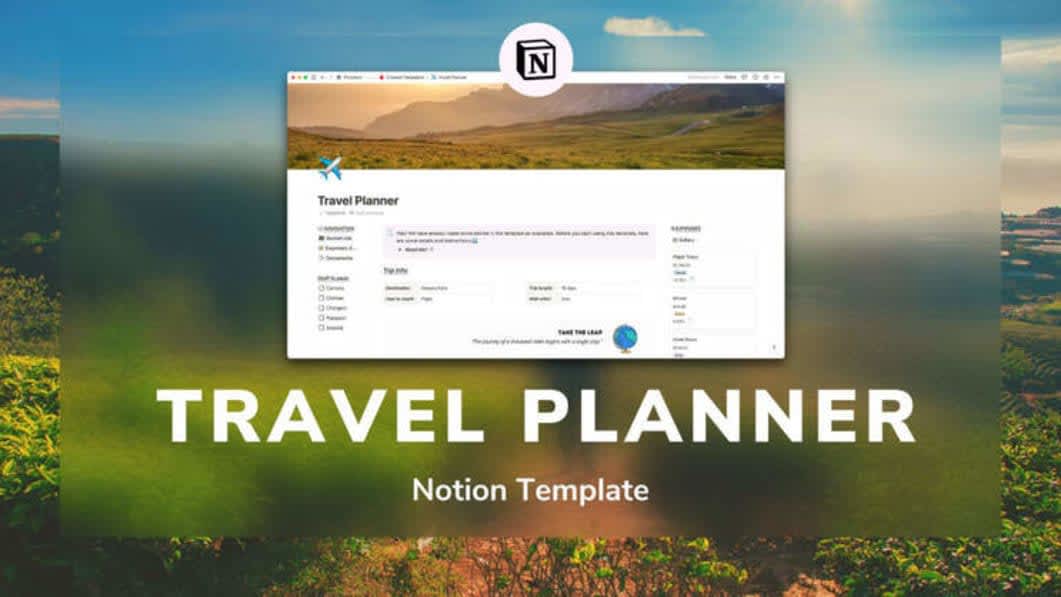 Travel Planner
Love to travel? Grab this Notion Template and become a Pro Travel plan
by Prototion ❤️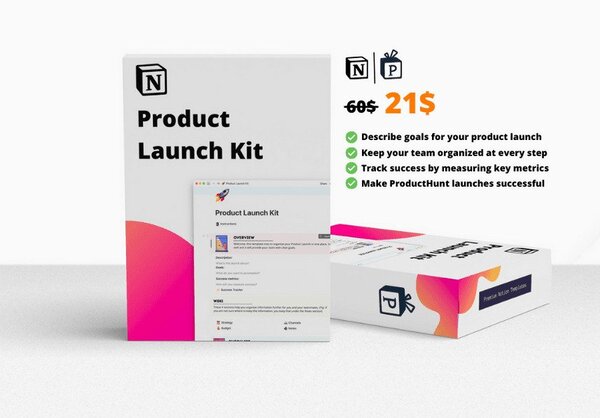 Product Launch Kit
Plan your product launch using this Notion Launch Kit to get more succ
by Prototion ❤️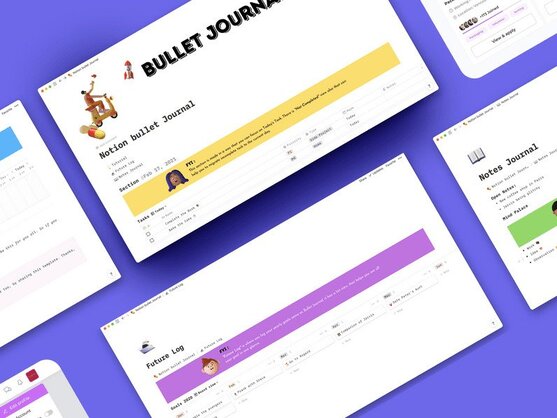 Notion Bullet Journal
A combination of bullet journal and Notion to bring you the best of bo
by Prototion ❤️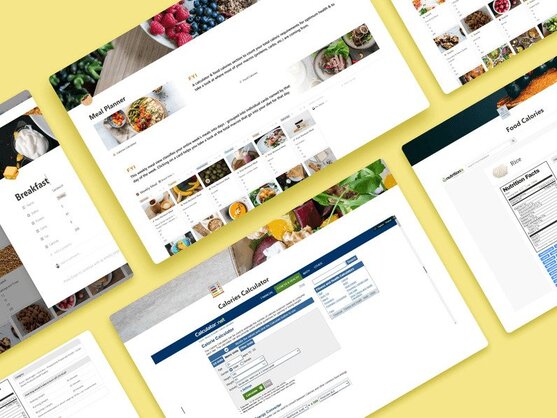 Meal Planner
Organise your weekly and daily meals with your meal planner
by Prototion ❤️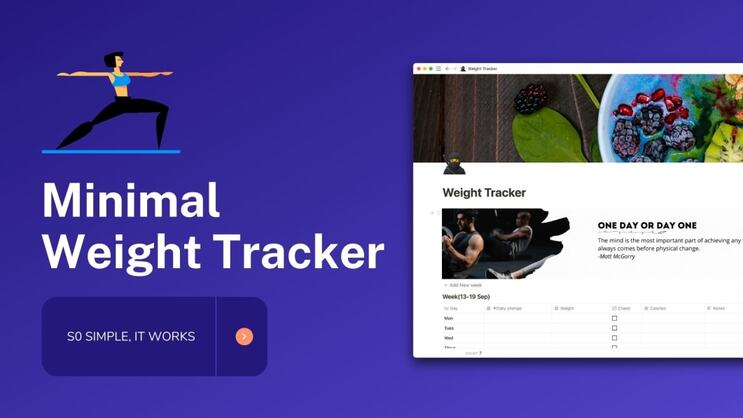 Weight Tracker
The weight tracker template will help you to record weight daily. Set
by Prototion ❤️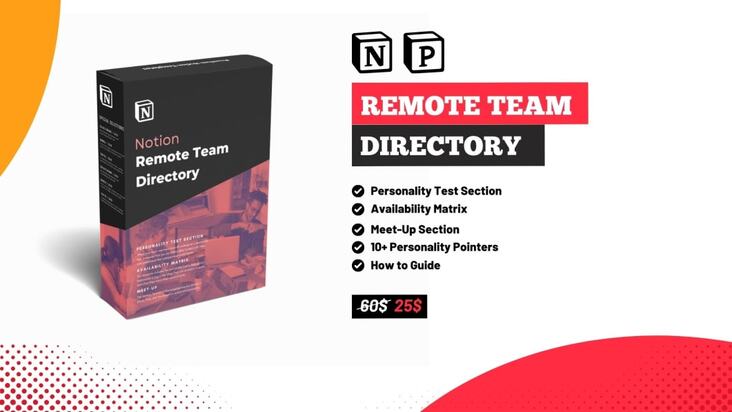 Remote Team Directory
A system to monitor & enhance the productivity of your team when worki
by Prototion ❤️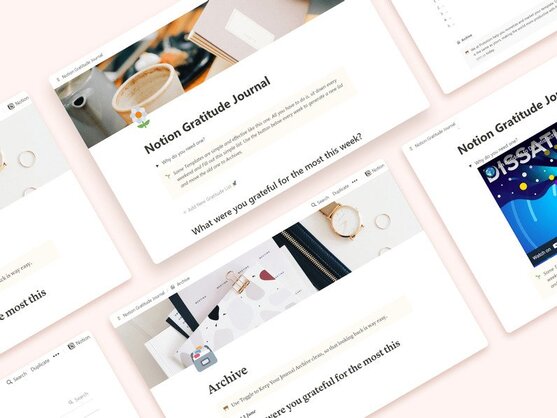 Notion Gratitude Journal
Prototion brings to you this amazing Gratitude Notion Template, that i
by Prototion ❤️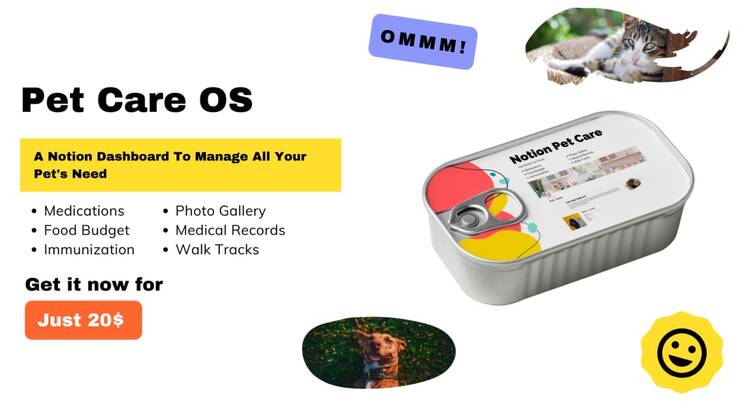 Pet Care OS
This Notion template will help you to maintain a proper schedule of yo
by Prototion ❤️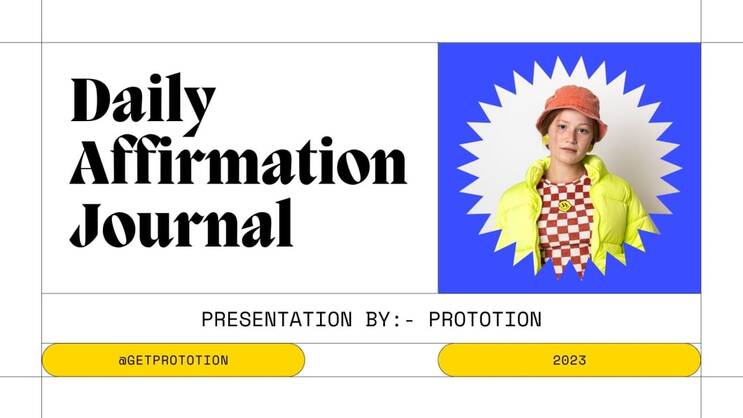 Affirmation Journal
Never let negative thoughts affect you, Reprogram your mind Using this
by Prototion ❤️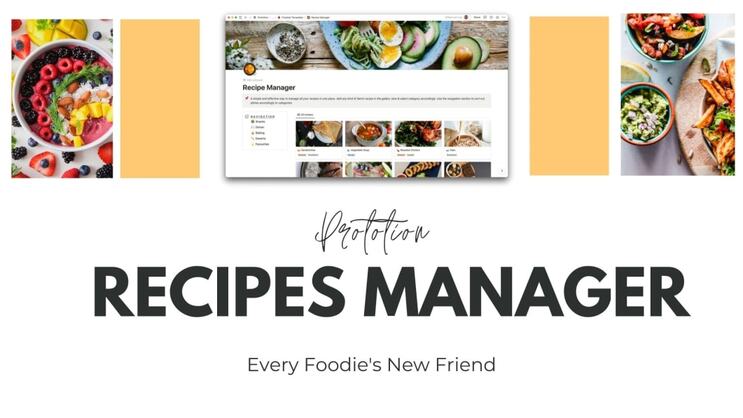 Recipe Manager
Never let different types of recipes be scattered over different platf
by Prototion ❤️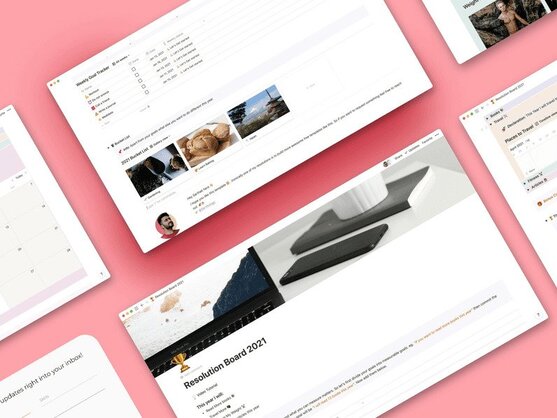 Resolution Board
Plan your New Year resolutions and achieve them with this one and only
by Prototion ❤️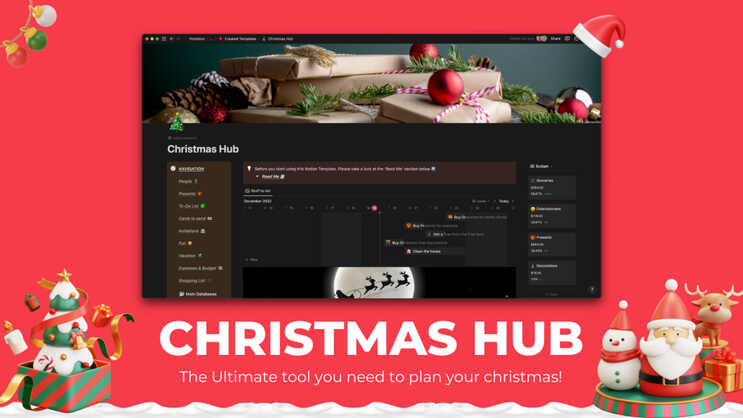 Christmas Hub
Planning for Christmas has never been easier. Even Santa was impressed
by Prototion ❤️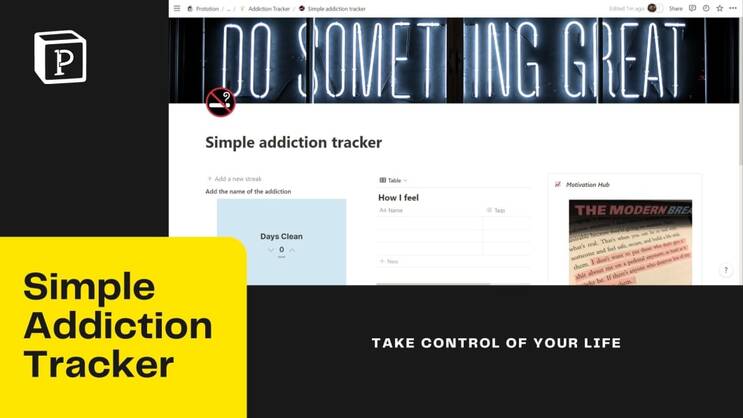 Addiction Tracker
Get rid of any kind of addictions & take a step ahead with this Notion
by Prototion ❤️
Extra Savings with Bundles 🔥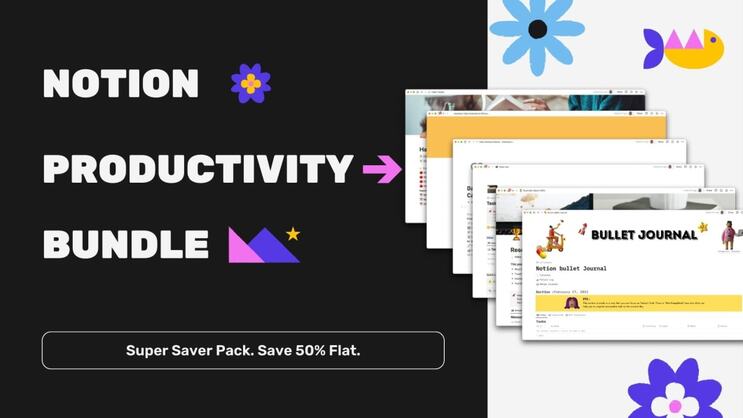 Productivity Bundle 2023
We have handpicked the perfect selection of Notion Templates to help y
by Prototion ❤️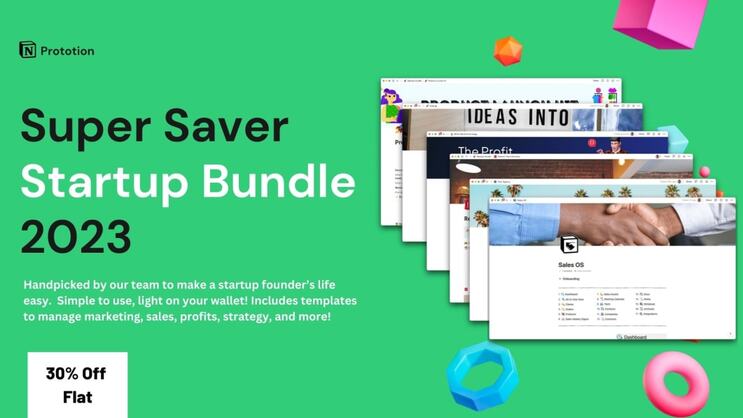 Start-Up Bundle 2023
We have handpicked the perfect selection of templates for people who o
by Prototion ❤️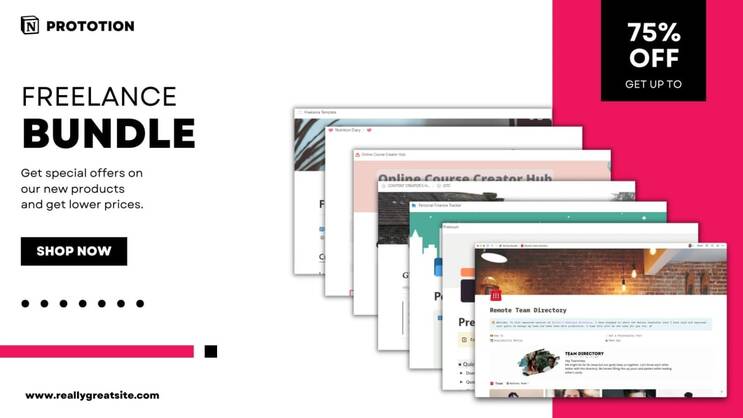 Freelance Bundle 2023
This bundle is for all the Freelancers who want to be more organized,
by Prototion ❤️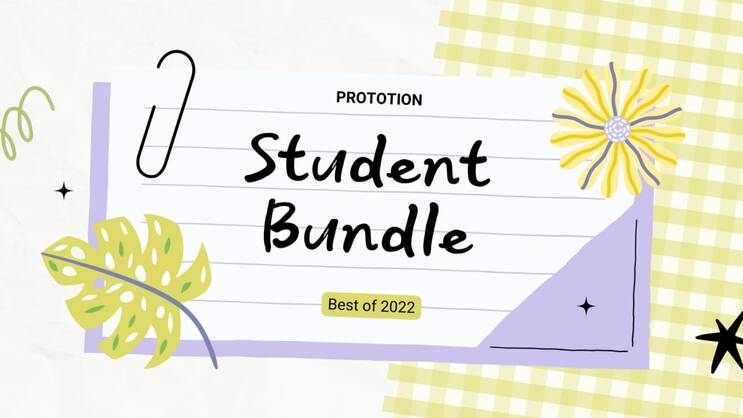 Student Bundle 2023
This bundle has the perfect selection of Templates for all the student
by Prototion ❤️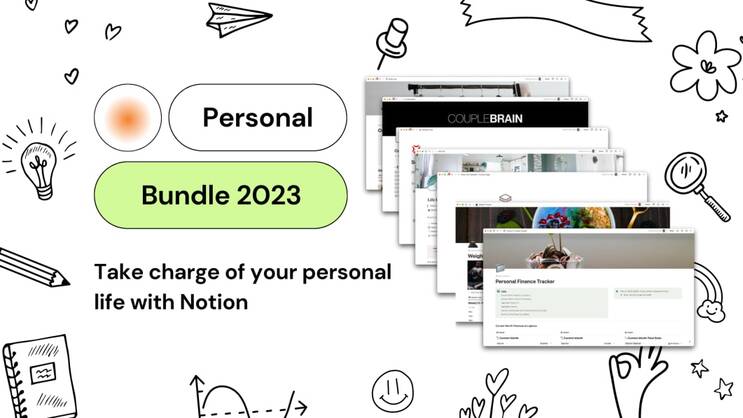 Personal Bundle 2023
From planning outfits for the whole week to managing finances, We have
by Prototion ❤️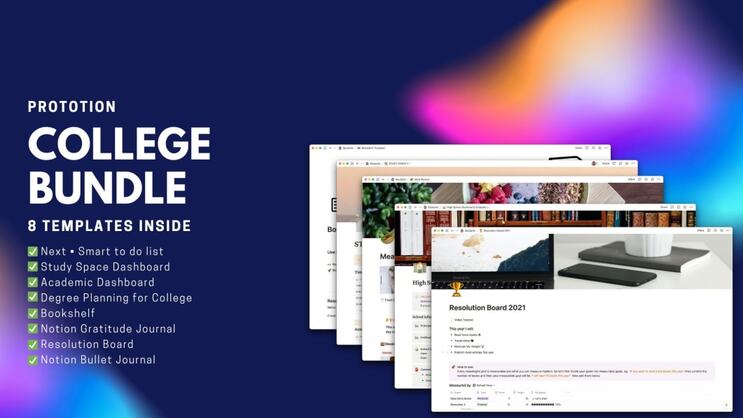 College Bundle
Optimise your college journey, with planning, book management, and lec
by Prototion ❤️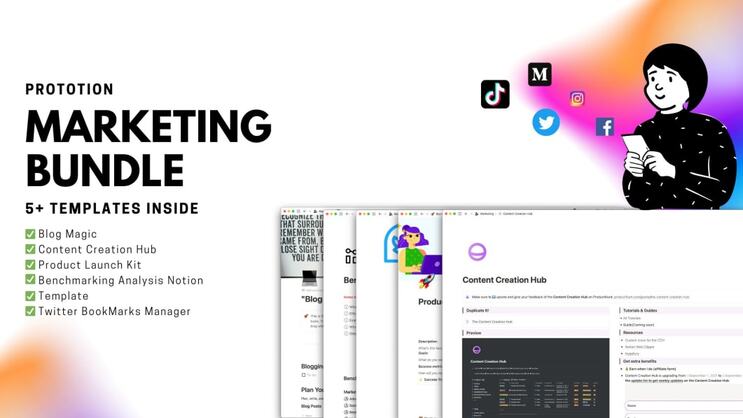 Marketing Bundle
A solid marketing campaign requires a lot of planning, team, data anal
by Prototion ❤️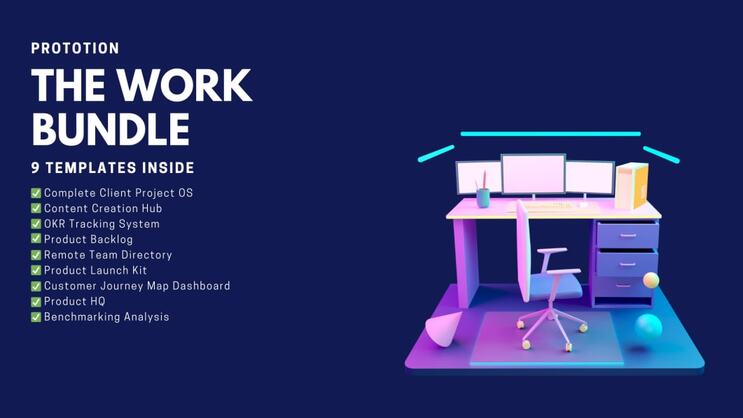 Work Bundle
This Work Bundle is an asset for all the working individuals who want
by Prototion ❤️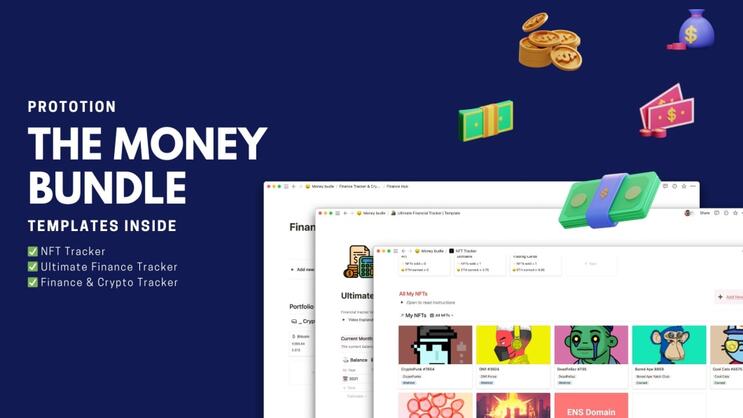 Money Bundle
This Money bundle is bound to make all your budget problems disappear.
by Prototion ❤️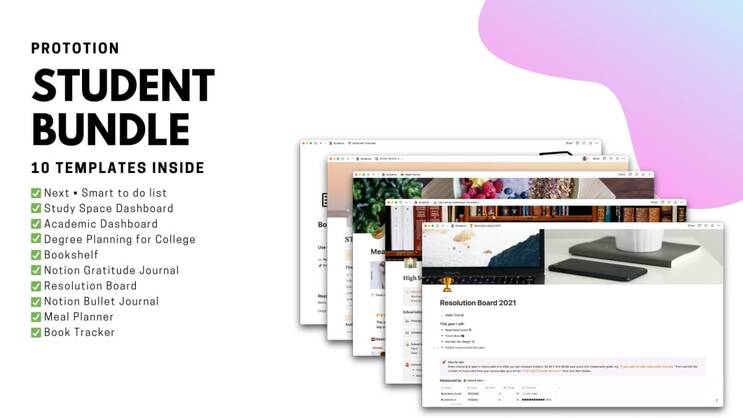 Student Bundle
Get ultra high grades while maintaining a fun social life with this No
by Prototion ❤️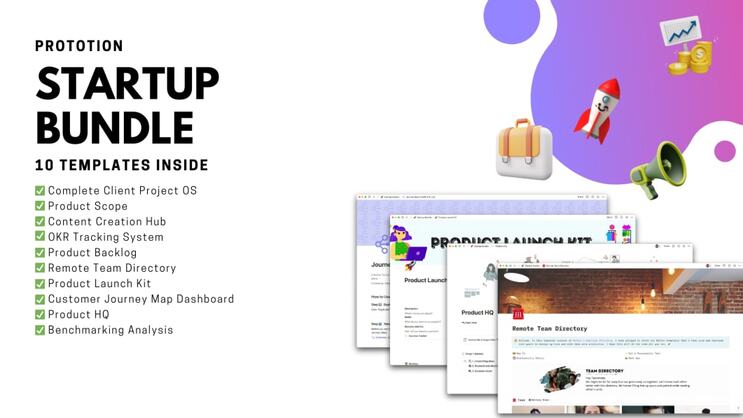 Startup Bundle
This bundle comprises all the tools necessary to make the best startup
by Prototion ❤️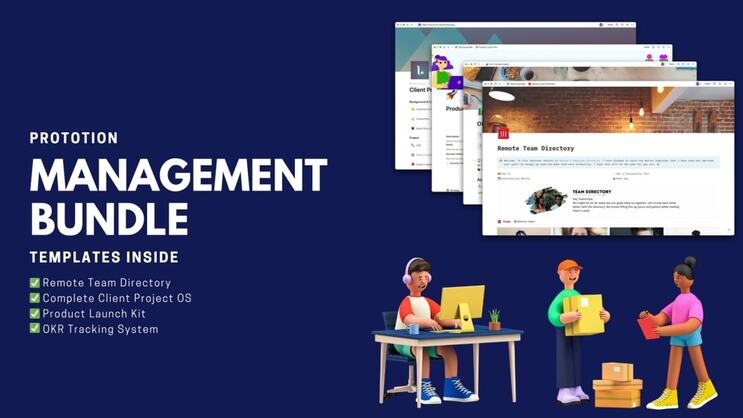 Management Bundle
Say bye to all your management woes with this all in one notion templa
by Prototion ❤️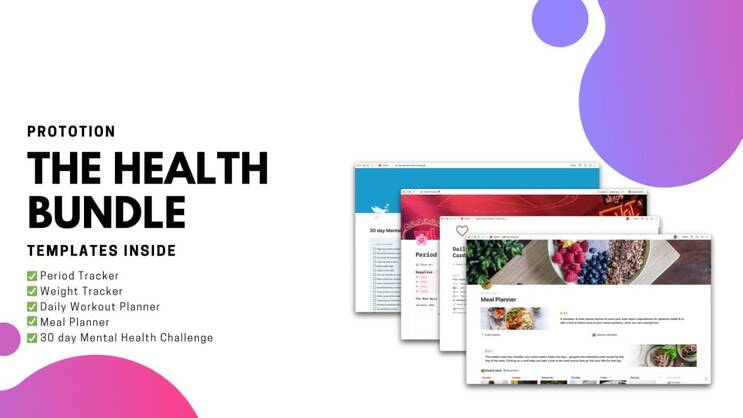 Health Bundle
The Notion Health Bundle includes your meal, excercise, mental and phy
by Prototion ❤️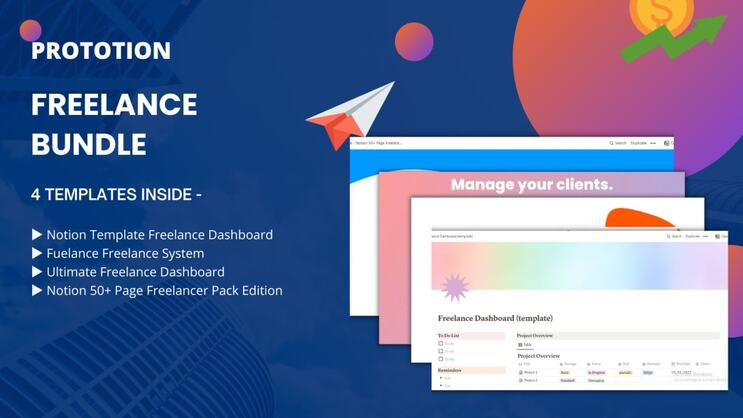 Freelancer Bundle
This bundle comprises all the tools necessary to make Freelancing easy
by Prototion ❤️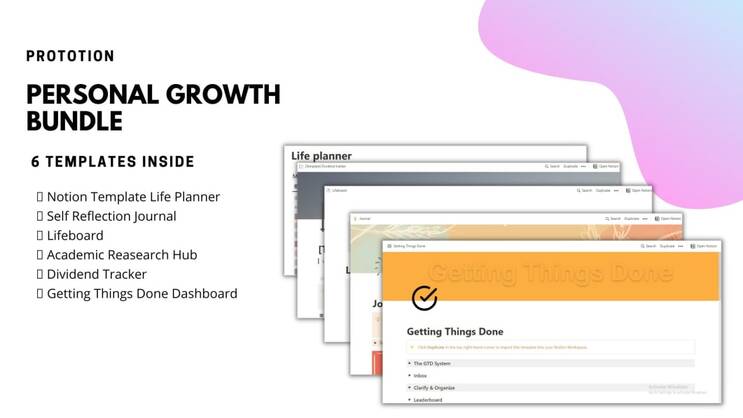 Personal Growth Bundle
This bundle contains all the tools to make you understand & push yours
by Prototion ❤️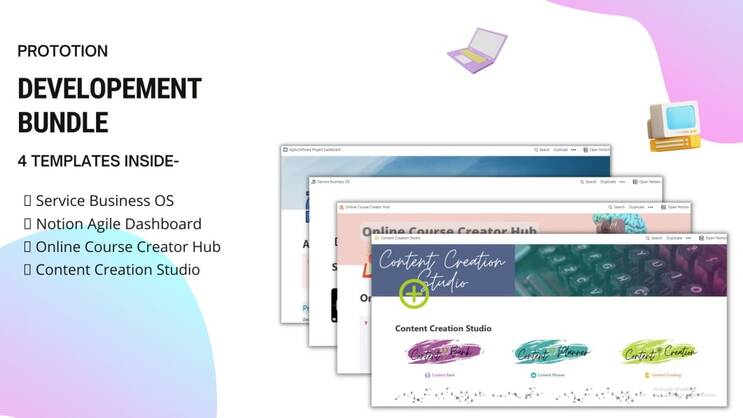 Development Bundle
This Development Bundle is an asset for all teams & individuals who wa
by Prototion ❤️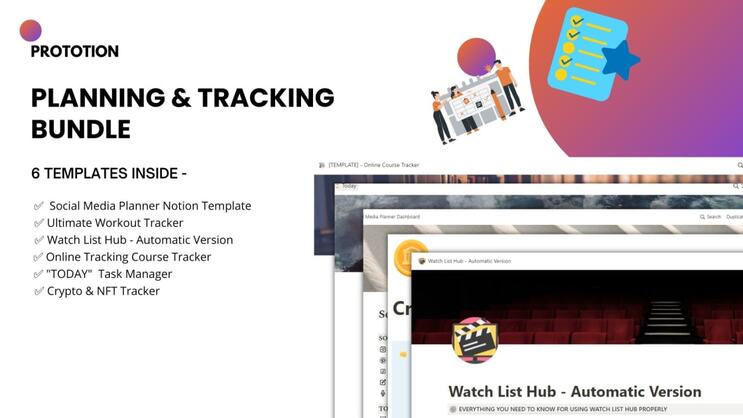 Planning & Tracking Bundle
Panning & Tracking events/things are one of the most difficult tasks b
by Prototion ❤️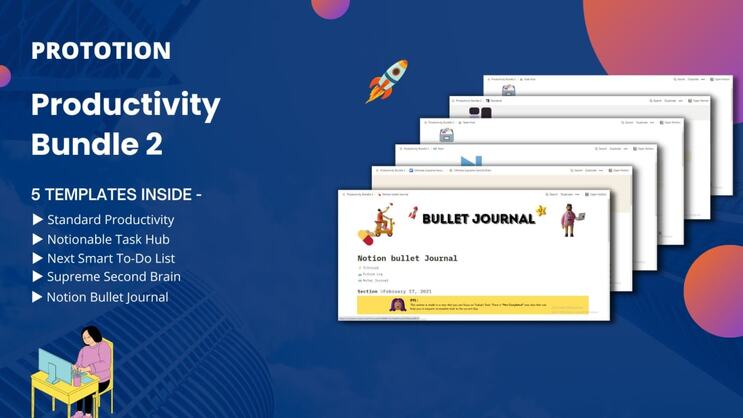 Productivity Bundle 2
This bundle has all the templates which will make you able to do thing
by Prototion ❤️
Template Description
Comprehensive Product Launch Kit
We have built the most powerful bundle of practical launch strategies, 1000+ resources, and iconic design templates to ensure that you always have the most efficient product launch.
This strategy kit has been tested and proven 100+ times, along with templates for all your future product launches.
We got you covered
Our kit will help you lay the groundwork for a smooth product launch throughout all the important stages to capture all the aspects for a successful product launch.
Pre LaunchGet access to multiple tried and tested templates of strategies that you can put to work.
LaunchGet to implement the planned launch strategy by splitting your tasks with your team.
Mid-LaunchKeep control of the momentum of your launch by scheduling the launch distribution.
Post LaunchGet to turn your supporters into loyal customers who start paying for your product.
What's Included?
Launch strategyFunctional launch strategy designed to ensure a smooth and successful launch of a new product.
1000+ ResourcesWe built the library for the most useful product launch platforms, communities, tools & marketing platforms.
100+ TemplatesGraphic templates for Product Hunt & Social Media that you can customize for your own product in minutes.
Save hundreds of hours.
2000+ communities to market your productDiscover communities where you can find supporters to participate in your launch.
20+ Platforms to launch your productDiscover platforms to launch your product for better reach to your target customers.
Fastest way toLaunch your product
#ProductLaunchOS
Product hunt checklist
We have curated a launch checklist with actionable tips that will help you to track your launch progress from planning to getting your first set of users.
Getting started
Build in public
Prepare for launch
Checklist before launch
Launch day
The days after the launch
Community database
600+ curated community links for better distribution through communities where you can find loyal early adopters of your product. This is a great way to get your early user base.
Subreddits
Facebook groups
Slack communities
LinkedIn Groups
Founder communities
Product Hunt launch groups
Product launch strategy
Defining a product launch strategy so that everyone understands what you aim to achieve is an important part of a successful product launch.
We provide you with launch planning templates that make your strategy planning easier.
Timeline mapping
Launch objectives
Team management
Task management
Product messaging
Channel strategy
Resource Library
Find 100's of links to resources and tools that will provide you with more launch activity ideas that you can consider to improve the success of your product launch.
Startup listing platforms
Product launch spaces
Community platforms
Toolkit library
Graphic templates
Editorial copy template
Iconic graphic templates
Launch graphics is an important part of product launch assets. Designing iconic launch graphics requires a design team and takes a lot time. But not anymore with our Graphic template library.
Social media templates
Phroduct hunt posts
Editorial copy templates
Product Mockups
Who is this system for?
The Launch OS is designed practically for Individuals, Startups, and Product focused companies who are in process of launching a product or will launch the product.
The template covers all major phases of the product launch helping you position your product in the market in the most efficient way.
Flexibility:
The system's individual component structure gives you the flexibility to shape the templates as per your requirement and make them personalized to your objectives and goals.
Salient features
Views: This template gives you the flexibility of choosing the view as per your requirement making it easy to cater to all your requirements.
Dashboards: This template has a sequence of readymade dashboards to support easy navigation and quick view through the subject areas.
Product launch Strategy: Thought out launch strategy with functional components to view and manage all the important variables for a product launch.
Drag and drop templates: Iconic design templates are designed in the Figma tool to help you with product launch graphics.
The system has been designed to meet all your launch requirements.
All the variables involved in the product launch are crafted in the most functional manner to give you an efficient product launch journey.
The template checkpoints:
✔ A checklist of the tasks and activities that must be performed at each stage i.e., pre-launch, launch and post launch.
✔ A resource board consisting of the details of all the blogs, list of products & their positioning, community and launch spaces.
✔ A tool board listing all your tools like email marketing, social media automation, web analytics, chat support etc.
✔ A board extending you the communities, by maintaining your data base of the makers, hunters, launch groups, top products and listing out all the social media communities that could support your growth.
✔ A dashboard with the premade templates of the launch content like video, blog etc.
✔ A Launch Strategy Dashboard giving you insights of the perfect launching time and platforms along with the other platforms for marketing for a better reach to the prospects.
Testimonials
Used & trusted by 100+ product designers across the globe.
—
"Building and launching 10+ digital products has taught me one thing that winning products always require a properly planned launch with a dedicated team to carry out the whole launch. This product distills all these successful launches into one Ultimate Launch OS. This Launch OS is now equivalent to a complete Launch team.!"
Balaji RaoVisual designer★★★★★
—
"I had a great product but always lacked a proper execution during my launches as I never gave it a lot of time. But since I discovered Launch OS and started using it, I was able to see much better results by spending almost the same time and energy as my previous launches."
Nivedita VermaProdutuct Creator★★★★★
—
"I knew that my product will have a great impact but to generate this impact I needed to get proper distribution. Launch OS helped me fast track my launch planning and go to market much faster than I thought I would be able to."
Aastha TomarProduct developer★★★★★
💬
I hear entrepreneurs ask, 'How do I know when to launch my product?'
The answer, more often than not, should be: 'Now!'
F.A.Q.
Does this work on the free version of Notion?
Yes. Once you've made the purchase, I will send you a link to duplicate this to your Notion workspace. You don't need to be on Notion's Personal Pro plan to use it.
Can I share this template?
This Notion template comes with a personal license for individual use. Feel free to use the template with your internal team. But please do not share it with other individuals.
What will happen after my purchase?
Right after your purchase, you will be made available with PDF files. Links for Notion templates will be embedded in a PDF file which you will be able to duplicate into your own workspace. You'll also receive an email with the link to the template and other relevant files.
Is there a refund policy?
Yes, If you feel like the Launch OS hasn't provided you with any value, write to us & we'll give you a refund within the first 30 days. We're passionate about making products people find value in and we're confident in the value of this.
We are open to any questions and support you need while using the product. Don't be hesitant and get started with your launch journey with the support of Launch OS.
Wish you a successful product development and launch!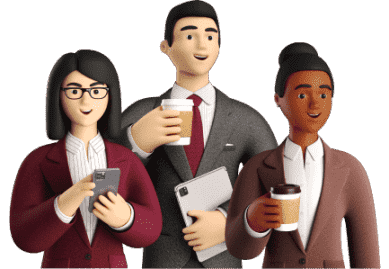 Be a Maker and start earning now
Have a knack for building useful or aesthetic Notion templates? Prototion is the perfect platform for generating revenue by selling templates. Learn more
Be a maker