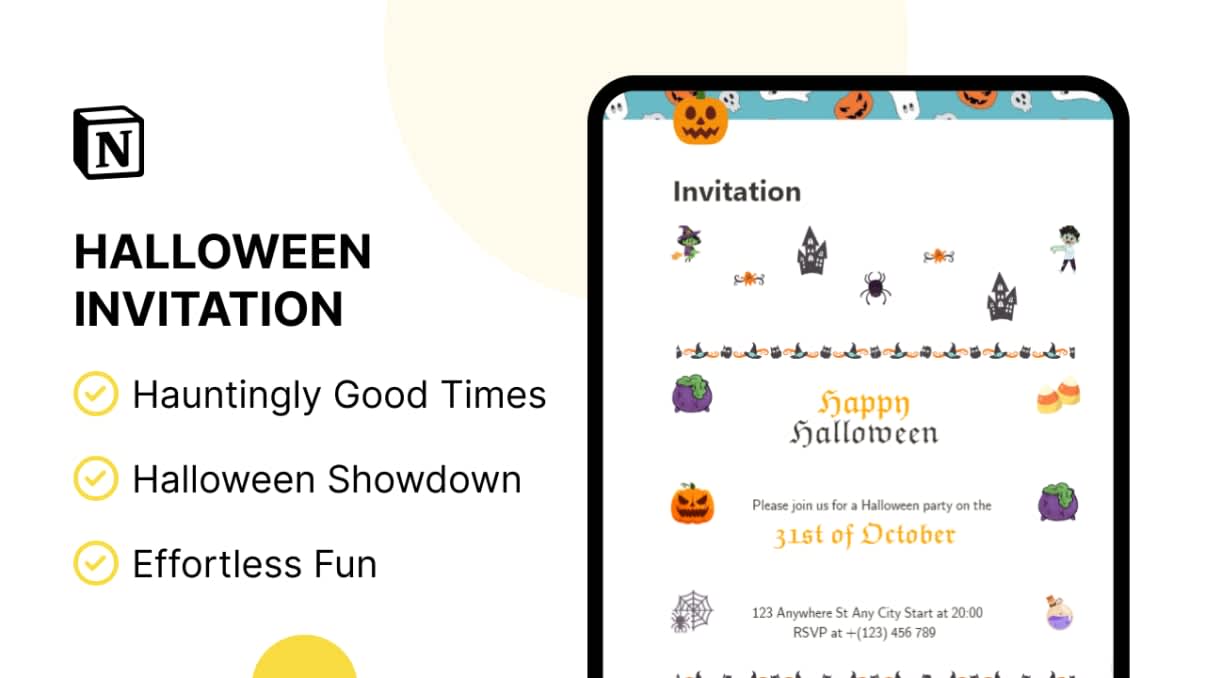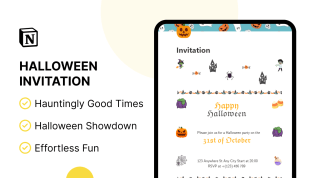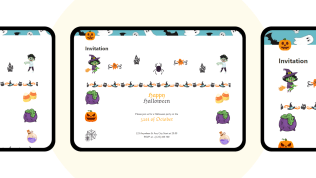 Halloween Invitation
By
Invest in our Halloween template for captivating invites and eerie creativity. Set the perfect spooky mood!
Rating:
Know more details about this template's features? Click here
Notion
Combo Marvels
Twice the Productivity Power With Template Bundles
Template Description
👻Witching Hour Halloween Soiree: Join the Magic!👻
Embrace the spirit of Halloween with our hauntingly designed invitation! This eerie masterpiece sets the stage for a night of mysterious revelry and wickedly good fun. Share this invite with your fellow thrill-seekers and prepare to be spellbound by the spooktacular soirée that awaits.
🌟 Why Choose This Template?
🎃 Instant Halloween Atmosphere:
Our Halloween invitation template brings the festive spirit to life with its captivating design. It sets the stage for a memorable event by instantly immersing your guests in the Halloween atmosphere, ensuring a unique and enchanting experience.
🧟 Professional Appeal with Ease:
You can impress your guests with a professionally designed invitation without the hassle of custom design work. This template balances a polished look with user-friendly customization, making it the perfect choice for both seasoned event organizers and newcomers.
🕸️ Memorable Impressions:
Leave a lasting impression on your guests and make your event stand out. The carefully crafted template ensures that your Halloween gathering is remembered not only for the fun but also for its exceptional style and attention to detail.
🌐 Who Benefits from This Template?
👻 Event Planners and Hosts:
Whether you're a seasoned event planner or a first-time Halloween host, this template simplifies the process of creating an inviting and visually striking invitation. It helps you set the stage for a memorable event with minimal effort.
🕯️ Businesses and Organizations:
Businesses and organizations looking to host Halloween-themed events, parties, or promotions can benefit from this template. It provides a professional and engaging way to invite and excite their audience, ensuring a successful and memorable event.
🧛 Anyone Celebrating Halloween:
Individuals and groups celebrating Halloween, from friends throwing a spooky soirée to families hosting a haunted house, can utilize this template to make their event more special and inviting. It's perfect for anyone looking to add a touch of eerie elegance to their Halloween celebration.
📌 FAQs (Frequently Asked Questions)
🎃 Q: Is this Halloween invitation template suitable for all types of organizations and individuals?
A: Yes, this template is incredibly versatile and can be tailored to the needs of event planners, businesses, nonprofit organizations, and anyone looking to host an unforgettable Halloween gathering.
👻 Q: Can I easily collaborate with my team and share this Halloween invitation with my guests through multiple communication channels?
A: Certainly! Collaborate effortlessly with your team and share this Halloween invitation template with your guests via email, social media, and various online platforms.
🦇 Q: Is this template optimized for both desktop and mobile devices, ensuring a fantastic experience for all invitees?
A: Absolutely! This Halloween invitation template is fully responsive, guaranteeing a seamless and delightful viewing experience on desktops, laptops, tablets, and mobile phones for all your invitees.
👻Unlock Enchanting Halloween Invitations: Captivate Your Guests with Spooky Creativity👻
Invest in our Halloween invitation template and unlock a world of enchanting possibilities. With its user-friendly customization options and rich features, you'll be poised to captivate your guests in the spirit of the season.
Get ready to astound friends, family, and attendees with your eerie creativity and online invitation that sets the perfect Halloween mood.
Notion

Workspaces 🪴

A collection of best templates by best makers, Coming Up next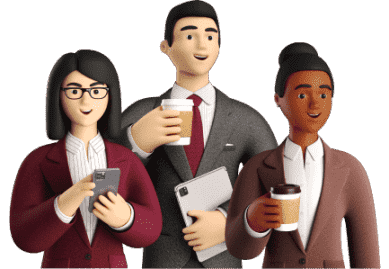 Be a Maker and start earning now
Have a knack for building useful or aesthetic Notion templates? Prototion is the perfect platform for generating revenue by selling templates. Learn more
Be a maker