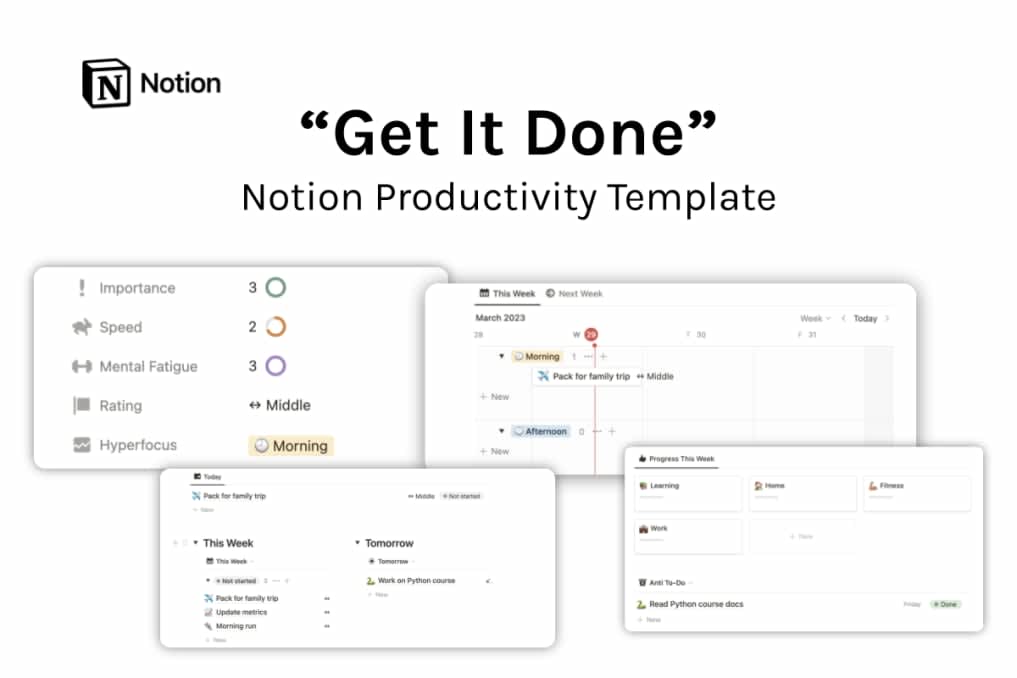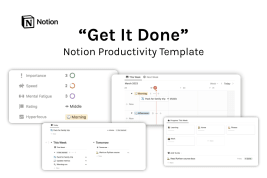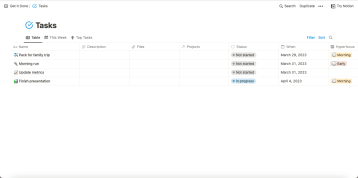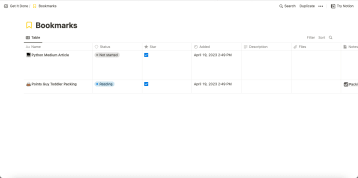 Get It Done Productivity Template
By
The Notion "Get It Done" Productivity Template is designed to help individuals improve their productivity.
Rating:
Know more details about this template's features? Click here
Notion
Combo Marvels
Twice the Productivity Power With Template Bundles
Template Description
Overview
The Notion "Get It Done" Productivity Template is designed to help individuals improve their productivity by focusing on proven techniques while making them useful in only a few minutes a day. It focuses on four key areas - planning, focus, intention, and reflection.
I built this template after using Todoist for years to manage my tasks, but I needed a better organizational structure to manage my day and tasks both at home and at work. I also wanted a better way to reflect on progress and simplify planning so I always knew what to work on next. This template is based on different templates and processes I have used and techniques from many different books on productivity, focus, and organization.
Techniques included in the template
Time Blocking: The template incorporates time blocking - a technique that helps individuals plan their day and allocate specific time slots for different tasks with a simple calendar
Decision Points: Block your day based on decision points - or points where you get to choose what you do - in a format that is customizable for you
Anti To-Do Lists: Reflect on what you did accomplish by using an anti to-do list
Early Tasks: Start the day by picking one task from the beginning of your day, a proven technique to jumpstart productivity
What's inside
Tasks: The template includes a section for tasks which can be linked to projects and categories making it easy for individuals to track their progress and prioritize tasks.
Notes & Bookmarks: The template includes a section for notes and bookmarks (for links or other resources). Bookmarks can be categorized by topics and also linked to other areas like notes. Notes are linked to notebooks or collections of many notes making it easy to keep track of ideas and information.
Goals: The template also has an area for goals which are linked to areas of achievement such as finance or health.
Quickstart: Get started right away with the quickstart guide which will have you up and running in under an hour.
FAQs
How long does it take to use the template?
The template is designed to take minutes to use and not overburden the planning process around productivity.
Can the template be customized?
Yes, the template can be customized to fit individual needs and preferences. You can add elements to any of the key areas and adjust them based on your needs.
Is the template easy to use?
Yes, the template is user-friendly and easy to use, especially if you already use Notion for other tasks.
Can the template help improve productivity?
Each user will likely find areas and techniques that work best for them, but it incorporates proven techniques from books such as "The One Thing", "The Perfect Day Formula", "Hyperfocus", "What the Most Successful People Do Before Breakfast", "Atomic Habits", and "Two Awesome Hours".
Notion

Workspaces 🪴

A collection of best templates by best makers, Coming Up next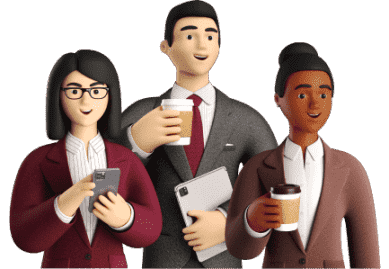 Be a Maker and start earning now
Have a knack for building useful or aesthetic Notion templates? Prototion is the perfect platform for generating revenue by selling templates. Learn more
Be a maker