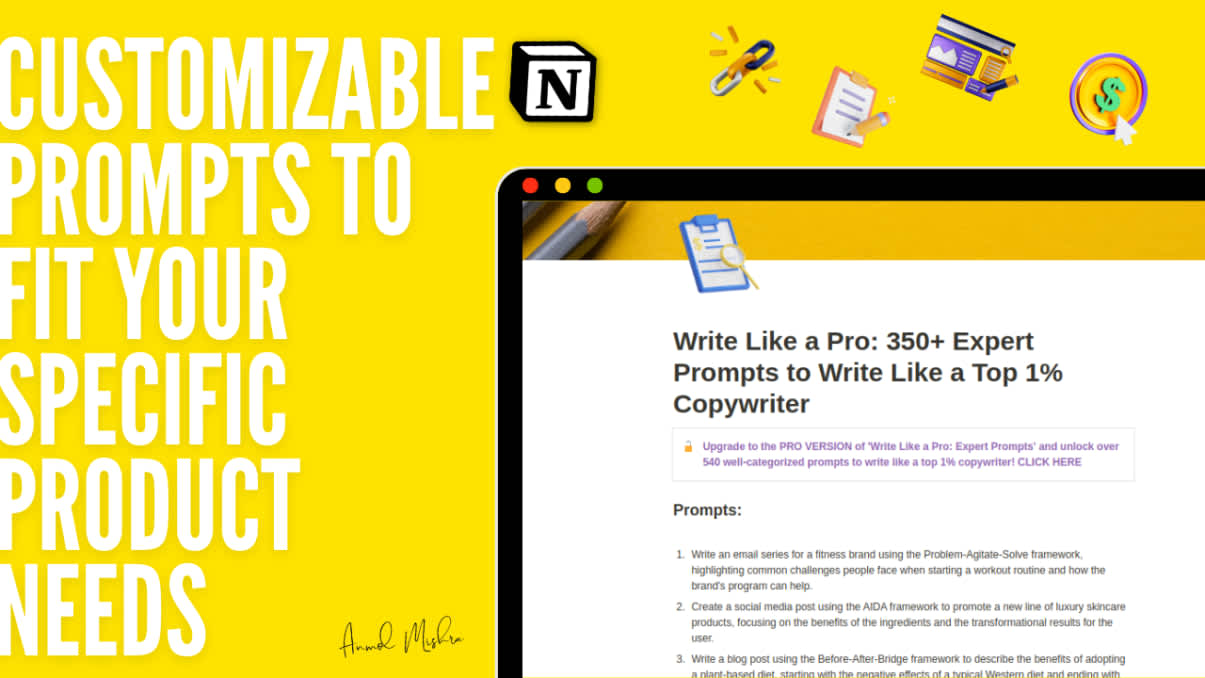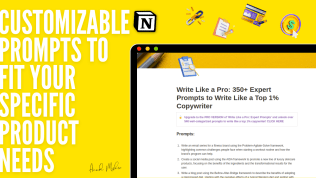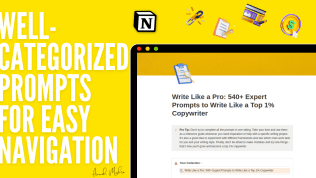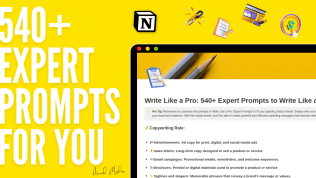 Expert Copywriter Prompts
By
Are you tired of mediocre copy that doesn't convert? Unleash Your Copywriting Superpowers! Write like a top 1%
Rating:
Know more details about this template's features? Click here
Notion
Combo Marvels
Twice the Productivity Power With Template Bundles
Template Description
What's the template about?
Hey there, fellow hustlers and entrepreneurs!
Are you tired of struggling to write copy that actually converts? Do you want to stand out from the competition and skyrocket your sales? Well, you're in luck because 'Write Like a Pro: Expert Prompts' is here to help!
With 'Write Like a Pro: Expert Prompts', you'll learn the copywriting skills and strategies that top 1% copywriters use to crush it in the game. You'll discover how to craft persuasive messages that grab your audience's attention, tap into their deepest desires, and motivate them to take action. And the best part? You'll be able to apply these skills to any product or service you offer, whether you're in e-commerce, SaaS, coaching, or anything in between.
So, what are you waiting for? Stop struggling to write copy that falls flat and start writing like a pro! Purchase 'Write Like a Pro: Expert Prompts' today and unlock the secrets to copywriting success. Your sales (and bank account) will thank you!
What's inside the template?
This limited digital product is packed with over 540 expert prompts to help you write killer website copy, ads, sales letters, email campaigns, brochures, taglines, TV and radio scripts, social media posts, landing pages, and press releases.
And let me tell you, these prompts are the real deal! They're well-categorized for easy navigation and can be customized to fit your specific product needs. Plus, you'll get both a Notion file and a downloadable PDF, so you can access them on-the-go or at your desk.
How to use the template?
Duplicate it in your own Notion workspace
Now you can easily use the template
What are the benefits of the template?
Elevated Copywriting Mastery: Delve into a treasure trove of benefits designed to transform your copywriting prowess. This template serves as your portal to a higher echelon of writing excellence, where your words become potent instruments of influence.
Expert Insights at Your Fingertips: No need to embark on a search for copywriting wisdom; it's conveniently packaged within this template. Benefit from the distilled expertise of top-tier copywriters, instantly enhancing your skills.
Precision and Persuasion: Empower your writing with precision and persuasion. The template equips you with techniques to craft messages that resonate deeply, prompting your audience to take the desired actions.
Standout From the Crowd: Bid adieu to blending into the sea of content. With the benefits embedded in this template, you're poised to stand out with distinctive narratives that capture attention and foster engagement.
Notion

Workspaces 🪴

A collection of best templates by best makers, Coming Up next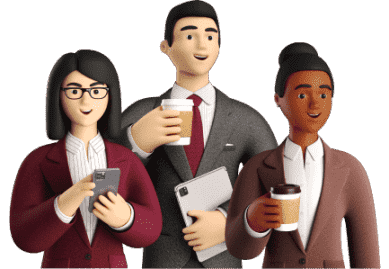 Be a Maker and start earning now
Have a knack for building useful or aesthetic Notion templates? Prototion is the perfect platform for generating revenue by selling templates. Learn more
Be a maker