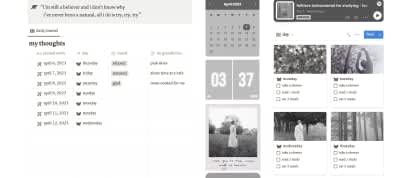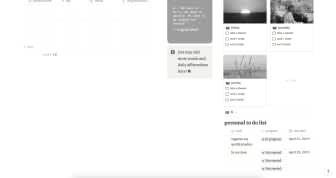 Digital Folklore Journal
By
This folklore-themed journal includes tables for daily journal entries, personal to-do lists, and daily habit trackers.
Rating:
Know more details about this template's features? Click here
Notion
Combo Marvels
Twice the Productivity Power With Template Bundles
Template Description
Why did I create this template?
🌸 This daily journal is folklore-themed, designed for all Swifties (or non-swifties) who find their personality, musings, and vibe resembling Taylor Swift's folklore album.
I wanted to create a daily journal that's more than a repository of thoughts; it's a portal to the world of folklore, tailor-made for the passionate Swifties and those captivated by the essence of Taylor Swift's folklore album.
In essence, this daily journal isn't just a collection of blank pages; it's an opportunity to immerse yourself in the allure of folklore. Whether you're a fervent Swiftie or someone seeking a connection to powerful storytelling, this journal transcends paper and ink, inviting you to capture the magic of life's tales in your own unique way. 📖🎶
What's inside the template?
🔹 It includes tables for daily journal entries, personal to-do list, and daily habit trackers.
🔹 It also has designed widgets and photos that fit the folklore album.
How to use the template?
Duplicate it in your own Notion workspace
Now you can easily use the template
What are the benefits of the template?
🎶 This notion template is editable, not too complicated, and easy to use.
Seamless Editability: Embrace the freedom to mold the template to your unique needs. With its editable design, you have the power to personalize every element, ensuring it aligns perfectly with your requirements.
User-Friendly Interface: Navigate a template that's designed with simplicity in mind. The user-friendly interface ensures a seamless experience, making even intricate tasks feel intuitive and straightforward.
Effortless Customization: Bid adieu to the complexity of overly intricate templates. This template strikes a balance between versatility and simplicity, allowing you to customize without feeling overwhelmed.
Accessible to All: Whether you're a seasoned Notion user or a newcomer, this template welcomes you. Its ease of use transcends expertise levels, making it a valuable resource for everyone.
Time-Saving Design: Maximize your efficiency with a template that's built to save time. Its streamlined structure ensures that tasks can be completed swiftly, allowing you to focus on what truly matters.
Notion

Workspaces 🪴

A collection of best templates by best makers, Coming Up next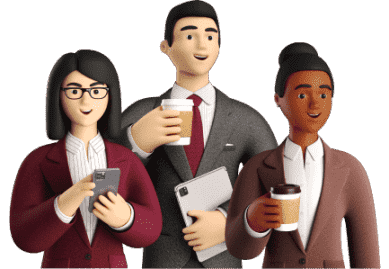 Be a Maker and start earning now
Have a knack for building useful or aesthetic Notion templates? Prototion is the perfect platform for generating revenue by selling templates. Learn more
Be a maker