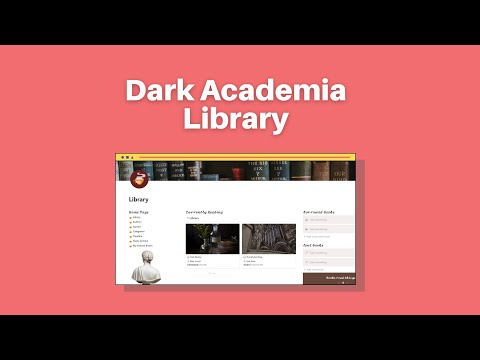 Dark Academia Library Template
By
Read more with the help of this practical and customizable template.
Rating:
Know more details about this template's features? Click here
✨ Do you Write?

Template Description
Who doesn't love the dark academia aesthetic, right? Reading books by candlelight, writing poetry down on a little notepad, and enjoying the sound of the rain during a study afternoon... Inspired by these ideas, I created a perfect template for those who would like to recover the habit of reading or who simply want to have a special place to write about their favorite books.
ミ★ 𝘞𝘩𝘺 𝘥𝘪𝘥 𝘐 𝘤𝘳𝘦𝘢𝘵𝘦 𝘵𝘩𝘪𝘴 𝘵𝘦𝘮𝘱𝘭𝘢𝘵𝘦? ★彡
I love to read, but I hate to forget the books I've read or to lose the pages where I wrote down their remarkable sentences. I always thought that it would be too much work to write all these details in one notebook, besides having to carry it around with me.
Since I got to know notion, I love to explore the different ways in which it can help me. Because of this, I created a template inspired by several internet references, to keep everything about my favorite books in one place.
I hope you enjoy it as much as I do!
ミ★ 𝘞𝘩𝘢𝘵 𝘪𝘯𝘴𝘪𝘥𝘦 𝘵𝘩𝘦 𝘵𝘦𝘮𝘱𝘭𝘢𝘵𝘦? ★彡
Keep track of your borrowed and lent books;
Add the last page you've read and get your progress bar updated in real-time;
Have all your favorite quotes in one place;
Have a page dedicated especially to your favorite author and books;
Animated gifs;
Genres and Yearly Archive databases;
How to use the template?
The template comes with a brief instruction text. (video tutorial coming soon!)
What are the benefits of the template?
Practicality due to the synchronization between the databases.
Be a Maker and start earning now
Have a knack for building useful or aesthetic Notion templates? Prototion is the perfect platform for generating revenue by selling templates. Learn more
Be a maker