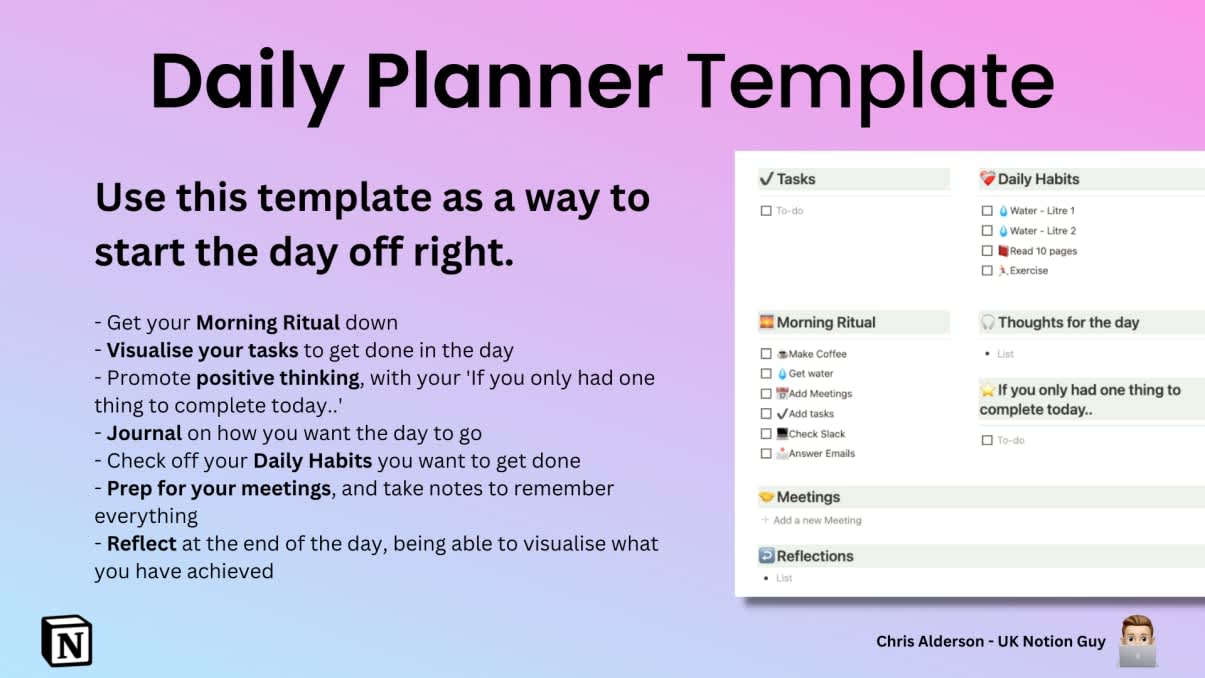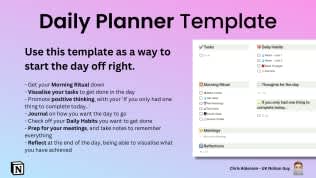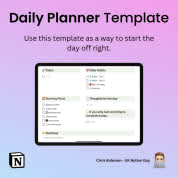 Daily Planner Template
By
Use this template as a way to start the day off right. This is how I use Notion every day!
Rating:
Know more details about this template's features? Click here
Notion
Combo Marvels
Twice the Productivity Power With Template Bundles
Template Description
Why did I create this template?
I created this template because I wanted to bring purpose and structure to my daily routine using Notion. I noticed that I often lacked a clear starting point and a sense of direction when I began my day.
This template serves as my single source of truth, helping me establish and maintain my daily rituals and habits effectively.
It brings structure, purpose, and mindfulness to my everyday life. By sharing this template with others, I hope to inspire and empower them to create their own personalized routines and experience the positive impact of intentional daily rituals.
What's inside the template?
🌅 Get your Morning Ritual down

✅ Visualise your tasks to get done in the day

🌟 Promote positive thinking, with your 'If you only had one thing to complete today

🎧 Journal on how you want the day to go

❤️‍🩹 Check off your Daily Habits you want to get done

🤝 Prep for your meetings, and take notes to remember everything

↩️ Reflect at the end of the day, being able to visualise what you have achieved
How to use the template?
Once you duplicate the template into your own Notion space, you have different headings for each part of your Daily Planning exercise.
Customise the items under these headings, based on your own Habits and Rituals - and you're away!
Add a new Day into the Days database or (Pro Tip!) set-up the Days database to create daily recurring pages if you don't want to manually add each day.
What are the benefits of the template?
Comprehensive Daily Overview: The template provides a single-page view of all the essential information you need for a successful day. It consolidates your tasks, goals, appointments, and important reminders in one centralized location.
Visual Organization: With its intuitive design and visual elements, the template allows you to easily grasp and prioritize your daily tasks and commitments. The use of visual cues, such as color-coding, icons, and progress bars, helps you quickly identify and focus on the most critical items.
Streamlined Workflow: The template streamlines your workflow by presenting all the relevant information in a logical and structured manner. You can effortlessly track your progress, mark tasks as completed, and update your schedule within the same page.
Clear Daily Goals: The template prompts you to set clear goals and objectives for the day. By explicitly defining what you want to achieve, you create a sense of purpose and direction.
Notion

Workspaces 🪴

A collection of best templates by best makers, Coming Up next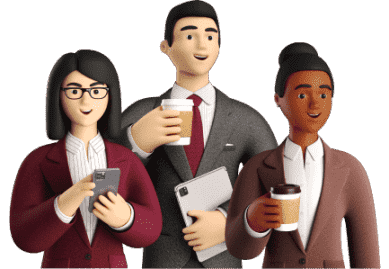 Be a Maker and start earning now
Have a knack for building useful or aesthetic Notion templates? Prototion is the perfect platform for generating revenue by selling templates. Learn more
Be a maker