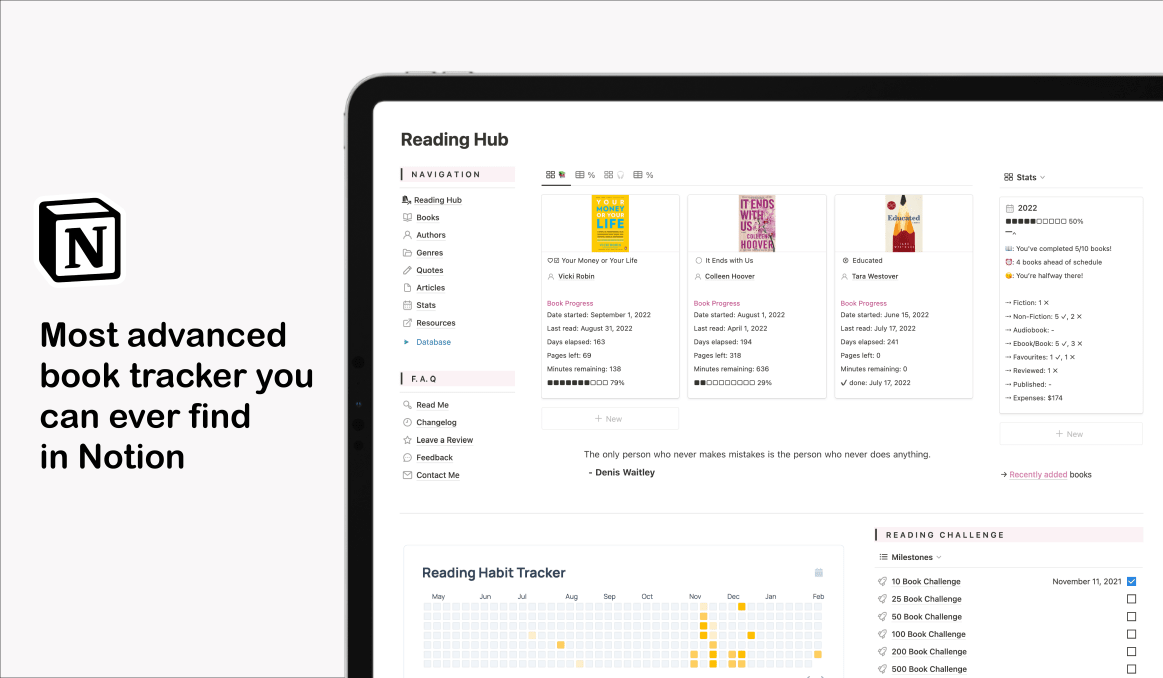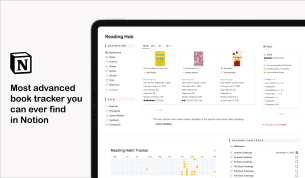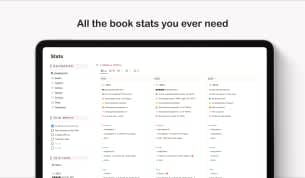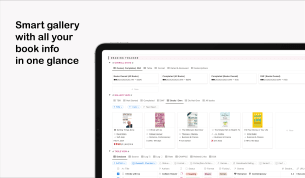 Ultimate Reading Hub
By
Calling all book enthusiasts! Discover the ultimate Notion-based book tracking tool for all your literary needs!
Rating:
Know more details about this template's features? Click here
Notion
Combo Marvels
Twice the Productivity Power With Template Bundles
Template Description
Why did I create this template?
This Reading Hub has been crafted with the intention of providing a user-friendly space for you to keep track of your book readings, compile your reflections, and transform them into actionable insights. It includes comprehensive onboarding instructions and instructional videos to assist you every step of the way.
What's included in the template?
Key Features:
🌹 Adding Books 🌹
- Effortlessly add books and fetch book covers and information from Goodreads using the "Save to Notion" extension.
- Alternatively, utilize a script to automatically retrieve book covers and information from Google Books by simply entering the book title. The retrieved data encompasses details like the author, summary, genre, year of publication, publisher, number of pages, ISBN, and ISBN-13. This system is self-hosted with no recurring fees.
- Import a multitude of books from your Goodreads or Calibre account. A guide on mass scraping book covers from Goodreads using a Python script is included.
🌹 Yearly and Lifetime Statistics 🌹
- Enjoy the most comprehensive book statistics available in Notion, all automatically generated.
- Compare your current book stats with previous years, allowing you to track your growth through a single dashboard.
- Keep tabs on completed books and those you did not finish (DNF) across various categories.
- The yearly and lifetime reading statistics cover more than 20 parameters, too numerous to list here. Refer to the accompanying images for further information.
🌹 Progress Tracking 🌹
- Monitor your progress for both books and audiobooks, complete with progress bars, percentage completion, time elapsed, and days passed.
- Access a mobile dashboard for logging your progress on the go.
- Utilize a calendar heat map to build a habit streak and foster a daily reading routine.
- Leverage a book template to jot down your thoughts, reviews, notes, and collect your favorite quotes.
- Curate your personal reading list and monitor your progress, including percentage completion and the last page read.
🌹 Gallery View 🌹
- Choose from multiple gallery views, including To Be Read (TBR), Not Started, Completed, DNF, Books Owned, Favorites, Ratings, and Year Read, among others.
- Enjoy a modern and clean gallery view with consistent card sizes.
- Easily identify your favorites, wish-listed, owned, completed, and reviewed books through distinct icons like ⵔ ♡ ☆ ☑ that appear alongside the book titles when the corresponding option is checked.
- Select from three different types of status bars, including minimalist options or those with progress bars. These status bars also provide essential information such as the year of completion, time taken, not started status, and DNF status.
- Choose between two different rating designs, ⭐️ or 🌹, and CAWPILE scoring will also appear for books rated using CAWPILE.
🌹 Ratings 🌹
- Rate your books with half stars or whole stars, following your preferred rating system.
- Employ the built-in CAWPILE rating system.
- Keep track of the number of Goodreads-rated books you read each year.
- Rate your Book of the Month and Book of the Year.
🌹 Use it in Conjunction with Your Kindle 🌹
- Access a guide on manually exporting your highlights to Notion without incurring monthly subscription fees.
- The book template effortlessly links to your highlights from within the template itself.
- Import your vocabulary builder words from Kindle into Notion via Google Sheets.
- Challenge yourself with word quizzes by hiding and revealing definitions.
🌹 Goals & Challenges 🌹
- Set yearly book goals to stay on track or receive alerts if you deviate from your target.
- Engage with automated book challenges, ranging from 10 to 7000 books. Receive notifications on the day you achieve a particular challenge, set future rewards, and keep track of your previous book count without starting from scratch.
🌹 Wishlist & Subscription Tracker 🌹
- Define a yearly book budget, and a progress bar will notify you if you exceed it.
- Utilize a subscription tracker to monitor your monthly and yearly subscriptions. Calculate the breakdown cost per book and assess how effectively you're utilizing your subscriptions to maximize their value.
- Keep tabs on your wish-list items and book purchases.
🌹 Other Bonus Features 🌹
- With each refresh of your dashboard, a random book generator will display a snippet of the book summary based on your unread collection.
- Save web articles for later reading.
- Store your resources, links, and bookmarks.
- Keep track of loans with an automatic countdown of days left until the due date or days overdue.
- Manage your advanced reader copies (ARCs).
- Facilitate book club and buddy reading activities.
How to Utilize the Template?
What Are the Advantages of Using This Template?
Notion

Workspaces 🪴

A collection of best templates by best makers, Coming Up next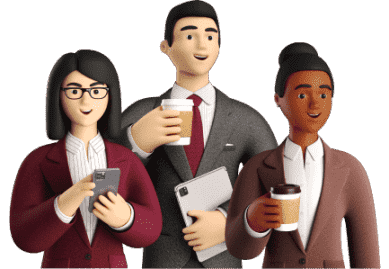 Be a Maker and start earning now
Have a knack for building useful or aesthetic Notion templates? Prototion is the perfect platform for generating revenue by selling templates. Learn more
Be a maker