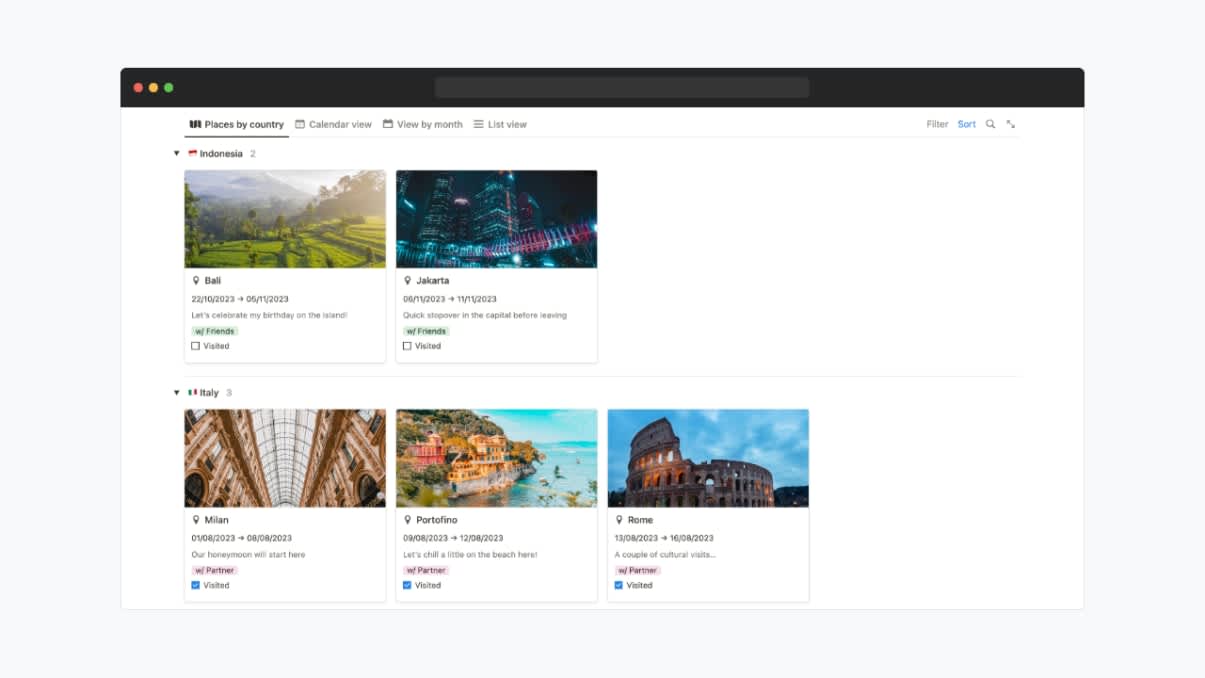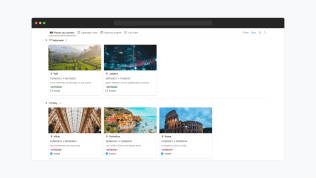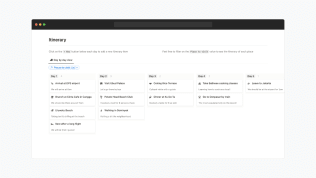 Travel Partner
By
You love to travel, but keeping everything organized is a hassle?
Rating:
Know more details about this template's features? Click here
Notion
Combo Marvels
Twice the Productivity Power With Template Bundles
Template Description
Why did I create this template?
As a remote worker, I know the challenges of organizing trips. That's why I created the the Travel Partner that I have been using for 1 year, because I wanted to simplify and streamline the travel planning process, providing a comprehensive solution that combines organization, efficiency, and user-friendly design, based on my own experience as a frequent traveler.
What's inside the template?
Destinations tracker : keep track of your travel bucket list and never miss out on a dream destination with useful views
To-do lists : stay organized and plan ahead with a comprehensive to-do list before travelling
Itinerary planner : effortlessly plan your trips with detailed itineraries for each destination
How to use the template?
Start by duplicating the template: Open Notion and create a new page, then select "Duplicate" and choose the Travel Planner template. This will create a copy of the template that you can customize and make your own.
Explore the Destinations Tracker: Begin by adding your dream travel destinations to the Planning area. Simply click on the template's placeholders/buttons and replace them with your desired locations.
Plan your itinerary: Use the Itinerary Planner section to create detailed itineraries for each destination. Click on the placeholders to enter the dates, activities, and notes for each day of your trip.
Stay organized with the To-Do Lists: Utilize the comprehensive To-Do Lists section to stay organized before and during your trips. Add tasks related to flights, accommodations, packing, research, and any other pre-travel things you need to complete.
What are the benefits of the template?
This free Notion travel template is designed to help you keep track of your travel bucket list, create detailed to-do lists for your trips, and plan itineraries for each destination. It's perfect for solo-travelers, families, couples or anyone who loves to explore the world.
So, if you're tired of juggling notes, apps, and spreadsheets to plan your trips, give it a try now! It's simple, user-friendly, and will make your travel planning a breeze.
Notion

Workspaces 🪴

A collection of best templates by best makers, Coming Up next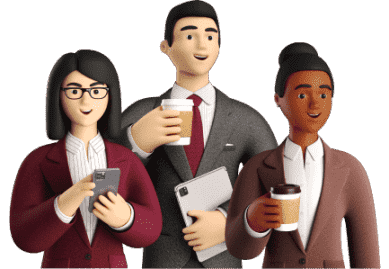 Be a Maker and start earning now
Have a knack for building useful or aesthetic Notion templates? Prototion is the perfect platform for generating revenue by selling templates. Learn more
Be a maker