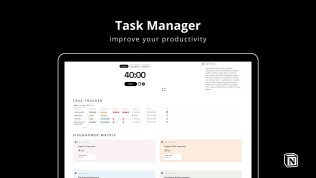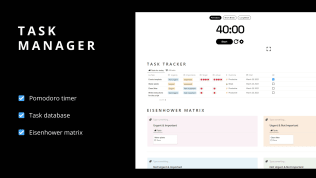 Task Manager
By
With this notion template boost Productivity and clear task space.
Rating:
Know more details about this template's features? Click here
Notion
Combo Marvels
Twice the Productivity Power With Template Bundles
Template Description
Supercharge Your Productivity with Our Pomodoro-Eisenhower Matrix Template!
Why did I create this template?
As a productivity enthusiast, I've always relied on the Pomodoro technique and the Eisenhower matrix to enhance my efficiency. One day, it struck me to merge these two powerful methods into a single template. The result? A game-changing tool that revolutionizes the way you approach tasks and boosts your productivity to new heights!
What's inside the template?
Discover the incredible features packed into our template:
Pomodoro Timer: Stay focused and maintain a productive rhythm using the renowned Pomodoro technique.
Task Database: Effortlessly manage your tasks with the ability to assign a specific number of 'tomatoes' per task, determine their importance and urgency, and prioritize accordingly.
Eisenhower Matrix: Visualize and categorize your tasks based on their importance and urgency, enabling efficient decision-making and task prioritization.
How to use the template?
Maximize the potential of our template with these simple steps:
Click on the "+New" button to add a new task to the database.
Use the date field to filter tasks on a day-to-day basis, ensuring optimal task management.
Specify the desired time for task execution, enabling effective scheduling and time allocation.
Set the importance and urgency properties for each task, empowering you to prioritize your workload effectively.
What are the benefits of the template?
Prepare for a productivity boost and enjoy a clutter-free task space. Our template combines the power of the Pomodoro technique and the Eisenhower matrix, providing you with the tools to enhance your focus, prioritize tasks, and achieve your goals with clarity and efficiency.
Unlock your true potential and experience the benefits of a streamlined productivity workflow. Get started with our template today and witness the transformative impact it has on your work and life!
Notion

Workspaces 🪴

A collection of best templates by best makers, Coming Up next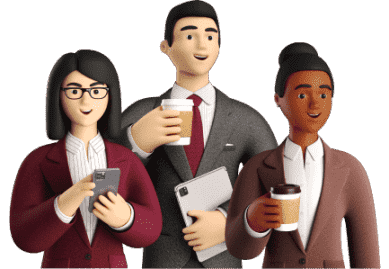 Be a Maker and start earning now
Have a knack for building useful or aesthetic Notion templates? Prototion is the perfect platform for generating revenue by selling templates. Learn more
Be a maker