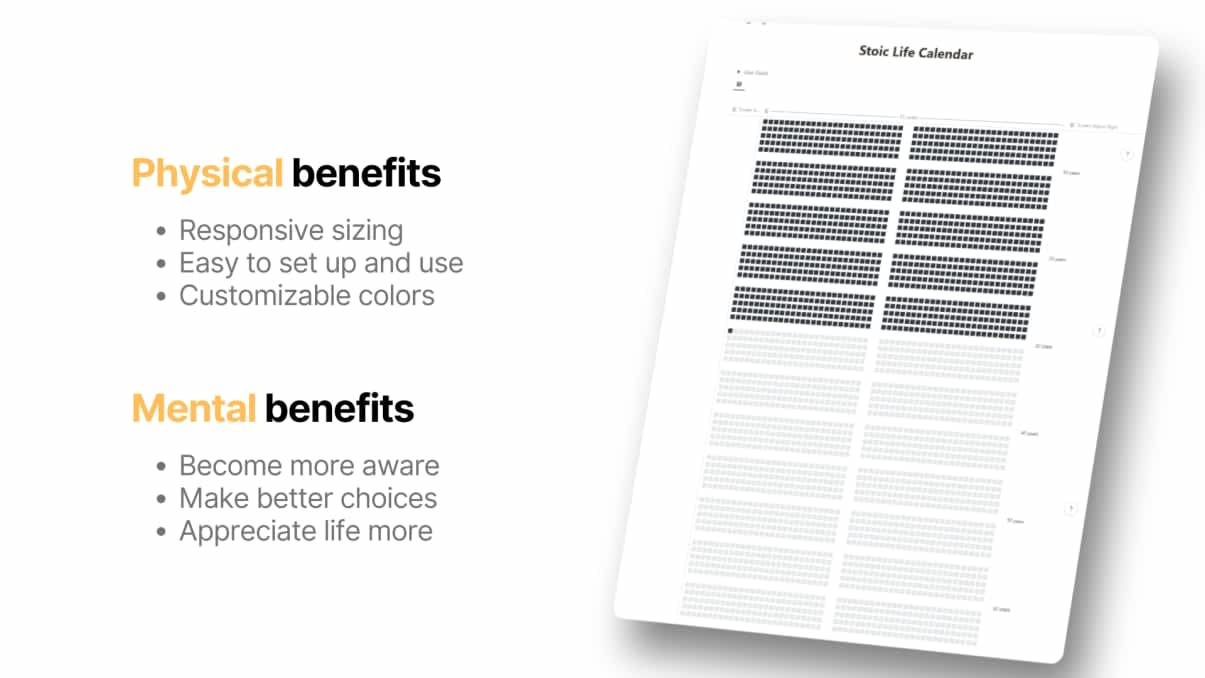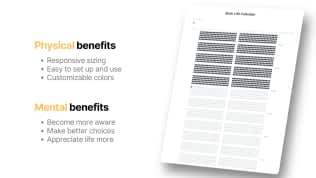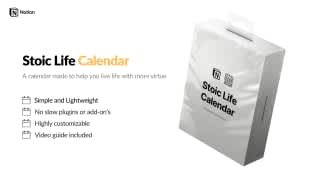 Stoic Life Calendar
By
Integrate weekly mortality reminders into your digital space
Rating:
Know more details about this template's features? Click here
Notion
Combo Marvels
Twice the Productivity Power With Template Bundles
Template Description
Memento Mori - A Stoic Notion Calendar
A simple and lightweight stoic calendar made in vanilla Notion with no slow addons or plugins, that integrates weekly mortality reminders directly into your digital space.
This calendar is based on the two thousand year old Stoic principle of Memento Mori; remembering death. It's simple: each box represents a week, each line a year, going from 0-90 years old.
You tick off one week after another as long as you live. In return, you'll get a weekly visual reminder of how much time you've actually spent already, and how little is actually left.
It might sound a little cynical at first, but if you think about it, reflecting on mortality actually has benefits. Marcus Aurelius put it very beautifully:
"You could leave life right now. Let that determine what you do and say and think."
—Marcus Aurelius


How does it work?
Setup the calendar to your current age (guide included!)
Realize how much of your life you've already lived and then decide to appreciate the rest by living it better.
Check in weekly to check off a box for every new week you're alive and be reminded of your mortality every time.
Customize the calendar
Easily adjust size of calendar to your screen size
Adjust the length of rows to your liking
Use colors instead of black and white
FAQ?
Does this work with a free Notion account?
It sure does! Just duplicate the theme from the link after your purchase.
How will I know how to use the template?
I've included an extensive guide to help you get started - and to help you customize it. If you have further questions or concerns, you're always welcome to get in touch.
Can I share this with anyone else?
No. This product has a personal license.
I hope you sincerely enjoy the Memento Mori Notion Calendar
Good luck.
Notion

Workspaces 🪴

A collection of best templates by best makers, Coming Up next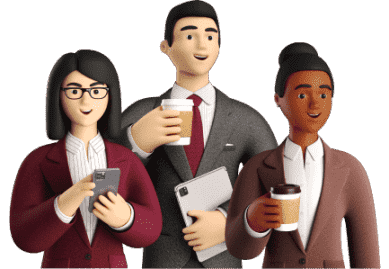 Be a Maker and start earning now
Have a knack for building useful or aesthetic Notion templates? Prototion is the perfect platform for generating revenue by selling templates. Learn more
Be a maker