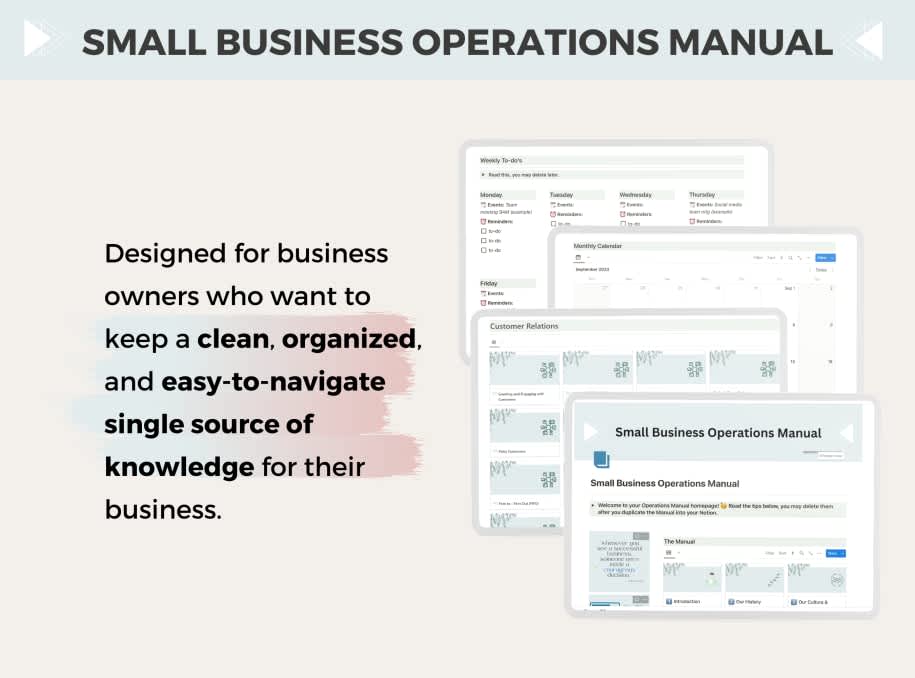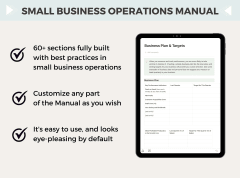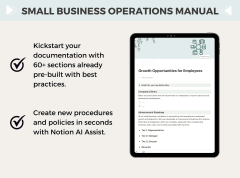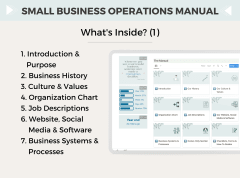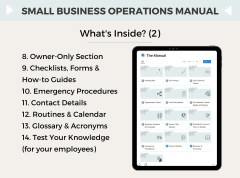 Small Business Operations Manual
By
Streamline your entrepreneurial journey with an Operations Manual packed with 60+ sections of best practices.
Rating:
Know more details about this template's features? Click here
Notion
Combo Marvels
Twice the Productivity Power With Template Bundles
Template Description
Designed for busy entrepreneurs and business owners who want to keep a clean, organized, and easy-to-navigate single source of knowledge for their business.
🚀 This is a comprehensive and customizable business operations manual on Notion pre-packed with best practices, designed specifically for streamlining business processes and systems to transform the chaos of running a business into a harmonious flow.
TL;DR
✔️ Ready Out of the Box: 60+ sections fully packed with best practices in business.
✔️ Fully Customizable: Tailor any part of the Manual to fit your business needs.
✔️ Evergreen: An easily accessible and comprehensive guide that can be updated as your business grows, ensuring longevity and relevance of the Operations Manual.
✔️ Affordable: Skip spending thousands on consultants to create an Operations Manual for your business. That process also takes weeks (if not months) to complete! Invest in this Manual for a fraction of the price, and easily customize it to your business instantly.
✔️ Versatile: Suitable for all small businesses.
✔️ Easy & Beautiful: Easy to use, and eye-pleasing by default.
✔️ Digital & Dynamic: Hosted on Notion, a platform that's free, user-friendly, and aesthetically pleasing. Share digitally with your team anytime, anywhere.
✔️ Skip the Subscription: Utilizes the FREE version of Notion.
✔️ Quick Edits: Create new procedures in seconds with Notion AI Assist.
✔️ Sense of order for hectic business days: With an Operations Manual by your side, say goodbye to chaos in your business and turn overwhelm into organization today!
WHAT'S SO SPECIAL ABOUT THIS?
⭐ Ready-to-Rock Template: Forget about templates that give you empty sections with a "fill in the blank" vibe. Every part of this Manual comes pre-packed with best practices in business, ready to be customized to your business or needs.
⭐ Function Over Fluff: While aesthetics are important, this Manual prioritizes functionality over flashy designs. No sacrificing usability on Notion for the sake of pretty pictures or extravagant visuals.
⭐ Clarity: With this Manual, it's not about overwhelming with jargon. Instead, you'll find friendly, personable, and simple language that makes understanding a breeze. You won't need a business degree to get it.
⭐ Holistic Approach: Having spent time in both the rigorous corporate world and the dynamic entrepreneurial scene, I've tasted the best of both worlds. My Manual reflects that blend – structured, yet flexible.
Business can be messy, but with the right guide, it doesn't have to be.
WHO NEEDS THIS?
🚀 Perfect for busy entrepreneurs and business owners, especially those looking to implement structured systems in their business, save time on admin work and manual creation, and ensure seamless daily operations.
🚀 Think of this Manual as your trusty sidekick—beautifully structured, easy to adapt, and straight from someone who's been in your shoes (I run 3 businesses and each of them has an operations manual!).
WHY IS BUILDING SYSTEMS IN A BUSINESS CRITICAL?
✨ Systems create consistency. When we don't have systems to work with, we (and our team members) tend to do things differently every single time which gets us inconsistent results and an inconsistent experience for your customers.
✨ Systems make it easier to delegate to other people. Often, we delegate something, we tell someone what to do, but they forget how to do it or they may not do it in the right way. Written systems make it clear on what is the way in which you want things to be done.
Notion

Workspaces 🪴

A collection of best templates by best makers, Coming Up next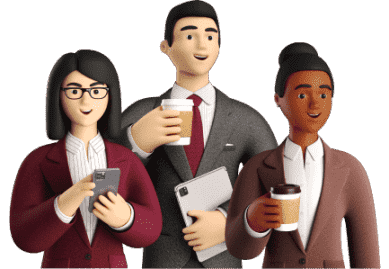 Be a Maker and start earning now
Have a knack for building useful or aesthetic Notion templates? Prototion is the perfect platform for generating revenue by selling templates. Learn more
Be a maker