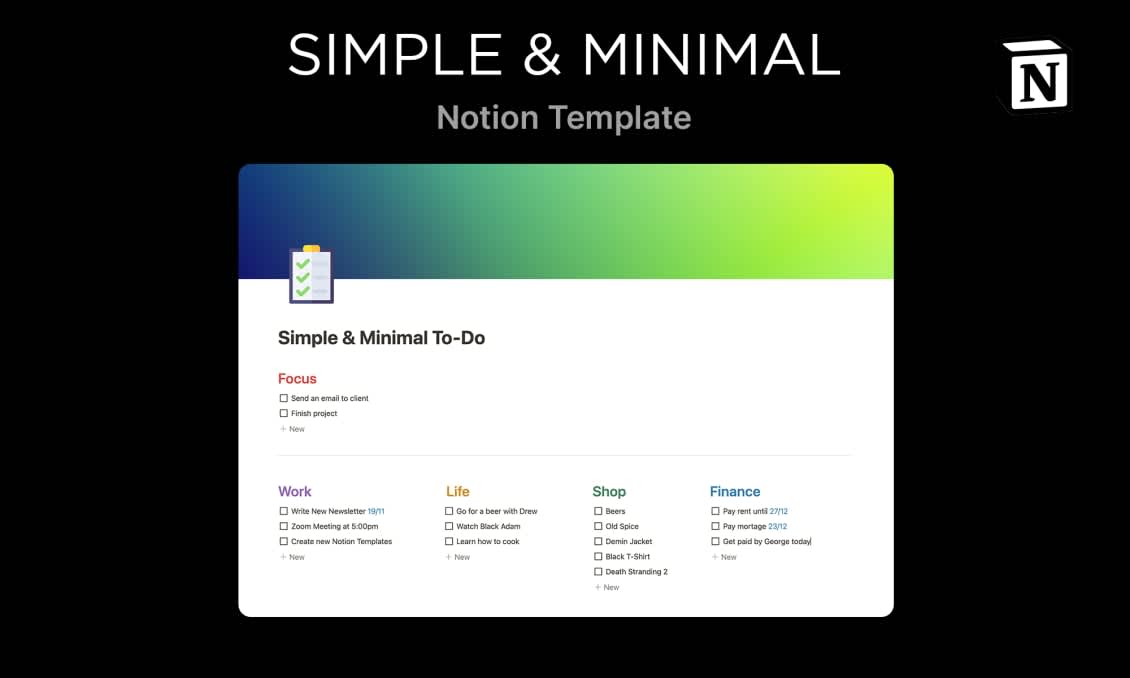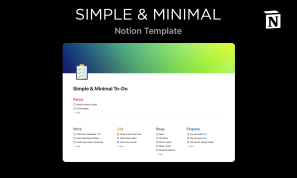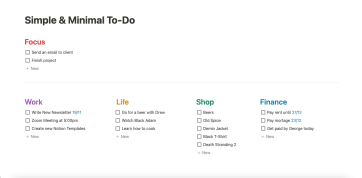 Simple & Minimal To-Do
By
It's lean and designed for anyone and everyone to understand.
Rating:
Know more details about this template's features? Click here
Notion
Combo Marvels
Twice the Productivity Power With Template Bundles
Template Description
Why did I create this template?
Experience the power of clarity and organization with the To-Do List Notion Template. Simplify your life and gain a clear and concise overview of the tasks that demand your attention and completion.
The concept of a to-do list is simple yet profound—provide a comprehensive snapshot of your responsibilities, commitments, and goals.
This template takes the essence of a traditional to-do list and elevates it to new heights of functionality and efficiency.
What's inside the template?
This template goes beyond the traditional to-do list by offering additional features that enhance your workflow and productivity.
From integrations with calendars and reminders to advanced filtering and sorting options, this template provides a comprehensive solution to streamline your task management process.
Embrace the power of collaboration by sharing your to-do list with colleagues, friends, or family members. Delegate tasks, provide updates, and foster a sense of accountability and teamwork.
How to use the template?
It's lean and designed for anyone and everyone to understand.
What are the benefits of the template?
The idea behind a to-do list is to provide a clear and concise overview of the tasks that need to be completed.
With a visually appealing layout, intuitive design, and customizable features, this template empowers you to seize control of your day and accomplish more with ease.
Effortlessly organize your tasks into categories, set due dates, assign priorities, and track progress—all within a single cohesive system. Never miss a deadline or forget an important task again.
The To-Do List Notion Template ensures that you stay on top of your commitments and achieve the level of productivity you desire.
Notion

Workspaces 🪴

A collection of best templates by best makers, Coming Up next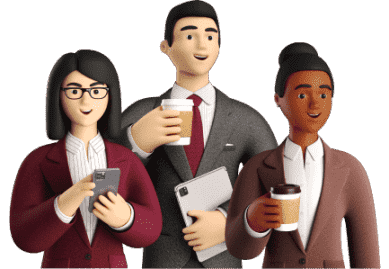 Be a Maker and start earning now
Have a knack for building useful or aesthetic Notion templates? Prototion is the perfect platform for generating revenue by selling templates. Learn more
Be a maker