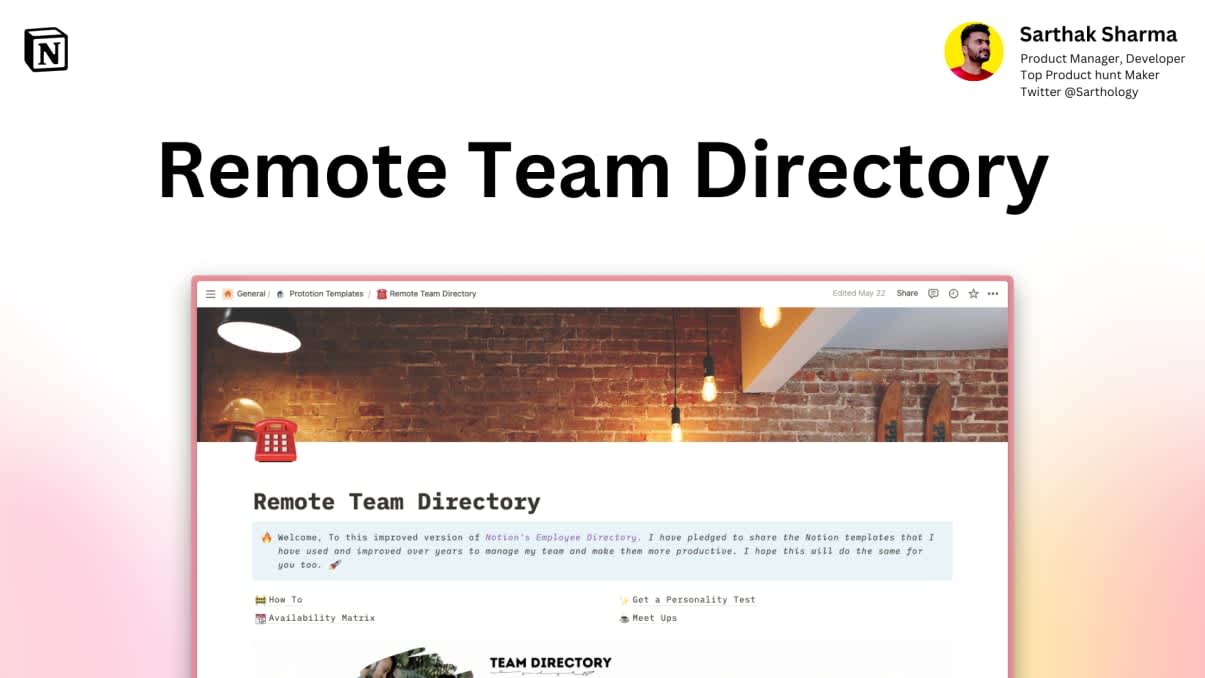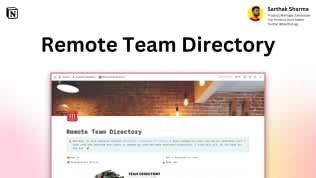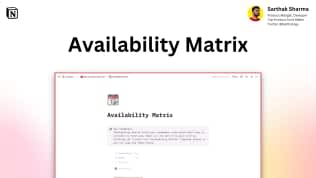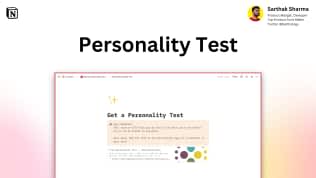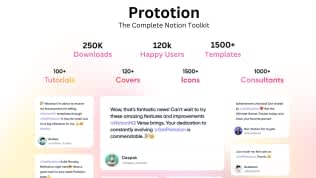 Remote Team Directory
By
A system to monitor & enhance the productivity of your team when working remotely.
Rating:
Know more details about this template's features? Click here
Notion
Combo Marvels
Twice the Productivity Power With Template Bundles
Template Description
Your team working remotely?
Some of the problems you might be facing:
❌ Lack of Collaborative Spirit
❌ Fragmented Working Hours
❌ Emotional Disconnect with Fellow Team Members
❌ Inability to Determine the Personality of New Members
❌ Struggle to Plan Events or Meet-Up due to Different Availabilities
Why Remote Team Directory Works
✅ Promotes remote team collaboration
✅ Establishes an emotional connection between fellow team members
✅ Easier On-Boarding of new members
✅ New members are better understood as their personality is better analyzed
✅ Meetings can be better synchronized to match different availability times
What you Get in Remote Team Directory ☎️
The Remote Team Directory is one of the best solutions to your team's productive output when working remotely, which is achieved by:
🙋‍♀️ Personality Test Section: When your team members have all undergone a personality test, it ensures that you are better able to deal with them and understand their perspectives much better. This drives productivity as you're better equipped with their working styles while also promoting a healthy work environment by encouraging the need to know each other better.
📆 Availability Matrix: This template includes the availability matrix, that allows teammates to log in the times they are available to work. This drives a big productive output as you don't have to ask the members when they'll be available. While someone is available at a different time, other parts of the work can be covered that require efforts by a member who's available at that time.
🍻 Meet-Up: The meetup feature of this template lets you choose a place, time, and day based on everyone's availability.
☎️ Team Directory: The name basis feature! This is the pillar addition to this template that lets you keep socials and other information about all of your teammates for a quick call or a message on the go!
Who is This Notion Template For?
🔆 This template is for StartUps. Manage your team most efficiently and form connections with members with Remote Team Directory.
🔆 Big Corporations that wish to experience the same productive output - Understanding the schedule of all the team members, keeping progress tracked, and connections established.
🔆 Students working on group projects remotely. You want that A+, - Effective & Managed team effort will get you there
🏆 This Notion template is the first step you should take to revolutionize the working of your team when working remotely. This template was created keeping in mind the struggles that teams are facing while working remotely, enhancing collaboration, and keeping a check on all the members as the deadlines approach and milestones are achieved.
Notion

Workspaces 🪴

A collection of best templates by best makers, Coming Up next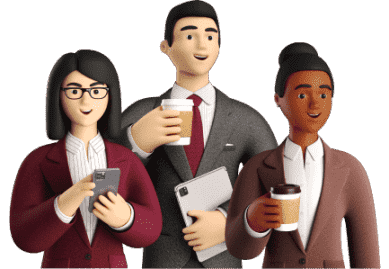 Be a Maker and start earning now
Have a knack for building useful or aesthetic Notion templates? Prototion is the perfect platform for generating revenue by selling templates. Learn more
Be a maker