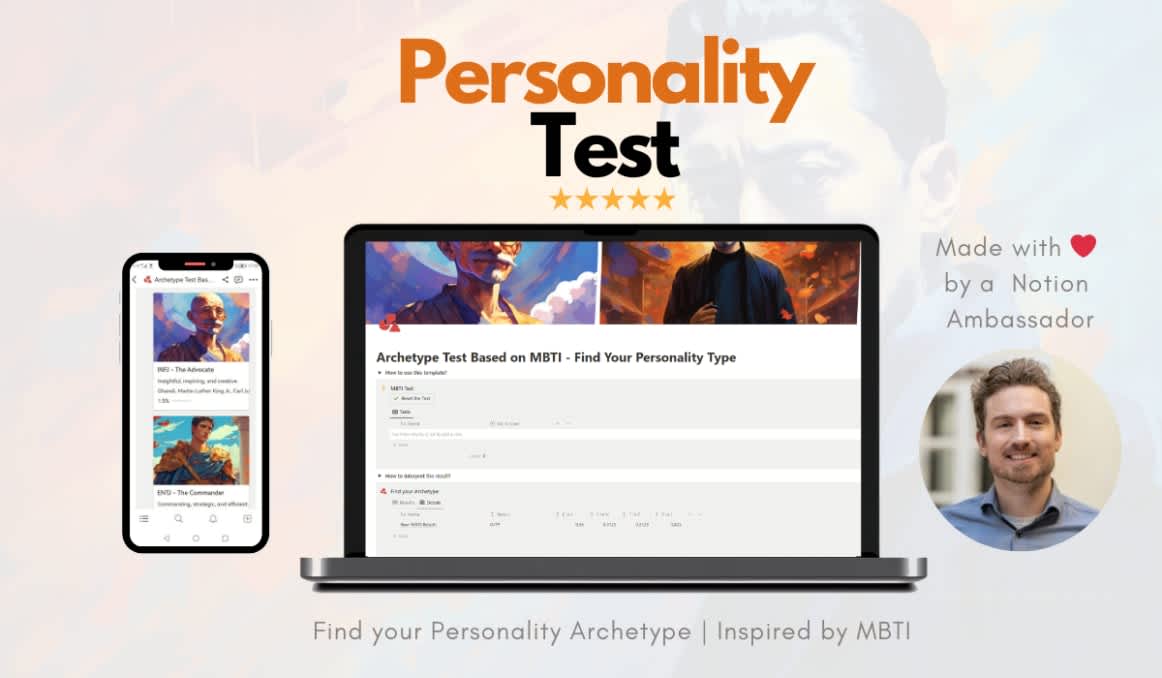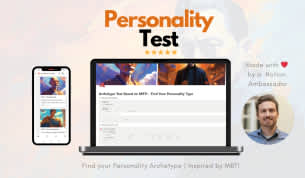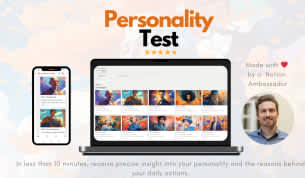 Personality Archetype Test
By
Unlock the Secrets of Personality: A Notion Template for Personality Testing. Inspired by MBT!
Rating:
Know more details about this template's features? Click here
Notion
Combo Marvels
Twice the Productivity Power With Template Bundles
Template Description
Why did I create this template?
To help you:
1. Understand your friends & family better.
2. Understand your team better.
3. Understand yourself better.
What's inside the template?
80 Personality questions and 16 archetypes based on MBTI. In less than 10 minutes, receive precise insight into your personality and the reasons behind your daily actions.
How to use the template?
First, answer all the 80 MBTI Questions in the following database.
How to answer?
Click on "My Answer" and choose among the 5 options: Strongly Agree, Agree, Neutral, Disagree, Strongly Disagree.
A Short Guide on Answering MBTI Questions in This Template:
1. Be Honest with Yourself
Respond based on how you truly feel, think, or act, not how you believe you should feel, think, or act.
2. Choose the Natural Response
Opt for the answer that comes most naturally to you or that has been consistent over a long period in your life.
3. Avoid Overthinking
Don't spend too much time analyzing each question. Your initial instinct is often the most accurate reflection of your true preference.
4. Consider Different Contexts
Some questions might feel context-dependent. Think about how you'd typically behave in both personal and professional settings. If there's a strong discrepancy, go with what's most dominant or frequent in your life.
5. Avoid Neutral Answers (If Possible)
While this versions of the MBTI test allow for neutral or middle-ground responses, try to avoid them if you can. Taking a stand one way or the other will provide clearer results.
6. Understand It's a Spectrum
Remember that MBTI works on a spectrum. For example, scoring as an "E" (Extravert) doesn't mean you're always outgoing. It merely suggests a preference in that direction.
7. Take Your Time
While you shouldn't overthink each question, you also shouldn't rush through the test. Ensure you understand each question and answer thoughtfully.
8. Reflect on Past Experiences
If unsure about a question, think back to relevant experiences in your life that could guide your answer.
9. Retake the Test
If you believe your results don't resonate with you, consider retaking the test at another time. Moods and current life situations can influence results.
10. Remember, It's a Tool
MBTI is a tool for self-awareness and understanding, not a definitive box that determines all aspects of your personality. Use your results as insights, not fixed labels.
What are the benefits of the template?
Dive deep into the world of personality archetypes. Understand personalities profoundly, unlocking potential career paths, improving relationships, and fostering personal growth.
Notion

Workspaces 🪴

A collection of best templates by best makers, Coming Up next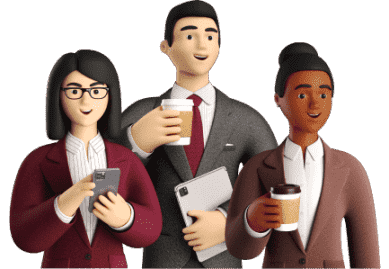 Be a Maker and start earning now
Have a knack for building useful or aesthetic Notion templates? Prototion is the perfect platform for generating revenue by selling templates. Learn more
Be a maker