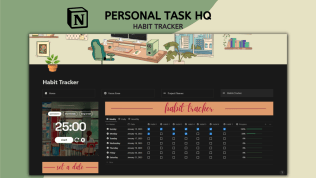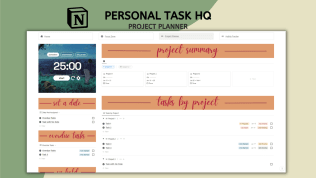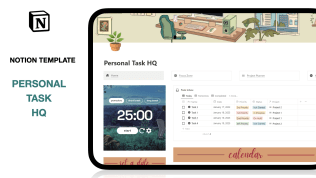 Personal Task HQ
By
Are you struggling to keep track of your tasks and projects? Get organized & achieve your goals with Personal Task HQ
Rating:
Know more details about this template's features? Click here
Notion
Combo Marvels
Twice the Productivity Power With Template Bundles
Template Description
Why did I create this template?
Are you tired of feeling overwhelmed and disorganized? Are you struggling to keep track of your tasks and projects? Look no further than our Personal Task HQ built in Notion!
What's inside the template?
✅ Task Management System: You can easily manage your tasks, prioritize them based on importance, and plan your day based on your energy level.
✅ Habit Tracker: You can set up different habits and track your progress by checking off completed tasks and a visual representation of your progress will help you to stay motivated and on track.
✅ Pomodoro Timer: Using the Pomodoro timer can help you stay focused and avoid burnout by taking regular breaks throughout the day. You can easily start a new Pomodoro, set a timer for a specific task, and track your progress.
✅ Project Planner: You can create and manage a project, set goals, assign tasks, and track progress all in one place. It allows you to break down your projects into smaller tasks, set deadlines, and also includes a visual progress bar.
✅ Kanban Board: It helps you divide tasks into columns, each representing a different stage in the task or project workflow. The board is fully customizable, you can create your own columns and labels, and set up a workflow that works best for you.
How to use the template?
After purchasing the template, you will be redirected to the template. Once on the template page, click the "Duplicate" button on the top right-hand corner and it will be copied to your Notion workspace.
What are the benefits of the template?
With the Personal Task HQ, you'll have everything you need to stay organized, productive, and on top of your tasks. Whether you're a student, a professional, or a busy individual, our tool is designed to help you streamline your work and achieve your goals.
Try it out for yourself and see the difference it can make in your daily routine.
Notion

Workspaces 🪴

A collection of best templates by best makers, Coming Up next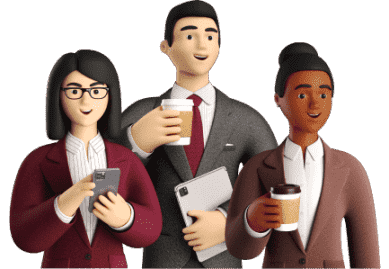 Be a Maker and start earning now
Have a knack for building useful or aesthetic Notion templates? Prototion is the perfect platform for generating revenue by selling templates. Learn more
Be a maker