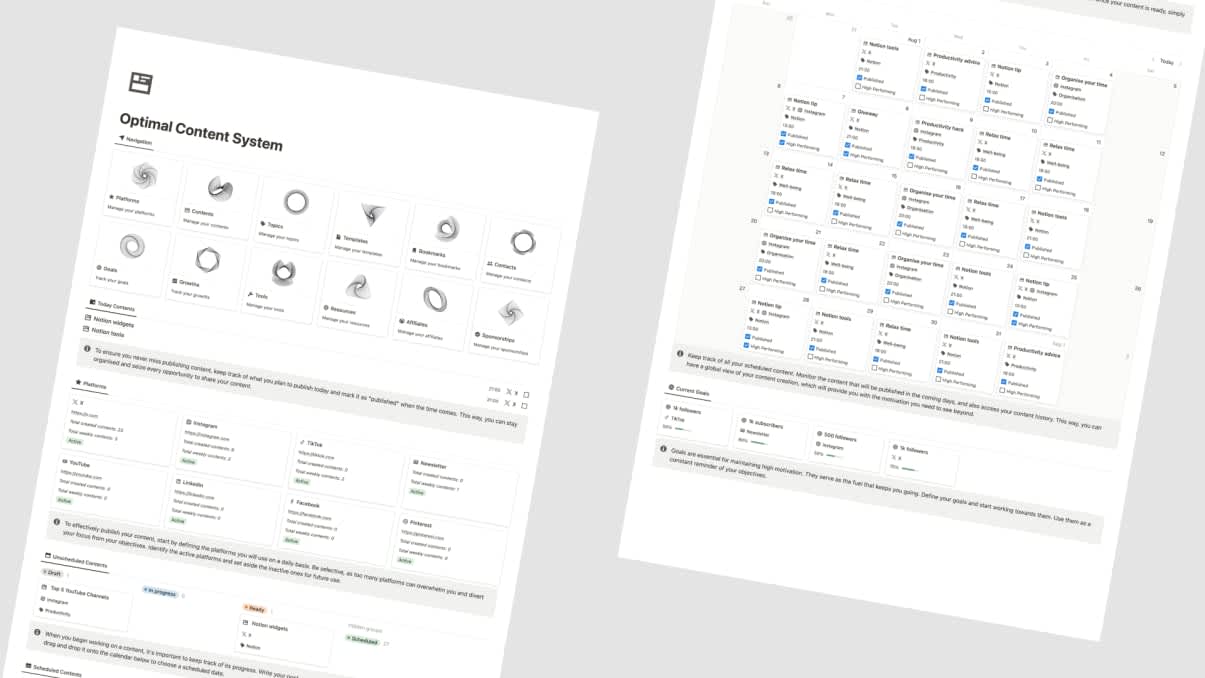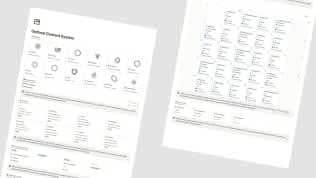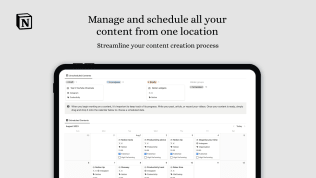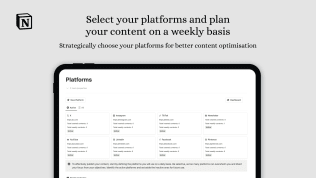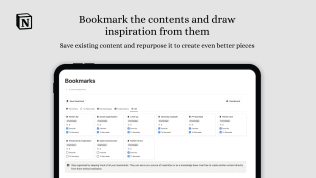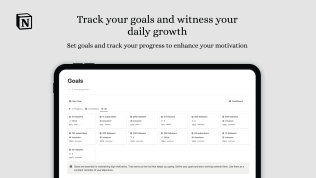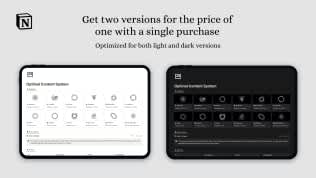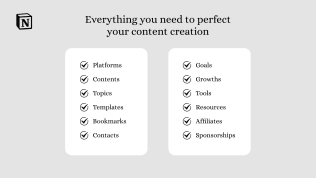 Notion Optimal Content System
By
The Optimal Content System offers a comprehensive system to create, organise, and manage high-quality content.
Rating:
Know more details about this template's features? Click here
Notion
Combo Marvels
Twice the Productivity Power With Template Bundles
Template Description
Why did I create this template?
Feeling overwhelmed and disorganised by your content creation? 🤯
I created The Optimal Content System for you! This template offers a comprehensive system to create, organise, and manage high-quality content all in one place. 💯
This game-changing template is designed to be your content creation compass, guiding you through the chaos and helping you produce high-quality content with ease.
It's the perfect template for any content creators!✨
What's inside the template?
Complete content creation process dashboard
Platforms: define your platforms and weekly schedule.
Content: build your content and schedule it from a single place.
Topics: create and organise your content topics, and create your next content from them.
Templates: build pre-made templates for faster content creation.
Bookmarks: save inspirational content and create better pieces from it.
Contacts: save all the peoples you meet or collaborate with during your content creation journey.
Goals: track your goals and enhance your motivation.
Growths: keep an eye on your growth and see your daily improvement.
Tools: save the tools you use during your content creation process.
Resources: save all resources you use for your content, such as music, images, or videos.
Affiliates: keep track of all your affiliate links.
Sponsorships: manage your sponsorships and create optimised content for them.
Bonus: a free interactive guide, like the demo above, to fully grasp the template features. You will never be lost!
And much more... 🤩
How to use the template?
Use this template to manage your content creation with an easy-to-use comprehensive dashboard. Save your bookmarks, track your goals, manage your affiliates, and much more.
Duplicate it in your own Notion workspace
Now you can easily use the template
What are the benefits of the template?
🔹 This comprehensive template serves as an invaluable tool to assist you in crafting and strategising exceptional content creation.
🔹 With its structured framework, it empowers you to deliver high-quality and engaging content that captivates your audience's attention.
🔹 Say goodbye to content chaos. This template provides a structured framework to keep all your content ideas, drafts, and schedules neatly organized.
🔹 This user-friendly template is designed to be intuitive and accessible, making it suitable for content creators of all levels of experience.
🔹 Notion Optimal Content System empowers you to take control of your content creation journey, so you can focus on producing exceptional content that resonates with your audience.
Notion

Workspaces 🪴

A collection of best templates by best makers, Coming Up next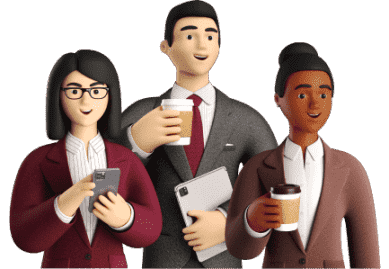 Be a Maker and start earning now
Have a knack for building useful or aesthetic Notion templates? Prototion is the perfect platform for generating revenue by selling templates. Learn more
Be a maker