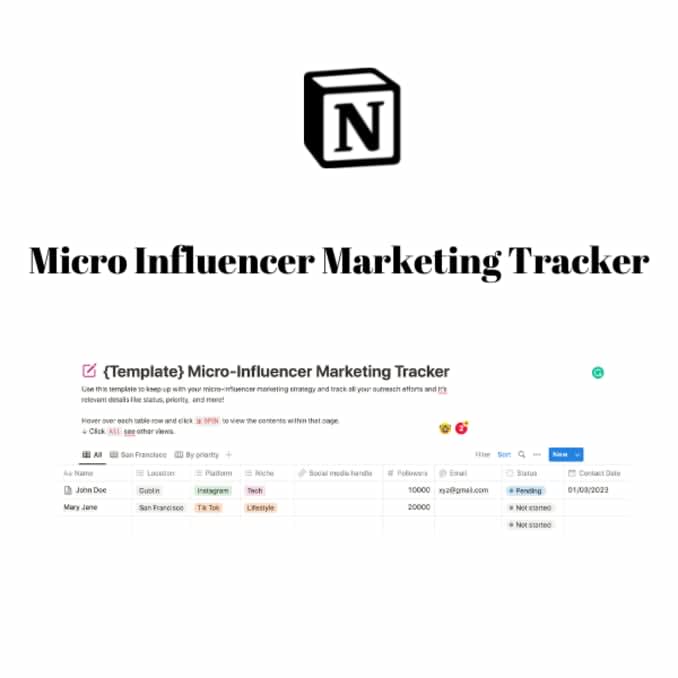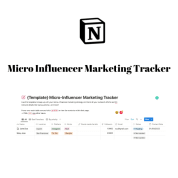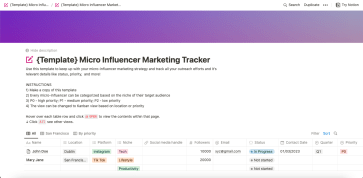 Micro Influencer Marketing Tracker
By
Solo founder or Startups looking to grow using influencer marketing strategy can use this template to stay organized!
Rating:
Know more details about this template's features? Click here
Notion
Combo Marvels
Twice the Productivity Power With Template Bundles
Template Description
Why did I create this template?
I created this template to provide a centralized and organized solution for managing your influencer marketing outreach. As a marketer or business owner, reaching out to influencers and managing collaborations can be a complex process.
This template aims to streamline and simplify your influencer marketing efforts by offering a comprehensive system to track and manage your outreach activities.
What's inside the template?
Inside the template, you'll find a comprehensive CRM database specifically designed for managing your influencer relationships.
This database includes various essential fields and information to help you effectively track and organize your interactions with influencers.
It provides a centralized hub for all the essential information and enables you to make informed decisions, foster meaningful collaborations, and achieve your marketing goals more efficiently.
How to use the template?
1) Make a copy of this template
2) Every micro-influencer can be categorized based on the niche of their target audience
3) P0 - high priority; P1 - medium priority; P2 - low priority
4) The view can be changed to Kanban view based on location or priority
What are the benefits of the template?
Centralized Management: The template allows you to keep all your influencer marketing activities in one central location within Notion. You can store relevant information, such as influencer profiles, contact details, past collaborations, and upcoming opportunities, in a structured and organized manner.
Efficient Outreach: With this template, you can maintain a systematic approach to your influencer outreach. It provides dedicated sections for tracking outreach status, communication history, and collaboration details. You can easily monitor which influencers you have contacted, their responses, and the progress of each potential collaboration.
Collaboration Tracking: The template enables you to manage ongoing influencer collaborations effectively. You can track important details such as content deadlines, payment terms, deliverables, and performance metrics. This ensures that you stay on top of your partnerships and meet all necessary requirements and obligations.
Performance Evaluation: By utilizing the template, you can track the performance and outcomes of your influencer collaborations. You can record key metrics, such as engagement rates, click-through rates, and conversions, to assess the effectiveness of each partnership. This data can guide future decision-making and help optimize your influencer marketing strategy.
Time and Resource Savings: The template's structured layout and pre-defined sections save you time and effort in setting up your own influencer management system. You can quickly adapt the template to your specific needs and start managing your influencer outreach more efficiently.
Notion

Workspaces 🪴

A collection of best templates by best makers, Coming Up next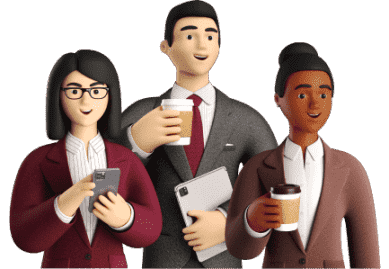 Be a Maker and start earning now
Have a knack for building useful or aesthetic Notion templates? Prototion is the perfect platform for generating revenue by selling templates. Learn more
Be a maker