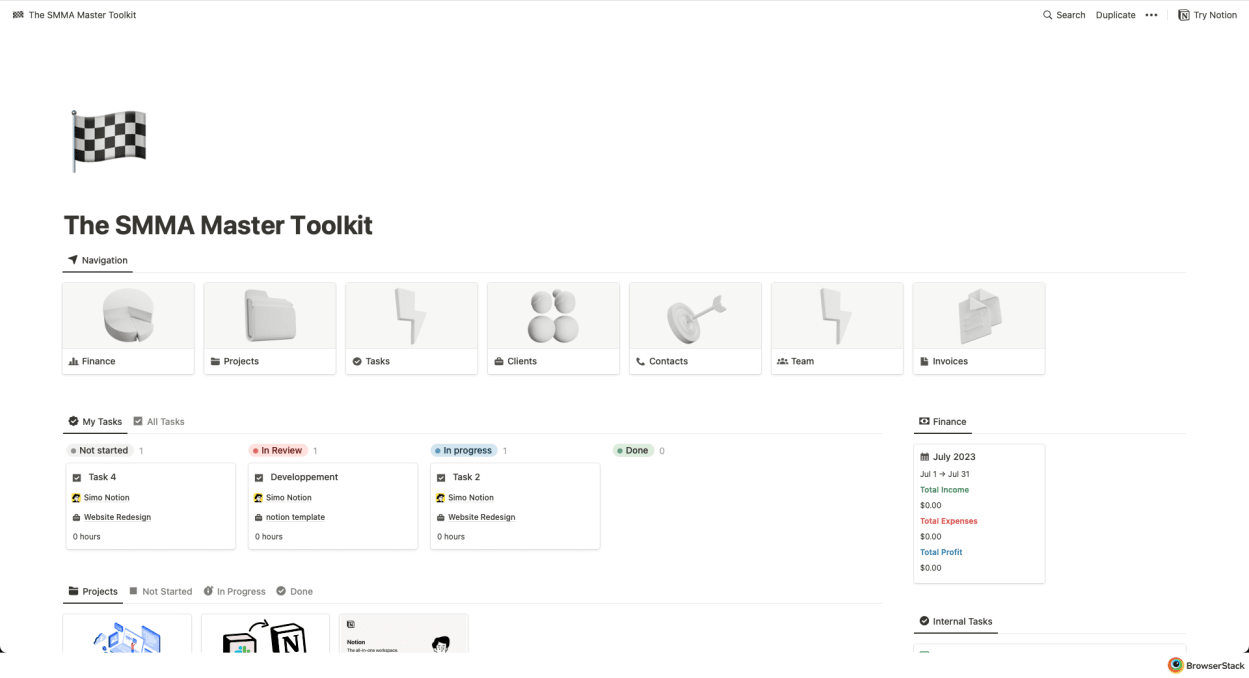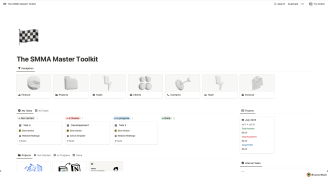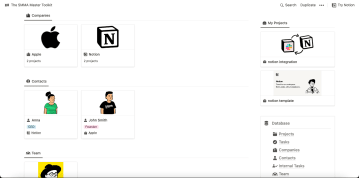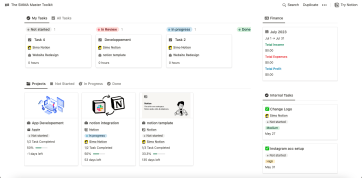 The SMMA Master Toolkit
By
SMMA Dashboard: Centralize and Simplify Your Agency Management
Rating:
Know more details about this template's features? Click here
Notion
Combo Marvels
Twice the Productivity Power With Template Bundles
Template Description
Why did I create this template?
I created the "SMMA Master Toolkit" template to provide a comprehensive resource for individuals interested in starting or improving their Social Media Marketing Agency (SMMA) by offering them a structured and organized set of tools, guidelines, and resources.
What's inside the template?
The Social Media Marketing Agency Toolkit includes:
Project management
Task management
Client management
Finance
CRM (Customer Relationship Management),
Team management
Invoices, providing a comprehensive set of tools to effectively manage and grow a Social Media Marketing Agency.
How to use the template?
To use the "SMMA Master Toolkit" template, follow these steps:
Purchase the template.
Access Notion and create an account if needed.
Duplicate the purchased template in Notion.
Customize and personalize the duplicated template.
Explore and utilize the various sections and features within the template for project management, task management, client management, finance, CRM, sales pipeline, team management, and invoices.
Regularly update and maintain the template to keep it relevant to your SMMA needs.
What are the benefits of the template?
🔸 The "SMMA Master Toolkit" template provides an organized and efficient solution for Social Media Marketing Agencies, offering pre-built sections for project, task, and client management, finance, CRM, sales pipeline, team collaboration, and invoicing.
🔸 With its comprehensive features and easy customization, the template enhances productivity, scalability, and professionalism, empowering SMMA owners to effectively manage their operations and drive business growth.
Notion

Workspaces 🪴

A collection of best templates by best makers, Coming Up next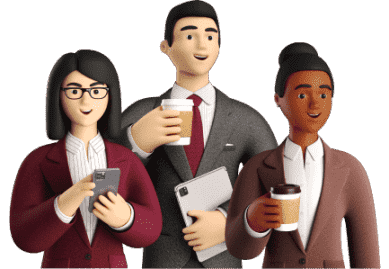 Be a Maker and start earning now
Have a knack for building useful or aesthetic Notion templates? Prototion is the perfect platform for generating revenue by selling templates. Learn more
Be a maker