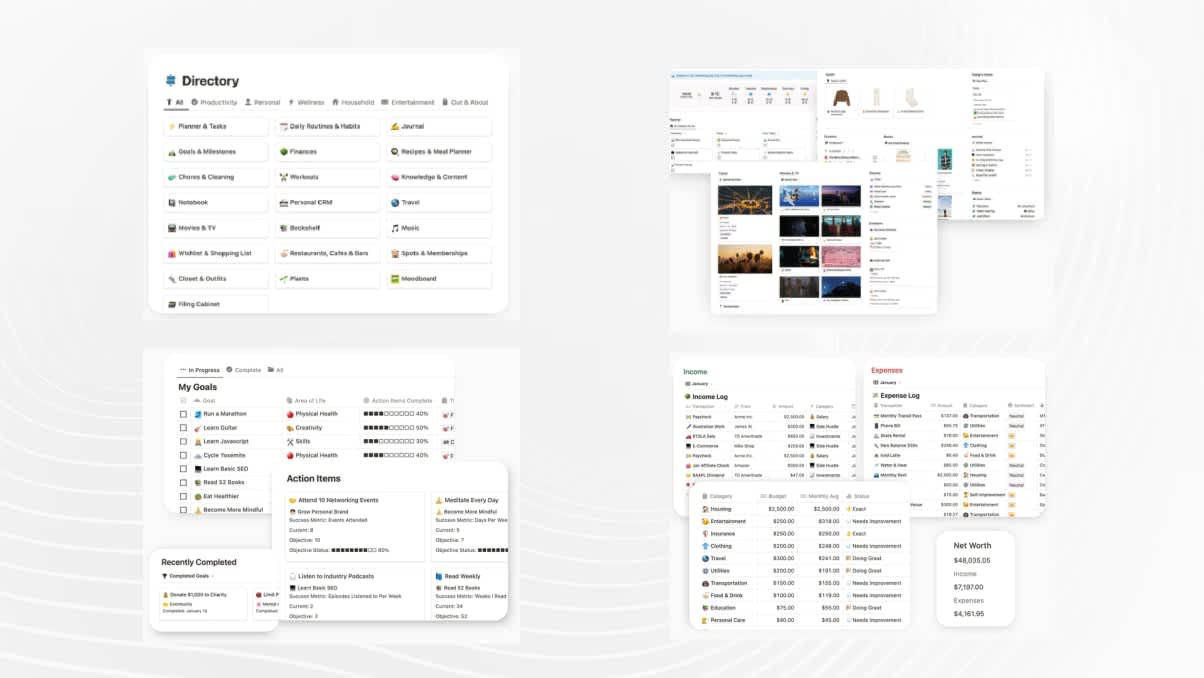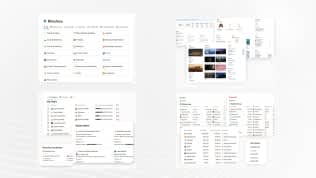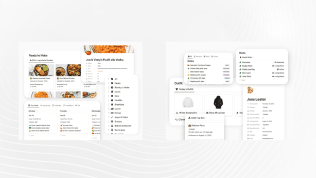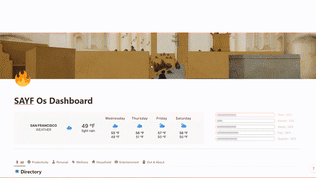 Hustler OS Notion Dashboard
By
Finally, Arrived 🎉Introducing the brand new Huslter OS Notion template: the ultimate all-in-one template
Rating:
Know more details about this template's features? Click here
Notion
Combo Marvels
Twice the Productivity Power With Template Bundles
Template Description
Finally, Arrived 🎉
Introducing the brand new Huslter OS Notion template: the ultimate all-in-one template for every aspect of your life!
With 25+ interconnected templates included and a live and dynamic homepage dashboard that ties it all together – this is the only template you'll need to centralize everything in your life.
✅ Planner & To-Dos: Integrated daily, monthly, and weekly task management with different pre-built views to stay organized and on track.
🔄 Daily Routines & Habit Tracker: Easily set up and follow your recurring morning and evening routines – as well as any other habits you want to track on a daily basis!
✍️ Journal & Mood Tracker: Keep track of all your daily happenings, emotions, and thoughts with included prompts. Keep an eye on your moods each day with the built-in mood tracker, and automatically get served a summary of your most recurring moods, recent moods, and a mood calendar!
🎯 Goal-Setting: Set and stay on course with all your goals, no matter how big or small! Put together your action items and track your progress by areas of life, and celebrate your wins once you complete them.
💰 Finances: Track all of your income and expenses with several built-in streams and categories! See your total net worth, and even get a picture of your average monthly spending by category compared to the budgets you set.
💼 Work & Career: Build your resume with different resume templates and track all of your job applications! Track all positions and applications with rich information, and even follow-up reminders for reaching back out to hiring managers.
🍳 Recipes & Meal Planning: A 3-in-1 recipe book, meal planner, and groceries manager – store all your favorite recipes (and recipes you want to try), plan your meals by the day or week, and track all of your groceries and ingredients to see what you have on hand, and what you need to shop for!
🧹 Chores & Cleaning: Put together your daily, weekly, monthly, and seasonal chores and cleaning tasks! Organize your chores by room, get automatic to-dos for chores based on your frequency, and even assign cleaning tasks to family members or roommates.
🌱 Plant Care Tracker: Track all of your house plants with everything you need to know about them! Add watering requirements, photos, ideal light amounts, temperature ranges, plant birthdays – and even get automatically served watering reminders right on your dashboard!
🏋️ Fitness: Track all of your workouts with detailed information per exercise, store your favorite pre-built written or video workouts, and if you're on a fitness journey, stay motivated with the progress hub!
🧠 Content Queue & Knowledge Base: Queue up and store articles, quotes, podcast episodes, YouTube videos, Twitter threads, and anything else that you want to consume or save.
📇 Personal CRM: Track all of your contacts including family, friends, colleagues, and anyone else in your network! Get automatic catch-up and birthday reminders, and even pick from several hobby and interests if you want activity or gifting ideas. You can also tag your contacts within other aspects of the template to get a full aggregated picture of your interactions with them (travels together, recommendations, and more).
📓 Digital Notebook: Store notes and ideas for personal, work, or school purposes. Includes a meeting notes template, and even Cornell note-taking template for students.
🛫 Travel: Stay on top of your travels with a full robust trip planner, pre-built packing lists for different types of trips, a vacation days tracker, countries visited and bucket list tracker!
📺 Movies & TV Shows Tracker: Track movies and TV shows you're currently watching, want to watch, and have watched in the past – as well as ratings, favorites, and notes.
📘 Reading Tracker: Track books you're currently reading, want to read, and have read before, along with prompts to put together great reading notes for both fiction and non-fiction books. Even get a visual view of your virtual bookshelf, complete with progress bars and more.
🛍️ Wishlist & Shopping List: Track your wants and needs all in one place! Organize by priority, status, prices, and brands to spend intentionally and even work towards your grails. There's even a tracker for items you want to sell from your inventory whenever you're ready to declutter.
🍜 Restaurants, Bars, & Cafes Database: Track all of the food and drink spots you've been to or want to go! Get a full database of all your spots, and view them by type, ratings, price points, and more.
👟 Wardrobe & Outfit Planner: Create a digital inventory of your entire wardrobe from head to toe, and even organize by color and brand. With the pieces you've added, put together your outfit in the built-in weekly outfit planner board – and get a full visual of your OOTWs!
🖼️ Mood Board: Create a full-page visual mood board with all of your favorite inspo images!
🗃 Filing Cabinet: Leave no doc or text snippet behind, and store all of those miscellaneous pieces that don't have a place in your digital life, but you may want to refer back to later.
and more!
——
💡 Dozens of tool tips boxes for easy onboarding
🖼 Beautiful visuals throughout
💌 Priority customer support
📱 Compatible on desktop, tablet, mobile
FAQs
How to download the template?
Once you've made your purchase, you'll be redirected to the template. Click "Duplicate" on the top right corner to duplicate it to your Notion workspace.
Can I share it with my team/friends?
No, this is a personal license for individual use.
Still, have questions?
Send your feedback or questions to iamsayf.business@gmail.com
Notion

Workspaces 🪴

A collection of best templates by best makers, Coming Up next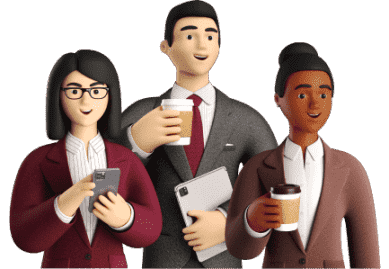 Be a Maker and start earning now
Have a knack for building useful or aesthetic Notion templates? Prototion is the perfect platform for generating revenue by selling templates. Learn more
Be a maker