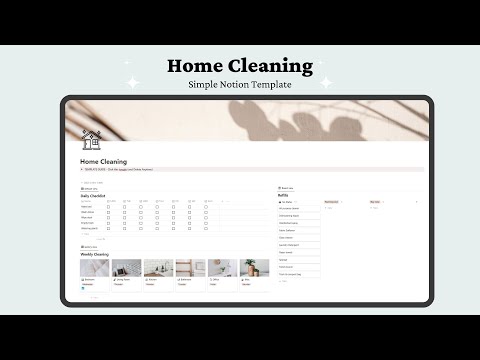 Home Cleaning
By
This is a simple template that you can use to organize house cleaning ✨
Rating:
Know more details about this template's features? Click here
🔥 Mid Year Mega Sale 2022
Template Description
Why did I create this template?
✨When your environment is clean, you feel happy and motivated!✨
I did the cleaning when I saw that it was needed but I realized this method did not work.
So I thought about scheduling daily and weekly cleaning and dividing them by area.
For each area I then added the individual tasks to be done. It's all easier now!
What's inside the template?
There are three sections:
1. Daily tasks
2. Weekly tasks divided by day and area (Sunday is rest!)
3. Products to refill / buy
How to use the template?
ADD ON THE DAILY CHECKLIST
If you want to add more things on the Daily Checklist, make sure to include it in the template button! Simple click the "configure template" on the right side of the "+ add a new week" button and add it there! This will help you save time instead of writing it every week.
HOW TO USE WEEKLY CLEANING
The Weekly Cleaning is organized by area and has a handy little feature of showing you what's due today. It shows you a CHECKMARK and sorts itself to the top. Simple change the "scheduled for" to what day of the week you want to do it and it will automatically work.
FAQ's
Q1 > Does this work on the free version of Notion?
A1 > Yes. Just click "Duplicate" on the top right corner of this Template and Notion will direct you to your Free Notion Workspace. [If you're new to Notion - you'll need to Sign Up with Notion first]
Be a Maker and start earning now
Have a knack for building useful or aesthetic Notion templates? Prototion is the perfect platform for generating revenue by selling templates. Learn more
Be a maker