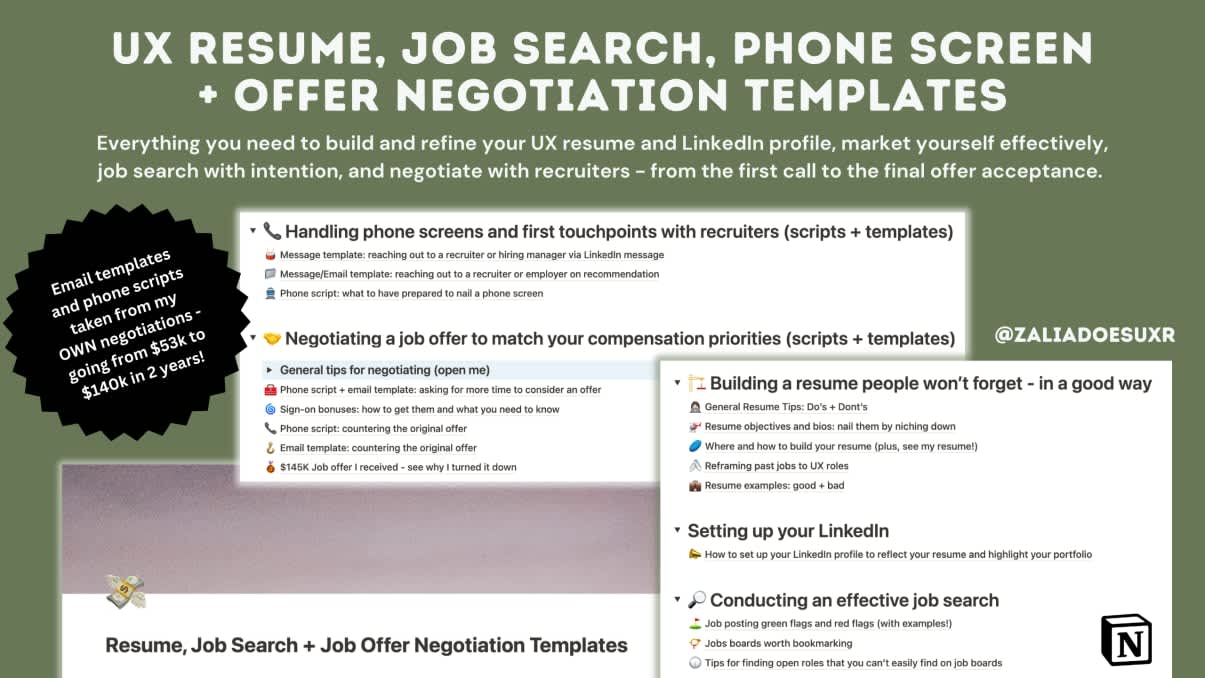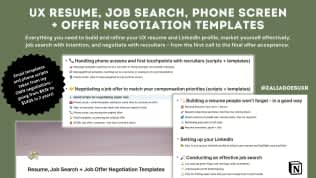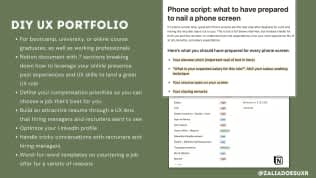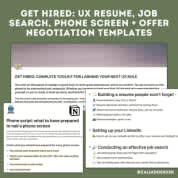 GET HIRED: Complete toolkit for landing your first (or next!) UX role
By
Tools, templates, techniques, resources, and tips to land your first UX Role.
Rating:
Know more details about this template's features? Click here
Notion
Combo Marvels
Twice the Productivity Power With Template Bundles
Template Description
Why did I create this template?
Hooooly moly - it's here! All the knowledge I've gathered in the last few years navigating phone screens, job offers, millions of forgotten applications - the tools, techniques, resources, and tips to land a UX role are all here for you in one place.
This UX world is a saturated place, with many bootcamp and self-taught folks entering the field. This toolkit will teach you how to stand out (in a good way), keep recruiters and hiring managers wanting more, and give you the power to name the salary/benefits you want - and receive them.
What's inside the template?
Inside this toolkit, you'll find:
A tool to help you define your compensation priorities, so you don't end up at a job with long hours and 10 days of PTO. Knowing your non-negotiables is crucial in advocating for yourself.
How to build a resume people won't forget, including: what to do and what to definitely NOT do on your resume, nailing your unique "about me" or bio statement, where and how to build your resume, reframing past role through a UX lens, good and bad resume examples, with commentary
How to set up your LinkedIn profile to reflect your new, awesome resume and your portfolio
How to conduct an effective job search, including: job posting green flags and red flags, my favorite job boards, tips for finding open roles that aren't on the job boards
How to handle phone screens and first touchpoints with recruiters, including: how to reach out to a recruiter via LinkedIn or email, how to reach out to a hiring manager that was recommended to you by a friend or coworker, and what to have prepared for your phone screens to be memorable and effective
How to negotiate a job offer to match your compensation priorities, including: general negotiating tips to always follow, and phone script and email templates for: asking for more time to consider an offer, requesting sign-on bonuses, countering offers (with justification for multiple scenarios), and take a look at a lucrative job offer I turned down (and why)
Other juicy career tips that will keep you prioritizing YOURSELF so you can earn as much as you can
How to use the template?
As a resource - copy and paste, refer to sections, etc.
Notion

Workspaces 🪴

A collection of best templates by best makers, Coming Up next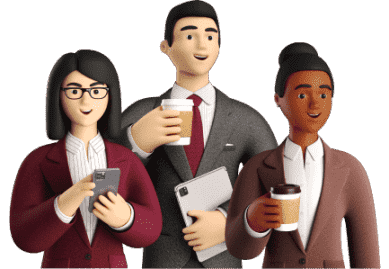 Be a Maker and start earning now
Have a knack for building useful or aesthetic Notion templates? Prototion is the perfect platform for generating revenue by selling templates. Learn more
Be a maker