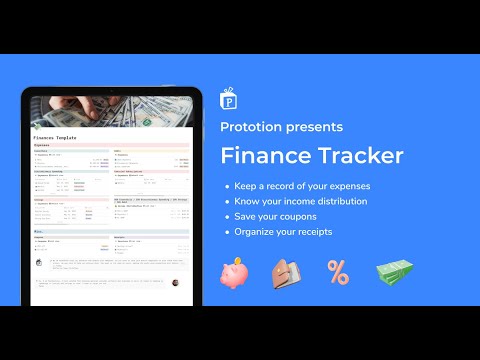 Finance Tracker
By
Keep track of your finances, maximize your earnings and minimize irrational spending.
Rating:
Know more details about this template's features? Click here
🔥 Mid Year Mega Sale 2022
Template Description
Finance Tracker
When we think about Finances, what comes to our mind are the earnings and the spendings. We aim to maximize our earnings and minimize irrational spending. But, to effectively change our spending pattern, we need to track it first. With this Finance Tracking template, you'll not only be able to keep track of exactly where each penny has been spent but also how much percentage of total funds it makes up for.
Let's take a look at this wonderous template that will change your spending habits for the better and make your savings skyrocket.
Expenses

Essentials are broken down into the following-
Essentials -The spending that can't be skipped - eg. Utility bills, taxes, etc.
Debt and interest payments Noting down any change in the interest rates and calculating the monthly spending accordingly by making use of inbuilt - formulas
Discretionary spending For services that save your money in the long term but require payment upfront for eg. Amazon Prime, etc.
Subscriptions Ongoing and canceled and finally - savings.
Income distribution

There's a column for the Income distribution that gives you a birds-eye view so that you can manage and cut down or reallocate funds where priority is the greatest.
Keep your coupons handy

You can keep track of your coupons in a separate column so that you don't forget about them and use them in your next payment and save some money.
Organize your receipts

Finally, you are also provided with a receipt section so that you can manage and keep your invoices which will later help you during your tax returns.
Views
You can choose a view of your choice so that you can keep track of your expenses and understand how and when they're taking place, by viewing your expense list in a view of your choice.
All the lists and trackers in this template are available in - table, board, timeline, list, calendar, and gallery view. Now, you can choose to set lists or assign your expenses to boxes until you find the perfect match between aesthetic and function.
Be a Maker and start earning now
Have a knack for building useful or aesthetic Notion templates? Prototion is the perfect platform for generating revenue by selling templates. Learn more
Be a maker