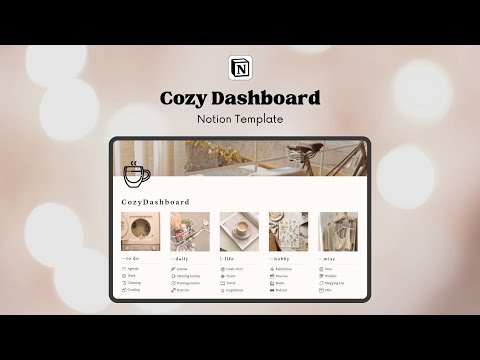 Cozy Dashboard
By
An aesthetic dashboard to plan your day, your goals and collect your inspirations!
Rating:
Know more details about this template's features? Click here
🔥 Mid Year Mega Sale 2022
Template Description
Why did I create this template?
Once I was sitting and thing of an ideal life so I was baffled which step I should take to start living an ideal life so to plan day, set goals and create vision boards of ideal life & much more. This makes me design this template to help everyone to start living an ideal life as it worked for me well.
What's inside the template?
☕TO-DO
Agenda : With inbuilt Customizable to-do list calendar to set your weekly agenda's with time
Work : Include :
Task & project dashboard with a calendar and set timelines for tasks & more.
Goals & Training includes goal tracker to track your yearly goals, customizable training and presentation dashboards.

Cleaning : Set your daily, weekly, monthly, quarterly and yearly tasks cleaning tasks at once
Cooking : Make shopping list, Save different kind of Recipes and Plan your meals for whole week
☕DAILY
Journal : Have journal view, Mood analyzer and default view to help you with your journaling habit according to your, mood
Morning & Evening routine : Set your morning and evening routine with estimated time .
Exercise : Include:
Weekly planner to plan your weekly workout in one go
Tracker helps you track your everyday exercise plan

Challenge dashboard to challenge yourself every week with new fitness goals

☕LIFE
Goals 2022 : A yearly customizable goal tracker
Vision : Maintain your life accordingly
Travel : A travel planner
Inspirations : Include:
To-watch Movie list
To-read Book list

To-listen Podcast list

Diy projects to do
☕HOBBY
Art : Save and plan your artistic visits to art gallery's
Movie, Books & Podcast : With gallery view save movie list, Books you read & wants to read and also can save podcast lists. All indifferent inbuilt pages
☕MISC
Note : Make notes with different color cards
Wishlist : Make a wish-list for yourself
Shopping List : Save your shopping list according to different products
Misc : Contains Symbols , Emojis & Emoticons to make your template beautiful
Who is it for ?
👩‍🎓 Students
👨‍🏫 Entrepreneur
👨‍🔧 Hustlers
👩‍💻 For everyone who want to start living an ideal life
FAQ's
Q1 > Does this work on the free version of Notion?
A1 > Yes. Just click "Duplicate" on the top right corner of this Template and Notion will direct you to your Free Notion Workspace. [If you're new to Notion - you'll need to Sign Up with Notion first]
Be a Maker and start earning now
Have a knack for building useful or aesthetic Notion templates? Prototion is the perfect platform for generating revenue by selling templates. Learn more
Be a maker