Content Creation Planner
By
An all-in-one Notion content planner for creating and curating content for almost any platform.
Rating:
Know more details about this template's features? Click here
✨ Do you Write?

Template Description
Content is Linked
To get your work out there, you have to be posting in more than one place, and that can get complicated. Using a single content database, this dashboard allows you to plan blog posts, podcast episodes, email newsletters, and social media posts all in the same place so you can see everything at a glance and better coordinate all of your content. Of course, you can also focus on one platform at a time, too.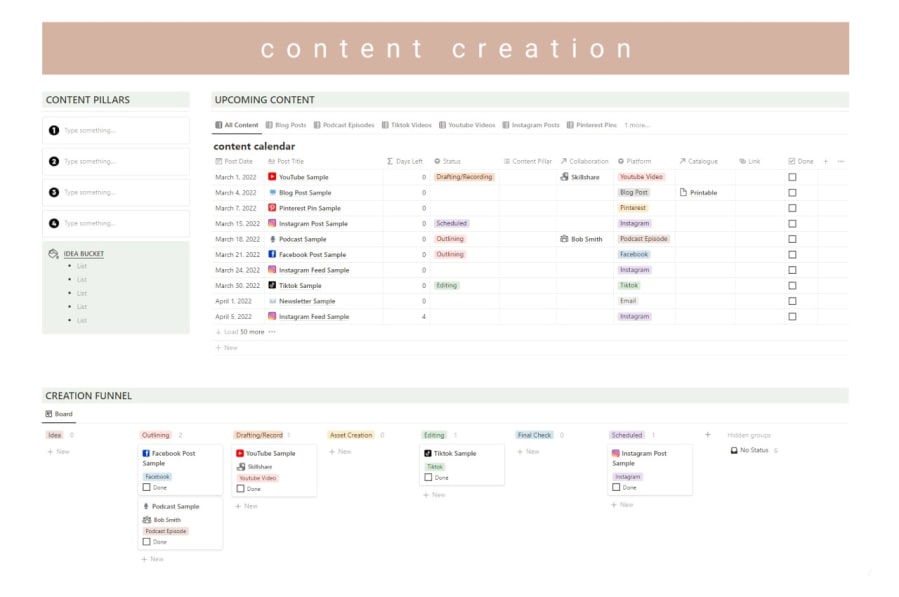 Tracking for Everything
In addition to the content database, there are databases for tracking analytics across all of your platforms, as well as tracking income and expenses and making sure invoices are sent and payments are received.
A collaboration database will help you keep track of information on guests, sponsorships and affiliates, and it's connected to the main content database so you can see all of the posts related to that collaborator.
A similar database for organizing all of your products, services, freebies, and content upgrades is also tied into your content database.
Everything in One Place
The purpose of this template was to reduce the tedium of content organization and condense it all into one place. The bulk of your content creation can be done on the dashboard itself, making it easy to get started.
This template is especially useful for new or smaller content creators who are overwhelmed and want a one-stop-shop to make the process seamless, but it has plenty of room to grow with you as well.
Features
→ tools for branding and finding your ideal audience
→ a resource bank to help you create better content
→ analytics for all of your platforms
→ income and expense tracking
→ a contact database for collaborators – your sponsors, affiliate information, and YouTube and podcast guests
→ a social media feed planner
→ templates for podcast episodes, blog posts, newsletters, social media posts and more
Be a Maker and start earning now
Have a knack for building useful or aesthetic Notion templates? Prototion is the perfect platform for generating revenue by selling templates. Learn more
Be a maker