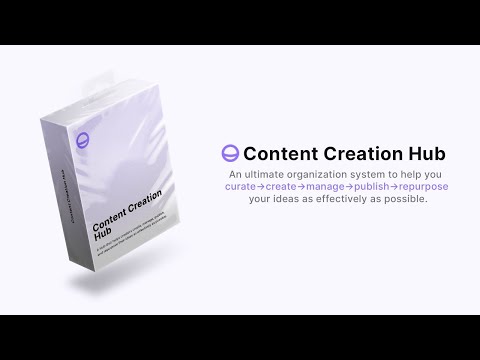 Content Creation Hub
By
Rating:
Get extra

25%

discount with
PRO25
Know more details about this template's features? Click here
Template Description
An ultimate organization system
A Hub that helps creators curate, create, manage, publish, and repurpose their ideas as effectively as possible.
After-Use of this template

The Problem
Content creation is hard but managing your content and repurposing your content to maximize people's reach is harder.
You see creators like Ali Abdaal who repurposes his content excellently. After making one course, he shares parts of it on different platforms and from time to time making his content EVERGREEN.
Solution
There are two solutions: Get yourself an ultimate organization system so you never get lost, confused, or overwhelmed with your content, or get yourself a team to do that for you
How Does this template help?
This template helps you create, manage, organize, and repurpose your content with over 50+ tips from big creators like Aadit Seth(22.9K Followers), Jose Rosado(61.4K Followers), Ọla King(SEO nerd), Marie Poulin(Twitterer and YouTuber) and many other creators to help you in the process of creation.
To Create...
There are 7 templates that will help you create the best content for your audience. Filled with steps, tips, and inspirations to help YOU in creation.
To Manage...
A two-level project management system. The first level is for you to create your main projects and the second is to maintain the tasks within those projects.
To Market...
Filled with 50+ SEO tips curated from multiple valid resources to help you reach a bigger audience.
Also, a lot of systems for content marketing.
To Repurpose...
This template will help you repurpose and schedule your previous content to ship it to other platforms while still keeping everything organized.
If you like to template you would like me to. Check me on Twitter: https://twitter.com/AtulACleaver
Be a Maker and start earning now
Have a knack for building useful or aesthetic Notion templates? Prototion is the perfect platform for generating revenue by selling templates. Learn more
Be a maker