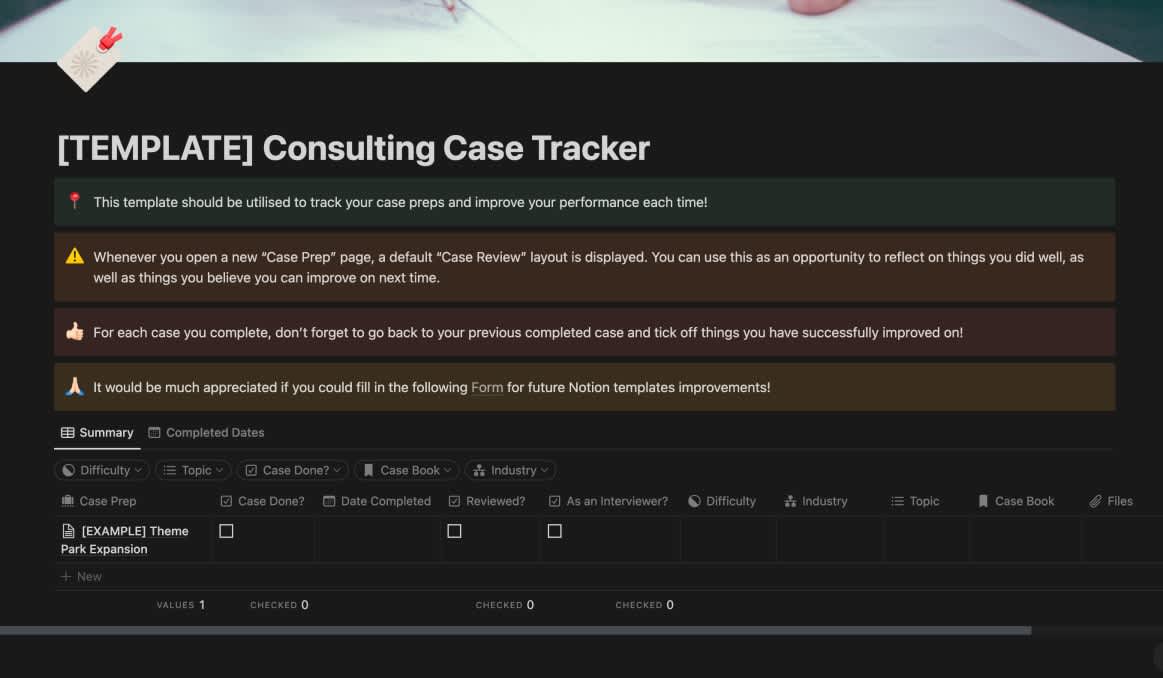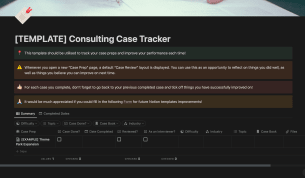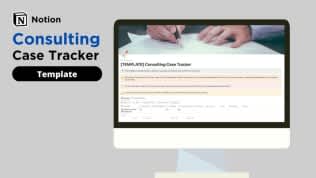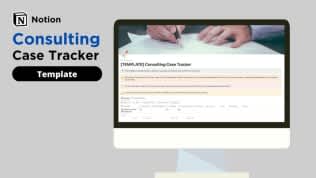 Consulting Case Tracker
By
Improving case interview performances for aspiring consultants.
Rating:
Know more details about this template's features? Click here
Notion
Combo Marvels
Twice the Productivity Power With Template Bundles
Template Description
Why did I create this template?
I decided to create the Consulting Case Tracker after spotting a lack of consulting Notion template on the Notion marketplaces. My vision is to support aspiring consultants on their case prep journey and ultimately improve their performance at a consulting case interview.
What's inside the template?
This template aims to support aspiring consultants by helping them keep track of their case prep practices. It addresses the lack of case prep tracker templates online, while I believe Notion is the best possible software to create a case prep tracker.
Throughout the journey of case prep practices, candidates often team up to receive and give out case preps with their fellow peers. Therefore, I have created an "Interviewed?" column for interviewers to record if they have given out any particular case prep.
In addition, I have implemented a calendar view, to give candidates a picture on dates they have completed a case prep. It is crucial for any candidate to complete case preps on a frequent and consistent basis in order to achieve great successes in case interviews.
How to use the template?
Whenever you have completed a case prep, you should add a new page onto the database, and utilise the default "Case Review" page template to record what you did well, as well as aspects you should improve for the next practice.
Subsequently, you should return to the main table view, and record other aspects, for instance industry associated and source of case book. This becomes particularly useful when you wish to revisit completed case preps and only filter those that are of your interest!
In addition, prior to starting any case practice, it is critical that you revisit your most recent case prep, and remind yourself what you must perform better this time. This allows you to improve your interview techniques at an optimal speed, and beat your opponents during the actual application process!
What are the benefits of the template?
To begin with, this consulting case prep tracker is previously unheard of online, or on any Notion template marketplace.
Not only does it enable aspiring consultants to keep a record of their case prep history, it also places an emphasis on ensuring candidates are improving every single time they complete a new case prep.
Moreover, understanding case prep is a give-and-take process (you should also give out case preps to your peers as an interviewer), this template includes additionally an "Interviewed?", so that you can tick whenever you have given out a case prep to your mate!
Notion

Workspaces 🪴

A collection of best templates by best makers, Coming Up next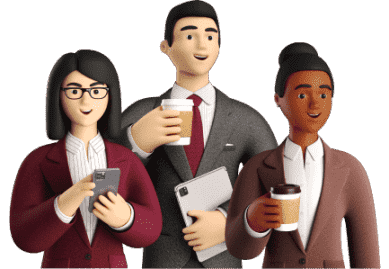 Be a Maker and start earning now
Have a knack for building useful or aesthetic Notion templates? Prototion is the perfect platform for generating revenue by selling templates. Learn more
Be a maker