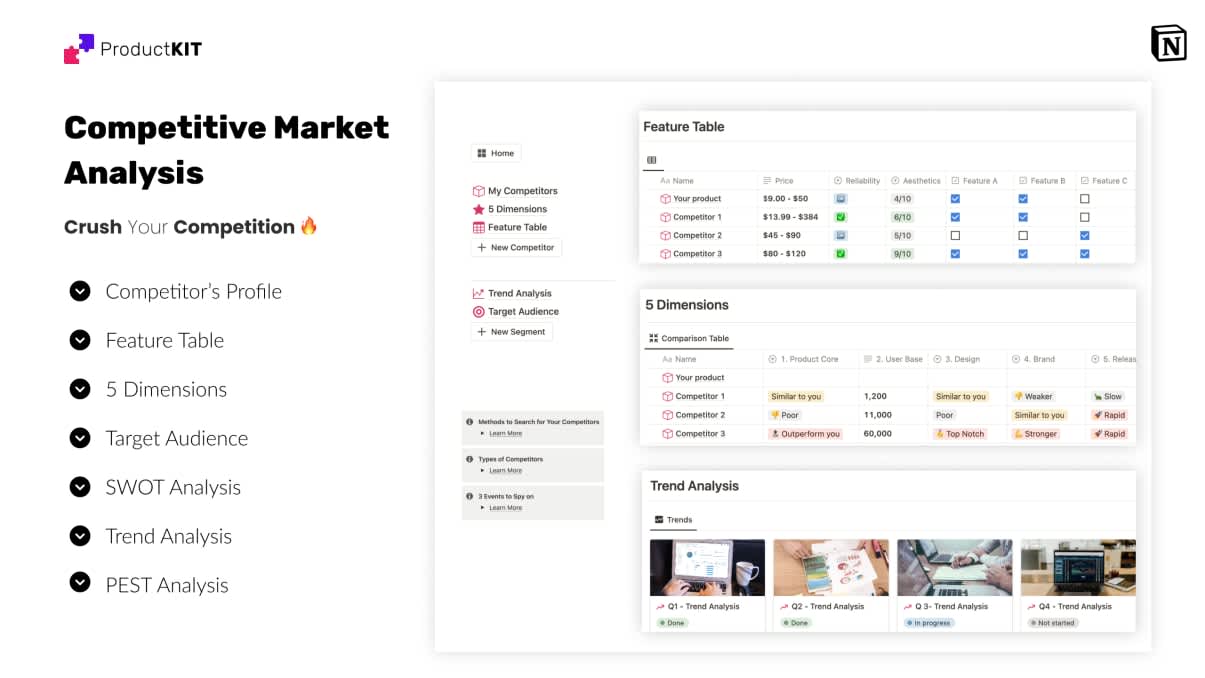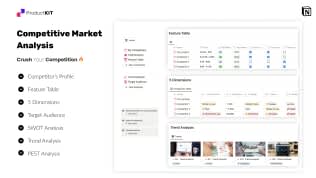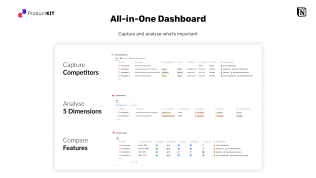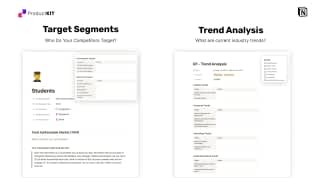 Competitive Market Analysis
By
Capture and track how your product competes with others in the market!
Rating:
Know more details about this template's features? Click here
Notion
Combo Marvels
Twice the Productivity Power With Template Bundles
Template Description
Why did I create this template?
In today's digital world, it's easier than ever to conduct competitive research and gather valuable insights about your competitors. 📑
However, efficiently capturing and organizing this information in a user-friendly space can be challenging. I designed this template to help product teams plan, capture and organize all key information in All-In-One Dashboard. 💯
What's inside the template?
Collect key information you should pay attention to and assess similar characteristics across many different competitors: Value Proposition, Key Differentiator, Target Customers, Key Features, Design & Aesthetics, and Marketing Channels.
Analyze your and your competitor's strengths, weaknesses, opportunities, and threats.
Covers 5 Important Dimensions you should understand your competitors' products and evaluate them in comparison with your product.
Give users and team members an easy to compare the specific features of multiple products including design, reliability, pricing packages, etc.
Determine your business target segment and identify the audience your competitors are focusing on. Calculate the Total Addressable Market (TAM).
Identify identify which topics are trending up or down and stay on top of market changes over time.
You will find recommended websites, tools, methods, and tips like how to spy on your competitors, and many more.
How to use the template?
1. Duplicate in your Notion workspace.
2. Read tips under each component
3. Enjoy your research 🔎🕵️‍♀️
What are the benefits of the template?
- Saves days of setting up Notion workspace
- Aligns all stakeholders
- Provides clarity on your competitive advantage
- Helps your define areas for improvement
- Streamlines processes
- Reduces the risk of overlooking key details
- Fosters creativity and innovation
Notion

Workspaces 🪴

A collection of best templates by best makers, Coming Up next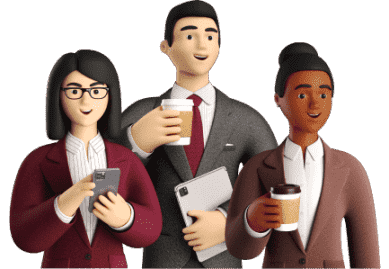 Be a Maker and start earning now
Have a knack for building useful or aesthetic Notion templates? Prototion is the perfect platform for generating revenue by selling templates. Learn more
Be a maker