Climbing Training Tracker
By
Use this template to track all of your training and plan training!
Rating:
Know more details about this template's features? Click here
🔥 Mid Year Mega Sale 2022
Template Description
Why did I create this template?
I created this template so that climbers, both beginners and advance had a customizable tool to record their sessions.
What's inside the template?
- Dashboard where you can record a summary of your work, keep track of your projects and your training plans
- Each session entry can also be filled out in more detail (including the number of climbs per grade, technical skills that where practiced, hangboard workouts, campus workouts and general training workouts)
- A project database in which you can record any indoor and outdoor climb you are working on (grade; status such as onsight, flash, redpoint, or repeated; dates of first send and clean send). You can even include a picture of the project
- Long-term planning and seasonal training database you can use to build your training plan
- Pages in which you can save workout ideas for either climbing, hangboarding, campusing or general training
How to use the template?
You can use this template as little or much as you want!
Level 1: Fill out a new row in the session tacker on the dashboard every time you go climbing.

Level 2: Take more detailed notes about your sessions such as techniques you practiced during your warm-up or session or projects you have worked on. Also record your climbing pyramid, or other types of workouts (e.g., hangboard, campus, or general training).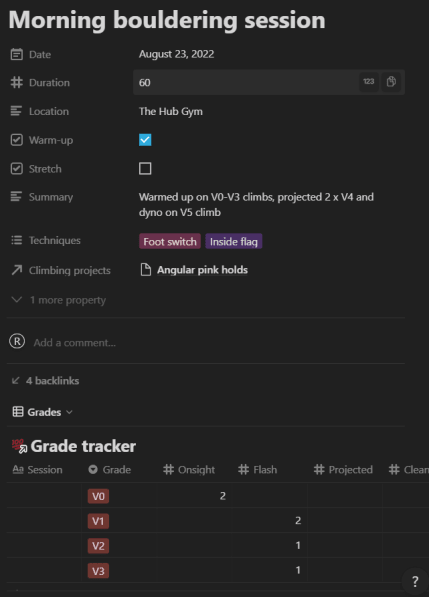 Level 3: Record and keep track or your projects. The dashboard will only show the projects you are currently working on. Take a picture so you can easily find your dashboard! Finally, once a project has been reset, uncheck the current box so that it no longer appears in your dashboard (it will still stay in your project database though).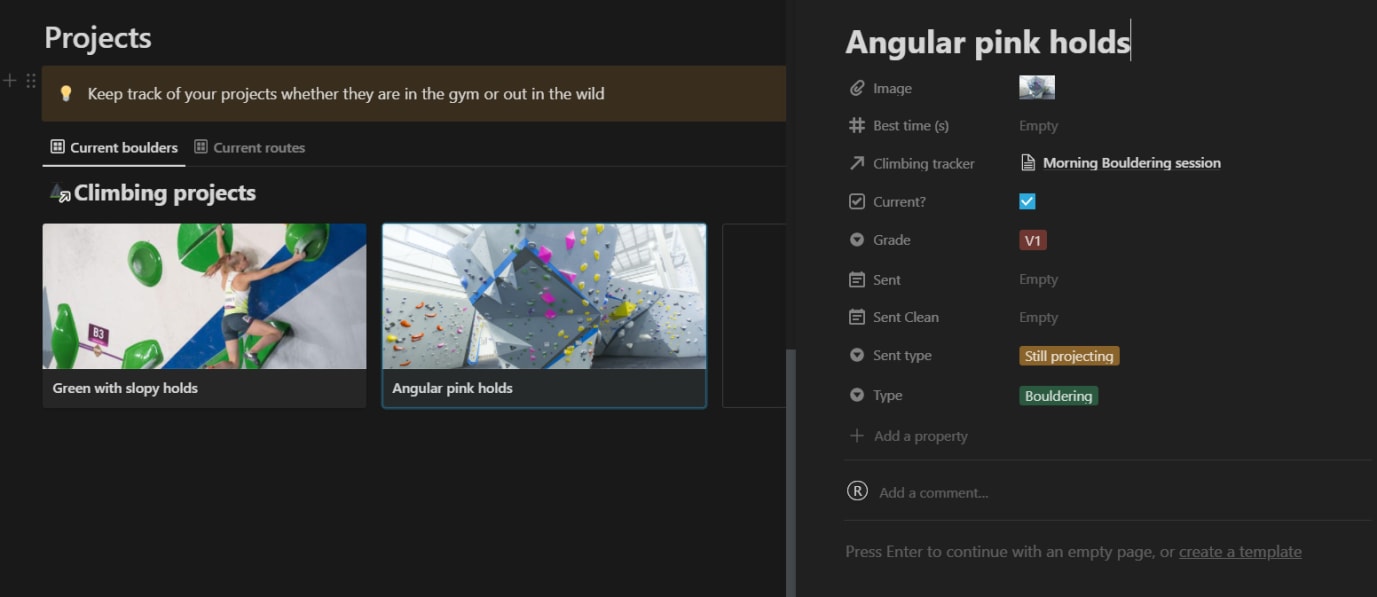 Level 4: Plan your upcoming seasons and training sessions
Determine your long-term and intermediate climbing goals, and enter them in the table below.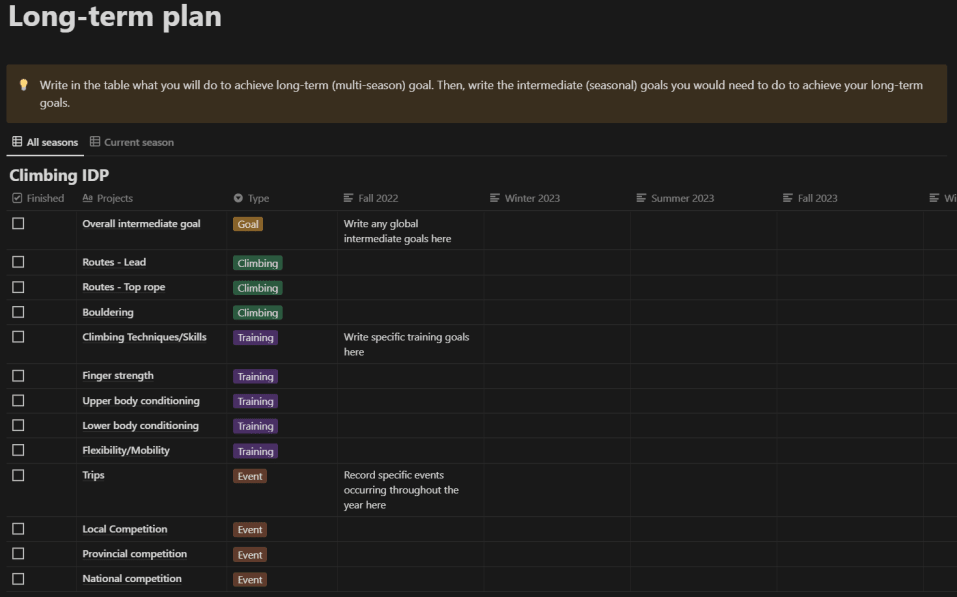 Once you've determined your goals and how you will achieve them, you can build your seasonal plan based on your goals (i.e., workouts you will do for sets of weeks within the current season). This plan will appear in the "Current training plan" section in the dashboard ("Plan" tab)

Finally record training ideas you see online so you can incorporate them into your training plans.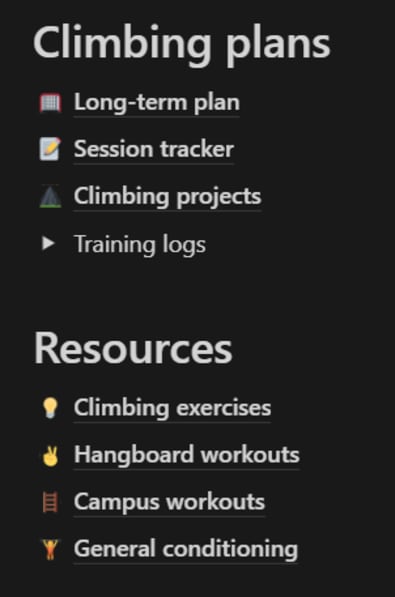 What are the benefits of the template?
- Have all of your climbing workouts in one place
- Customize it to your gym. For example, you can use your gym's unique grading system (instead of doing a conversion on conventional apps).
- Record climbs that are regularly reset (e.g., in commercial gyms)
- Easy to create new entries on your phone during your training sessions
Be a Maker and start earning now
Have a knack for building useful or aesthetic Notion templates? Prototion is the perfect platform for generating revenue by selling templates. Learn more
Be a maker