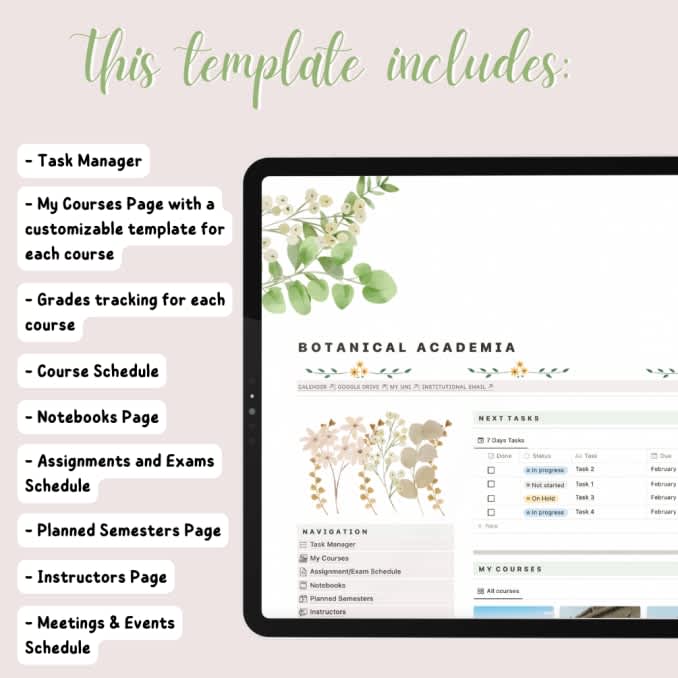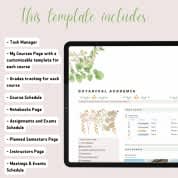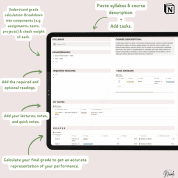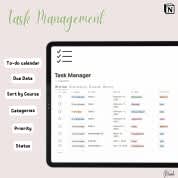 Botanical Academia
By
This template is designed to help you stay organized and on top of the many tasks that come with university life.
Rating:
Know more details about this template's features? Click here
Notion
Combo Marvels
Twice the Productivity Power With Template Bundles
Template Description
Why did I create this template?
As a Ph.D. student and former university student, I understand that tackling all the assignments, exams, courses, and papers can be a daunting task. The university experience is filled with numerous opportunities, but also requires hard work and dedication to make the most of them.
Therefore, I am absolutely delighted to share this template with you! It is designed to help you stay organized and on top of the many tasks that come with university life in a stress-free and pleasant way.
What's inside the template?
Task Manager
My Courses Page with a customizable template for each course
Grades tracking for each course
Course Schedule
Notebooks Page
Assignments and Exams Schedule
Planned Semesters Page
Instructors Page
Meetings & Events Schedule
How to use the template?
Duplicate it in your own Notion workspace
Now you can easily use the template
What are the benefits of the template?
Centralized Organization: The template provides a centralized space where you can manage all your university-related tasks. It allows you to create different sections for each aspect of your academic life, such as assignments, exams, courses, and papers. By having a single location to track and update your tasks, you can eliminate the hassle of scattered notes or multiple platforms, ensuring that nothing slips through the cracks.
Task Management: With the template, you can easily create and categorize tasks based on their deadlines, priority levels, and course associations. This functionality enables you to have a clear overview of what needs to be done and when, helping you prioritize your workload effectively. By staying on top of your tasks, you can reduce stress, manage your time efficiently, and ensure that you meet your academic commitments.
Course Management: The template includes features to help you manage your courses effectively. You can create dedicated sections for each course, where you can store course materials, lecture notes, syllabi, and important deadlines. Having all course-related information in one place allows you to access it quickly, stay organized, and maintain a comprehensive understanding of your coursework.
Assignment Tracking: Keeping track of assignments is crucial for timely submission and efficient progress. The template offers a structured system for tracking assignments, including features like assignment details, due dates, progress status, and attached files. By utilizing these features, you can easily monitor your assignment progress, allocate your time effectively, and ensure that you submit your work on time.
Notion

Workspaces 🪴

A collection of best templates by best makers, Coming Up next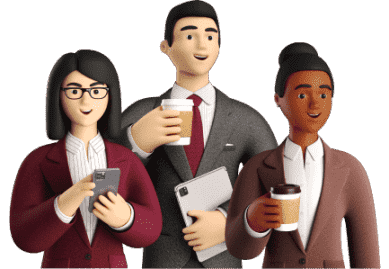 Be a Maker and start earning now
Have a knack for building useful or aesthetic Notion templates? Prototion is the perfect platform for generating revenue by selling templates. Learn more
Be a maker